Hello and Happy Saturday! Back with another Style Saturday post for you! This week is all about rain gear! We are in the middle of the rainy season here in Florida. It rains almost every day. The rain will continue for a couple more months and since I like to see the bright side of E-V-E-R-Y-T-H-I-N-G, I make sure to have cute rain gear to get us through the rainy days!! Let's face it, kids and rain boots (or wellies, whatever you call them) are super adorable!!
So here we go, cute and affordable (under$50!) rain gear for you and your littles!!
First up: Moms! My favorite thing about rain boots is how much fun you can have with them. They don't have to be plain, stand out on a dreary day! I want every single one of these!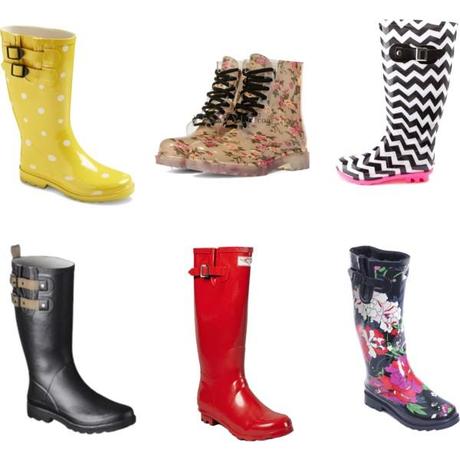 Cute Women's Rain Boots under $50 by scggirl featuring tall boots

Rubber boots / Tall boots / Yeswalker rubber boots / Tall boots / Rubber boots / Charlotte Russe rubber boots
Next: For all the little girls! Little girls have their pick from Barbie to Minnie to polka-dots and light ups! I have always let the kids choose the rain boots they want. Every season is different and since they aren't expensive, it doesn't hurt my wallet so badly every time they grow out of them!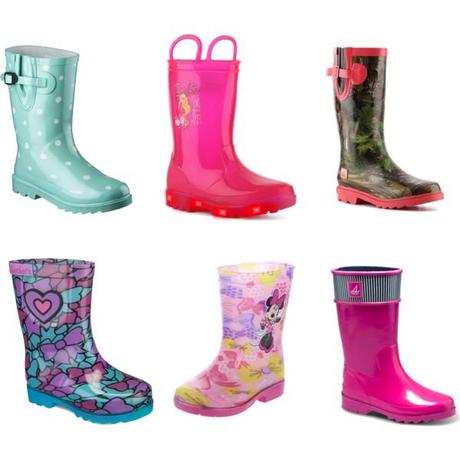 Little Girls Rain Boots under $50! by scggirl featuring wellies boots

Realtree wellies boots / Skechers S Lights Light-Up Waterspout Rain Boots Toddler Girls / Mattel Barbie Girls Toddler Light-Up Rain Boot / Sperry Top-Sider Pelican Rain Boot / Girls' Minnie Bow Rain Boot / Girl's Novel Dot Rain Boots
Last but not least: Boys!! Boys can have lots of fun with rain boots also! Whether he wants to be a fireman or a superhero, all themes are covered in rain boots! Adrian has Spiderman ones now and I'm sure the dinosaur ones in the middle will be next!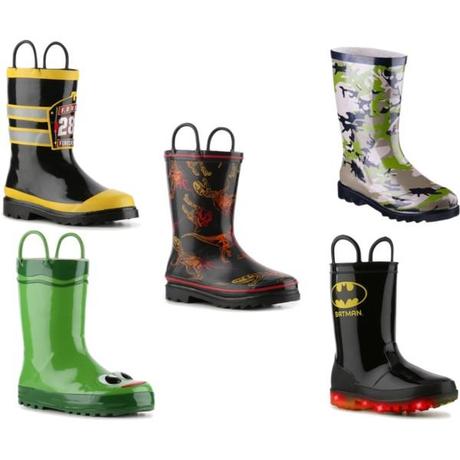 Little Boys rain boots!! by scggirl on Polyvore

Western Chief Firechief 2 Boys Toddler & Youth Rain Boot / DC Comics Batman Boys Toddler Light-Up Rain Boot / Western Chief Frog Boys Toddler & Youth Rain Boot / Western Chief Cool Fossil Boys Toddler & Youth Rain Boot / Boy's Ulmar Rain Boot Green
Let's not forget umbrellas! I like two types of umbrellas: big and clear! JC got me a clear, bubble one for Christmas last year (similar to the one below) and I always get complemented when I use it. You are in this little bubble, where the wind isn't blowing water on you and you can see through it! Perfect. When we need the big family umbrella, I love polka-dots! Always bringing on the fun!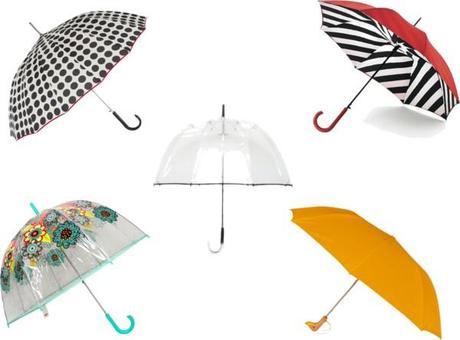 Super Cute Umbrellas under $40 by scggirl featuring a clear umbrella

Lulu Guinness shoulder bag / Vera Bradley umbrella / Clear umbrella / ShedRain umbrella / Travel umbrella
Now we cover our feet and we cover our heads but we don't wear raincoats! I know we should but it's too much and it's so hot here!
Do you wear rain boots? How about a raincoat? How do you cheer up a dreary rainy day or week?