Fur coats aren't just for the society set. Fur coats and jackets (both faux fur and real fur) are showing up in outfits of every incarnation, well beyond the milieu of ladies who lunch. Off-duty models in particular favor the fur coat trend, along with fashion bloggers and street style stars in general. Rather than breaking out the mink to attend the opera, modern fur coat enthusiasts favor shaggy fur coat styles shrugged on over denim (torn jeans? even better), leather leggings, and if you're Jenna Lyons, perched on your shoulders while gliding through the city in a feather ball skirt.
The fact is, fur is warm. If you can rock the fur coat trend, especially in Boston, life is a lot more comfortable. I have friend who wears her grandmother's hand-me-down furs along with vintage fur coat finds, all over Boston in winter. Back when I first met her, about ten years ago, I found this a novel concept. Clearly she was ahead of her time. (Or rather, given her proper lineage, carry on tradition, but with a twist).
I remember when I was around seven, thinking a rabbit fur coat was the height of style. I could probably get away with the look now. I'd certainly pair my (theoretical) fur jacket with my winter beanie, like some of these street style specimens. Have you seen the crazy multicolor chevron fur jacket by Elizabeth & James? It exceeds my wildest childhood dreams.
I may be wrong, but it seems all the fuss over not wearing fur and resulting proliferation of faux fur coats and jackets has quieted down. Perhaps PETA quelled the population of its animal killing inclination (unlikely). Rather, what I perceive to be decreased interest in the cause is more likely the result of public boredom. Or simply the fascination with fads and trends have prevailed.
Here are 28 ways to not only wear fur coats, but rock the fur coat trend wholly and fully.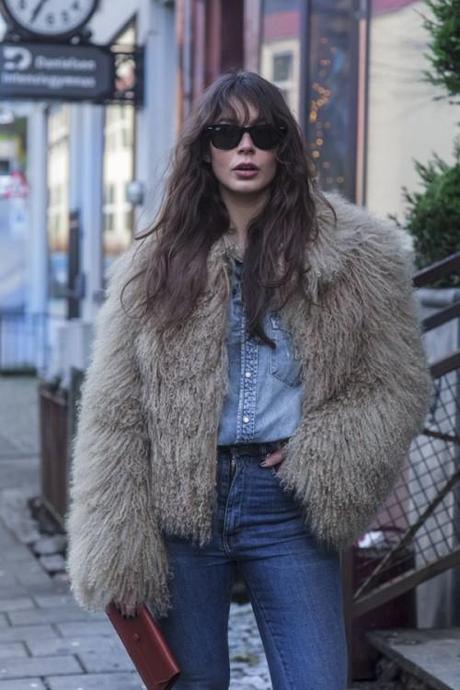 Portable Package blogger Irina Lakicevic of Norway goes for seriously shaggy shearling jacket by Karl Donoghue (kind of matches her tousled locks) over deceptively casual denim (Saint Laurent hi-rise skinnies & Ralph Lauren denim shirt). And a tiny sliver of a clutch.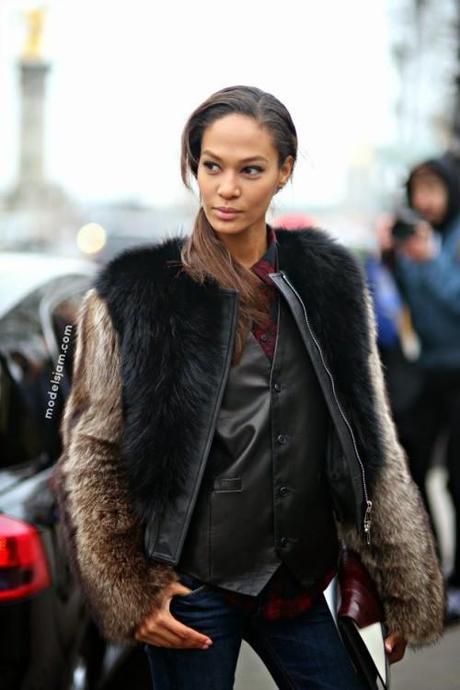 Model Joan Smalls strikes a pose in a  black leather and fur jacket with contrasting fur sleeves (and a leather men's style vest – ick) after the Chanel haute couture show in Paris. The plaid flannel shirt underneath is a nice, rugged touch.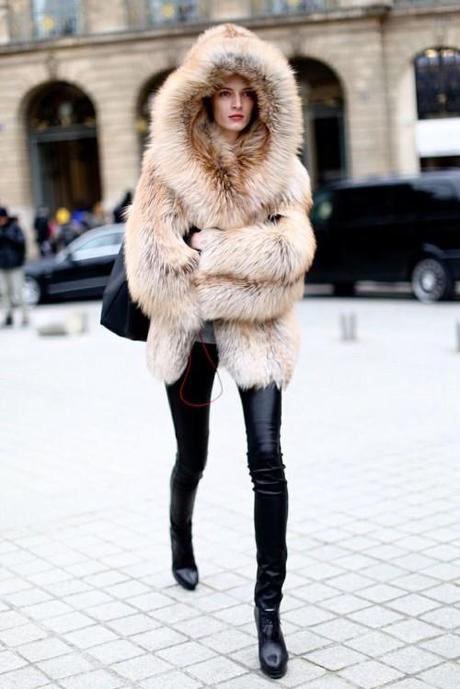 Off duty model Daria Strokous during New York Fashion Week in black leather leggings and sumptuous fur parka with Nanouk style hood. I kind of want to crawl in there with her.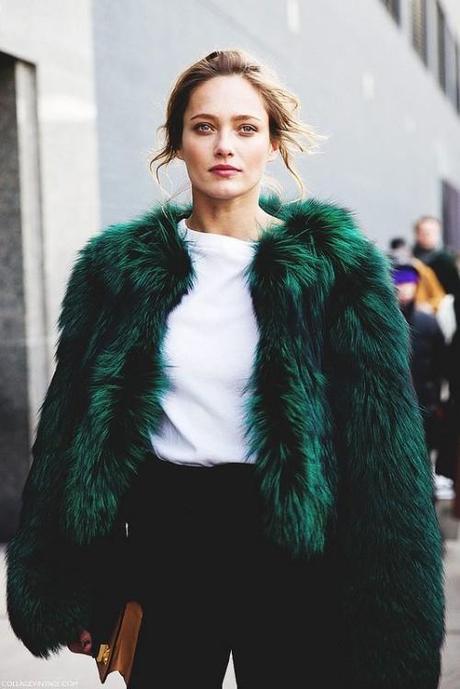 Off duty model in emerald green fur coat during New York Fashion Week Fall 2015. Could a mere mortal pull off green fur? I wish I could. Color certainly puts an interesting twist on the fur coat trend. (CollageVintage)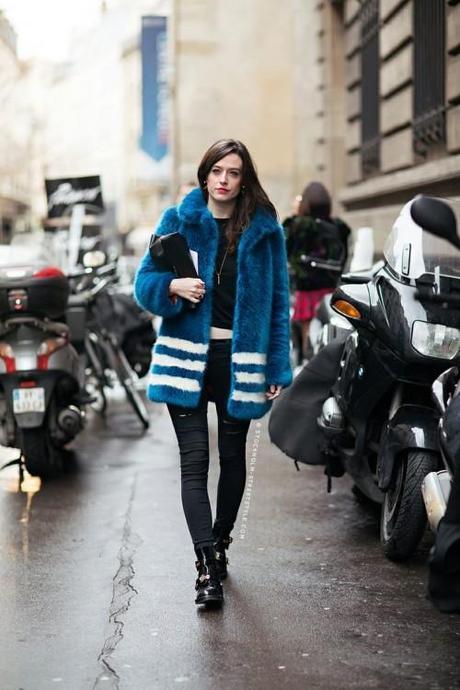 This blue faux fur coat has sporty varsity style but kind of looks like a rug. (Stockholm Street Style)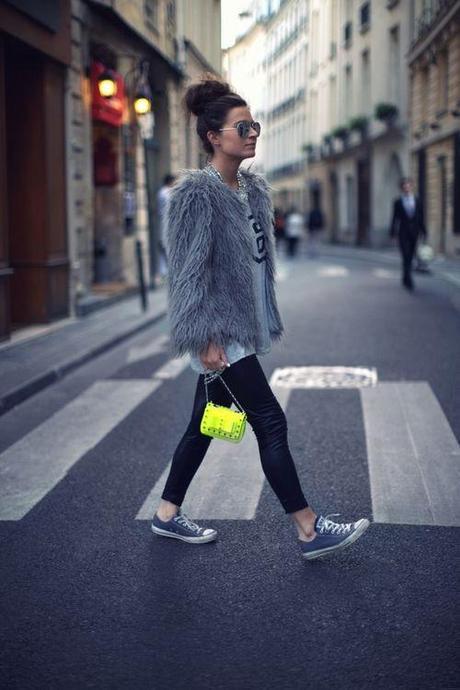 I could get on board with this style blogger who throws on shaggy gray fur over leggings, gray Converse, neon yellow handbag, and messy bun. (Frassy)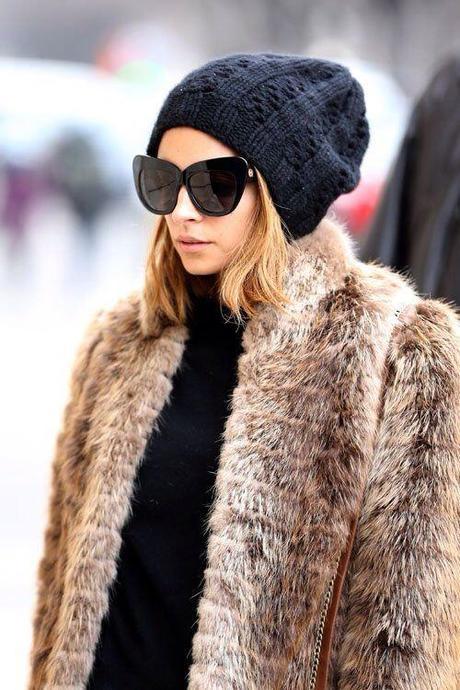 Nicole Richie is perfect and polished in luxe fur coat, black cashmere turtleneck and beanie, and glam cat-eye sunglasses.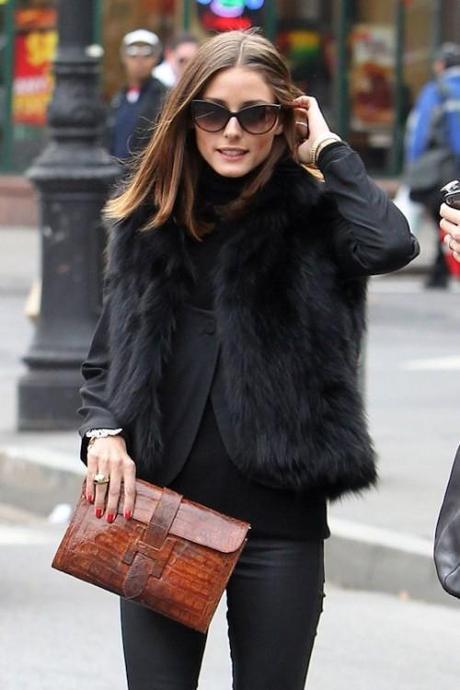 Olivia Palermo sports a black fur vest, Hermes exotic skin clutch, and pristinely polished red fingernails.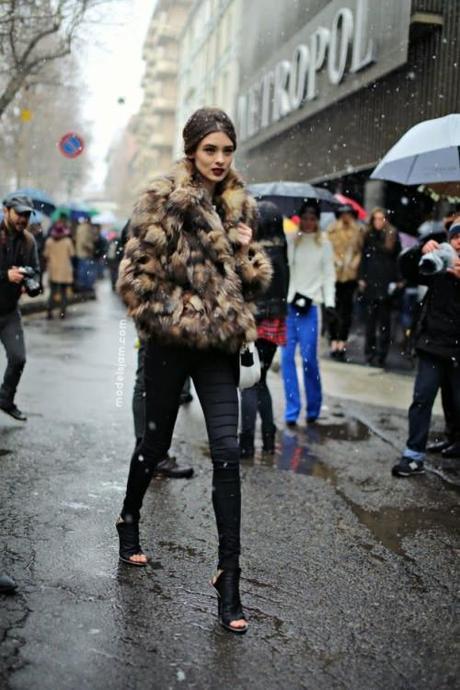 Model Carolina Thaler after Dolce & Gabbana in Milan in February 2013. Dark lips and peep toe booties give her patchwork fur jacket street cred. (
Models Jam
)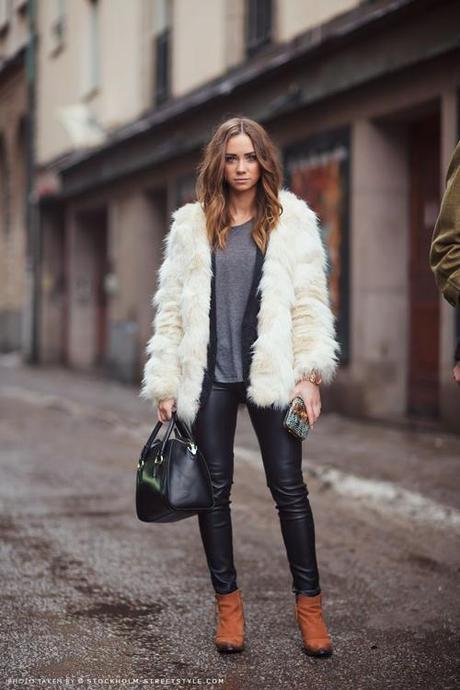 This shaggy white fur jacket looks like it would work over any outfit. I kind of love how she's wearing luggage colored boots, instead of the obvious black with black. I'd never have thought to do that. (Carolines Mode)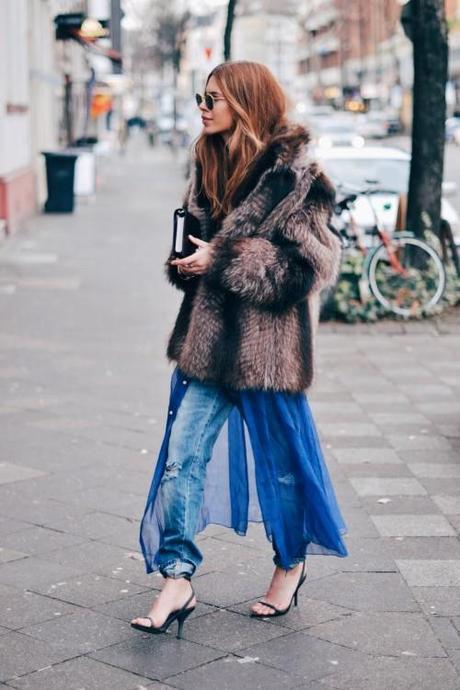 Looks like an Olsen twin, but actually it's fashion blogger Maja Wyh wearing Ralph Lauren denim, the longest shirt ever, and a luxe vintage fur coat. Oh yes, and the must-have accompaniment to fur—barely there kitten heels.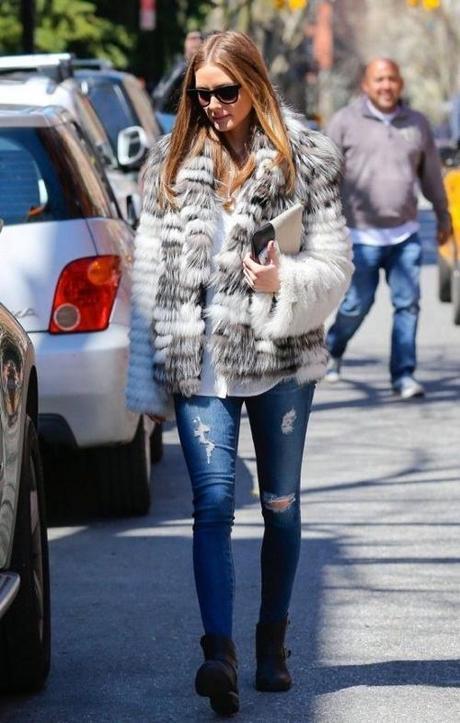 Olivia Palermo sure loves the fur coat trend. Here, she pairs a gray and white fur jacket with distressed denim skinnies. Looking amazing as always.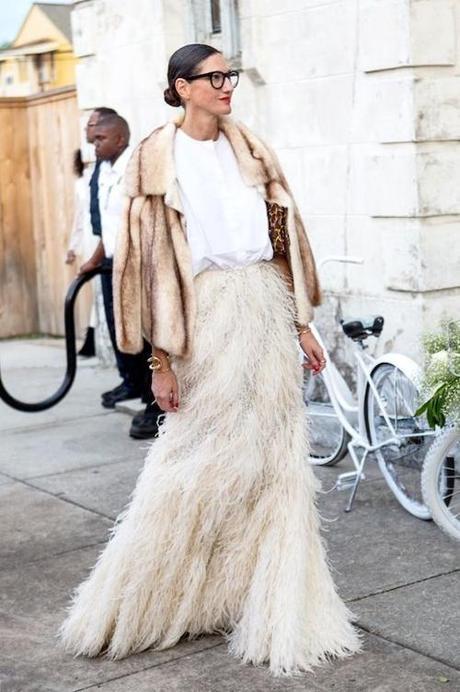 Statement maker Jenna Lyons attends Solange Knowles' wedding in a sweeping feathery skirt and fur jacket worn over her shoulders, natch. (Elle)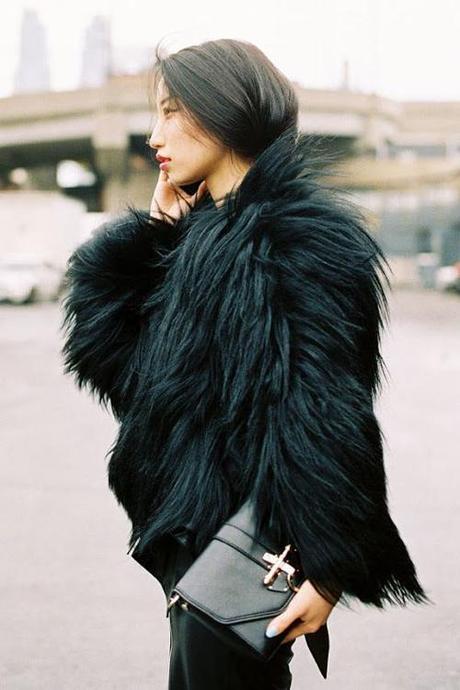 Super shaggy black fur. I love how her swept back bun echoes the lines of the fibers. A red lip, pastel blue fingernails, and she's done.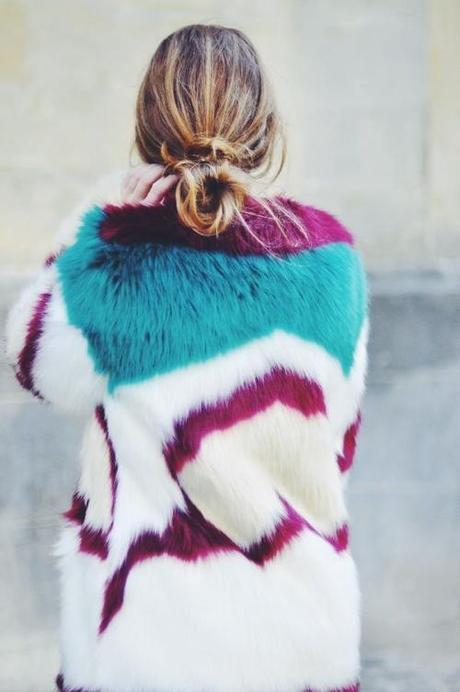 A white faux fur coat dyed with random burgundy and turquoise markings by Maison Scotch.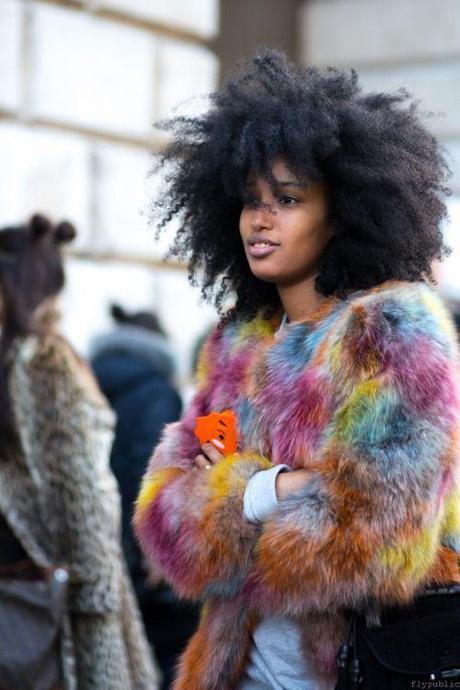 Fashion editor and street style star Julia Sarr-Jamois on The Strand in London wearing a fabulous multi-color fur jacket that's as haphazard as her gorgeous hairstyle. Casual perfection. (Photo by Mike Adrell/flypublic)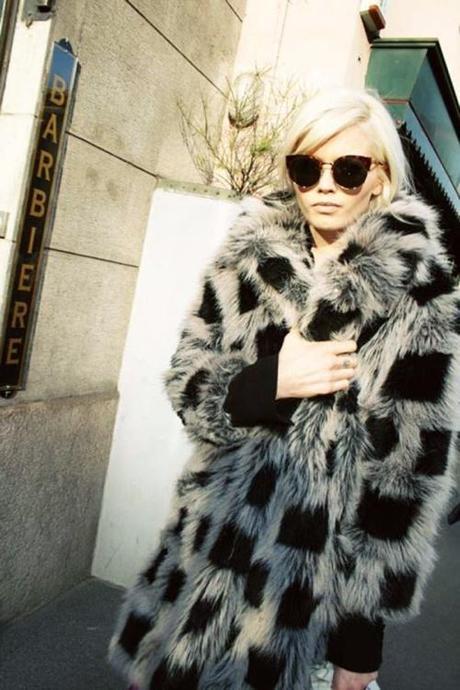 Australian model/musician Abby Lee Kershaw is looking a little annoyed. Is her black and gray fur coat not keeping her toasty?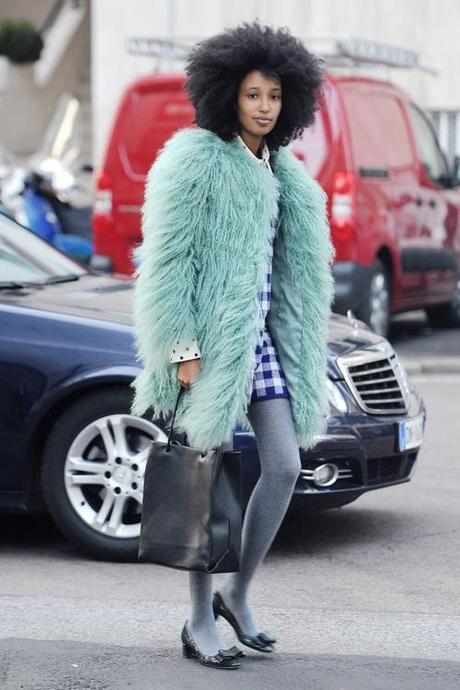 Shaggy aqua fur jacket over gingham dress and gray tights. So totally cute. So Julia Sarr-Jamois. The fur coat trend to perfection.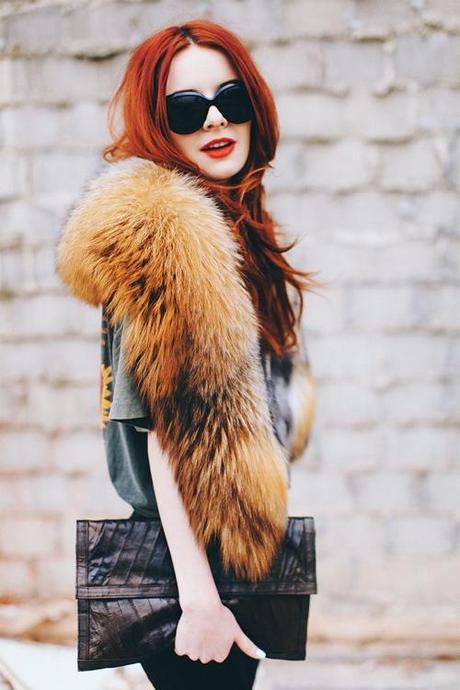 Sea of Shoes blogger Jane Aldridge grabs a fur stole that's almost as bright and shiny as her hair. Clutch by Carlos Falchi and an Aerosmith tee (that her mom borrows too).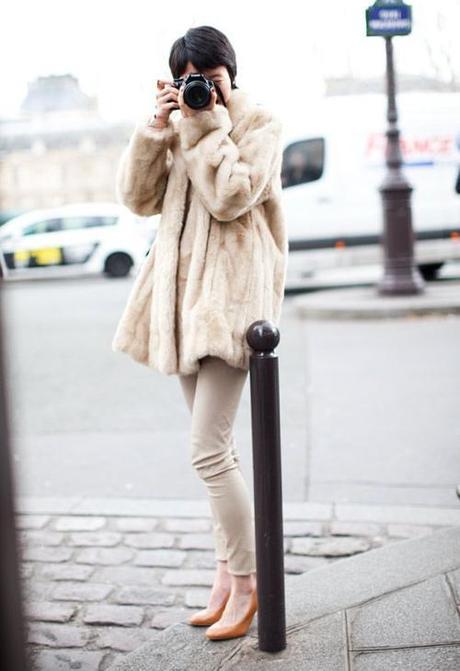 Monochromatic neutrals and a camera. A demure fur swing coat in Paris, March 2012. (Garance Doré)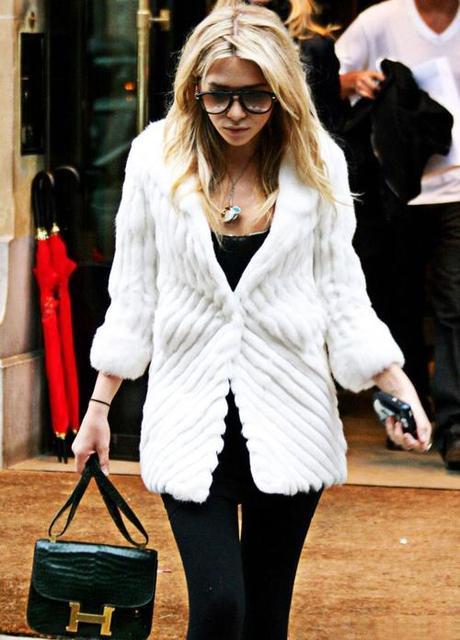 Ashley Olsen dons a white fur blazer style jacket over black, with an Hermes shoulder bag and a hair elastic 'round her wrist.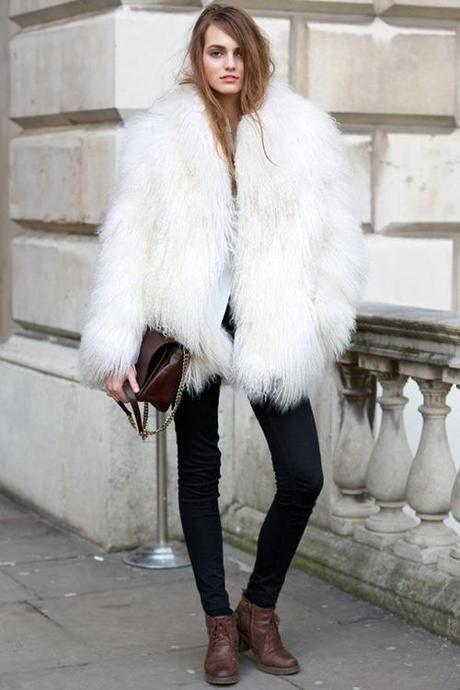 Very shaggy white (as tousled as her hair) fur over black jeggings during London Fashion Week. (Teen Vogue)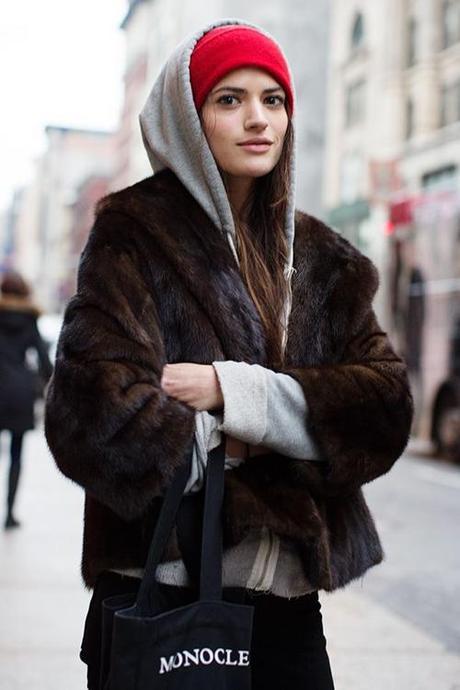 Why not wear chocolate brown fur jacket with a hoodie? Add vermillion beanie for extra warmth like fashion editor Alessandra Codinha. (The Sartorialist)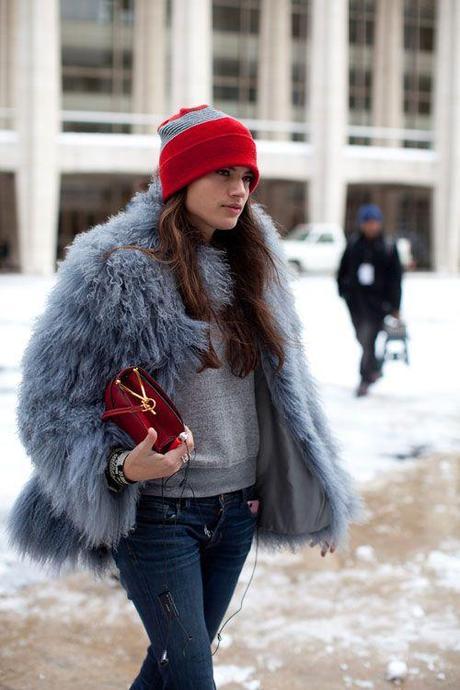 The bright red beanie makes another appearance, this time paired with puffy gray fur jacket over a sweatshirt and jeans. (Harper's Bazaar)
•            •            •