When you think about what a strong, confident and masculine man looks like, images of Daniel Craig in a black mock turtleneck and slim black pants or Sean Connery in a white dinner jacket and black tie definitely come to mind. James Bond has changed height, weight, hair and eye color and accent over the many years he's been saving the world, but he has definitely always been a man's man and a great inspiration in terms of style and attitude.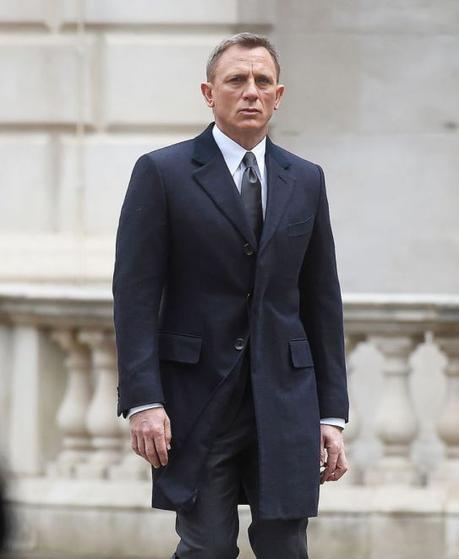 Truth be told, the wardrobe of James Bond over the years would have had to be a strong focus for the British government, but somehow the man is still able to do almost acrobatic feats of agility and strength in the same suit he sits at a million-dollar poker table in. Sometimes, it's even the same suit he attends the Academy Awards in.
Even before Tom Ford took on suiting up 007, men have been following the inspiring and immaculately dressed MI6 agent. Long before there were Twitter and Instagram, folks have been looking through magazine covers at the newsstand to see the next issue featuring James Bond's upcoming wardrobe.
Earlier Bond suits were designed by the film's costume designers. However, modern Bond has created his own fashion sense. It's not hard to remember the Tommy Nutter-inspired white dinner jacket made of tropical wool together with the navy trousers of Sean Connery in Goldfinger, and it is interesting to note that we have only seen the white dinner jacket repeated twice in Bond movies since. There's something to be said about a look that can become iconic despite being rather infrequent.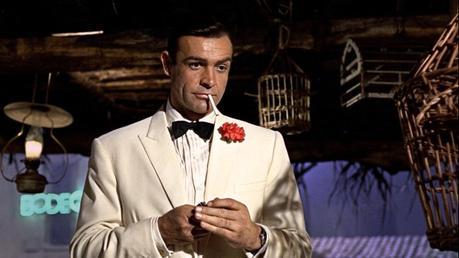 It was seen briefly in A View to a Kill and brought back dramatically during Bond's visit to Morocco in Spectre. It was Humphrey Bogart in Casablanca that inspired Tom Ford to return to the white jacket, adding his own "Windsor" style, while Daniel Craig featured a bit of a retro touch of the red carnation also worn by Connery earlier. It is so iconic though that James Bond actors have taken the style with them and incorporated it into other characters. Roger Moore wore a similar suit as The Saint and Pierce Brosnan sported the white coat as Remington Steele. This is why, to preserve the uniqueness of Bond, Daniel Craig had to sign a contract saying that won't wear a tuxedo in other films.
Today, you can buy a Bond suit yourself at many online locations including an e-shop almost exclusively dedicated to James Bond suits and wear it as much as you wish in order to get in that Bond spirit.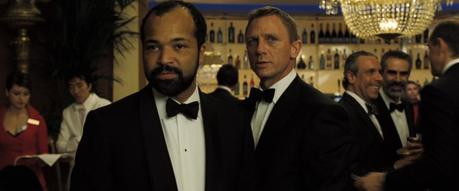 Connery graced the casino of Goldfinger in that white jacket, while Craig returned to classic black in the modern hit Casino Royale. The latter did switch up the style game in other ways, though. Past Bonds have traditionally played baccarat. However, the remake of Casino Royale chose to incorporate the more complicated game of No Limit Texas Hold'em poker. The franchise is keeping up with the times, as poker is the go-to game of this millennium (until now), ever since the poker boom of 2003. It is also very strategic. Going No Limit Texas Hold'em means that James and his opponents are free to raise their minimum bet as much as they want. Which is exactly how Daniel Craig ends up betting $40,500,000 - going all in. Limit Hold'em would certainly not have worked for the spy, as in this poker variant bets are predetermined and structured. The skill and cunning of James Bond in poker and in reading people lands him a $150 million pot, won while he's in a subtle, interesting combination of white shirt and white suspenders, contradicting his main opponent, Le Chiffre. Still the best feature of the James' appearance in this scene is his very effective poker face.
Modern day filmgoers remember all past Bonds as men in suits. While it might seem that Daniel Craig was the only Bond to sport the casual black turtleneck and slacks or jeans, it was in fact seen earlier on Roger Moore in Live and Let Die. He was also seen in a navy turtleneck in The Spy Who Loved Me, a cream colored one in Moonraker and several different turtlenecks in For Your Eyes Only, making Moore the definite king of Bond turtlenecks. He wore a record 17 different turtlenecks in his 7 appearances as Bond, which made him more relatable and unique. Pierce Brosnan briefly sported a Scottish cable knit mock turtleneck by Ballantyne in Die Another Day.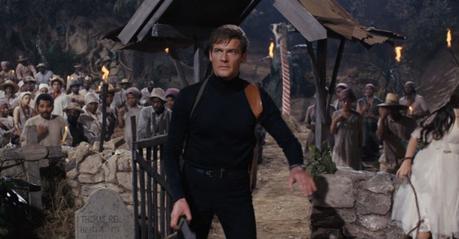 After that, it was 13 years and four Bond productions before Daniel Craig sported the now classic tight fitting N.Peal charcoal gray cashmere and silk mock turtleneck in Spectre. Craig's athletic physique certainly displayed how a turtleneck can look if the fit of the piece is right. Of course Craig even looks good in the traditional carnival mask worn at the festival of "El Dia Del Muerte."
It takes more than just a good suit and turtleneck to be the best dressed James Bond. When not dressed to the nines, you can most often find Sean Connery's Bond in a simple polo shirt and slacks, even sporting a long sleeve polo in Thunderball during his late night outing through the Shrublands health clinic. However, the fashion trend at the time was to tuck it into your high waist pants so the photos do not do justice to the classiness of Connery's Bond - at least not in our 2016 eyes.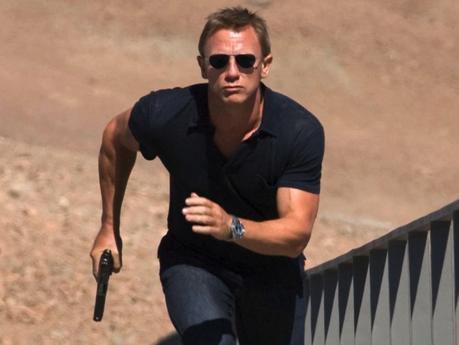 Once again, it seems no Bond can wear a shirt like Daniel Craig. British company Sunspel tailored their Italian Riviera polo shirt for Daniel Craig in Casino Royal, as the British Secret Service agent is reactivated by M. It seemed a perfect shirt for the Bahamas. Also, Tom Ford more recently created the navy blue rayon piquet polo worn by Craig in Spectre, which can be purchased easily on Ford's online store.
When thinking of clothing, it seems no other Bond graced the screens between Sean Connery and Daniel Craig. However, the 80s and 90s were an interesting time in the world of fashion and, while not as sexy per say, Bonds of those decades got to wear what seem todays as rather odd and different outfits.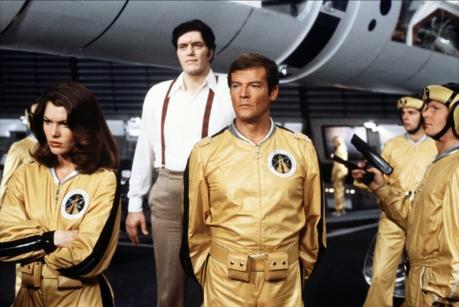 While Timothy Dalton never looked quite right in the loose-fitting Armani suit of The Living Daylights, Roger Moore somehow managed to pull off every single look, from his infamous safari jacket of Man With the Golden Gun to puffy 80's snow gear in For Your Eyes Only to the yellow astronaut suit in Moonraker.
While he seamlessly carried off classy in Remington Steele, somehow Pierce Brosnan couldn't quite pull off the billowing purple blouse and sneakers of Tomorrow Never Dies. That was the 90s for you. Thank the heavens we are back to the days of excellent physique and cool sexy clothing.
James Bond has been since the beginning and will remain a true icon not only in terms of adventure and bravery, but also in great style and a strong attitude. The clothes you wear always have a strong impact on the way you feel, so if you wish to feel like Bond, you can start by dressing like Bond.
Fraquoh and Franchomme
Further reading:
When film and fashion meet What we can learn from superheroes: The style and the attitude
P.S. We want to hear from you! Who is your favorite James Bond? What JB outfit is your favorite? Which James Bond movie is your favorite? Share your feedback, questions or thoughts in the comments below! For more articles on style, fashion tips and cultural insights, you can subscribe to Attire Club via e-mail or follow us on Facebook, Twitter or Instagram!