There are a handful of actresses who seem to have a certain sartorial star-power – no matter what they wear, it just looks so effortlessly cool. Kate Bosworth, Kate Moss, Rachel Bilson, Emma Stone, Gwyneth Paltrow... and now, Rose Byrne?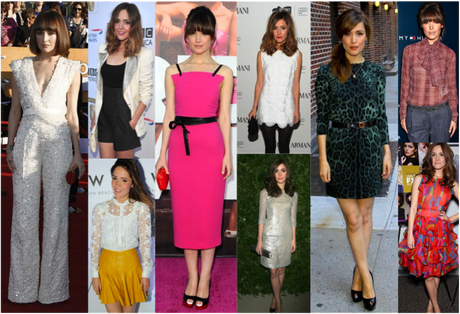 Australian actress Rose Byrne made her screen debut in 1994 with a small role in the film Dallas Doll. In 2000 she played a leading role in the Australian film The Goddess of 1967, which brought her a Venice Film Festival award for Best Actress.
She
made her mark on the Hollywood movie scene in the epic movie Troy. Since then, she has been one of the brightest fixtures on the red carpet, and shows off some of the best fashion from the top designers. 
Since 2007, she has played Ellen Parsons in the series Damages, which has earned her two Golden Globe Awards nominations and two Emmy Awards nominations. In 2011, she cemented her star status as she starred in three box office hits, Insidious, X-Men: First Class and Bridesmaids.
Byrne has earned her right to be a style icon, not just for her spectacular hair, but also for her impressive outfit selections that make her the epitome of understated sophistication.
What I love about Byrne is that even when she wears a statement frock, she controls it in a chic way (so that the dress doesn't wear her) and she takes risks! At the 2012 SAG Awards, Byrne shunned tradition and wore an embellished vintage Elie Saab jumpsuit on the red carpet; she said,

"I saw this jumpsuit and tried it on about two years and when I saw it again, I thought I'm gonna rock this tonight," her risk paid off; she looked truly sensational! 

Byrne shows that you can experiment with statement outfits and bold colours/prints, and remain elegant and chic.  I can't wait to see more of her on the red carpet this awards season!