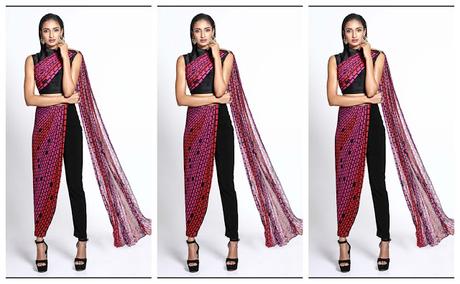 From sheers to traditional silk, from organza to crepes, from cotton to various other weaves, saree, our very own traditional dress is liked, and worn by all. Not only  Indians but the Indians living overseas too love this outfit. The designers have given saree a new looked and a new twist to wear it more unconventionally.
Do You know what I like the most about this 6-yard drape? The drapes! Yes, it is. Designer's state that this beautiful 6-yard ensemble gives you not only a traditional look but also unconventional look. The designers have changed the whole idea of draping this saree. Stars, bloggers, and designers have innovated various styles for wearing saree.  These drapes and designs are easily available at Amazon.in. You can easily avail any of the amazon coupons for your purchase.
While the designers have been trying to add a new twist to the saree tale for a long time, credit goes to the stars and bloggers who have fashionably worn these styles.
Stunning Saree Draping Style For 2019
1.

Shirt Saree

 - Now wearing your mom's old Ikat saree with a cotton shirt blouse is the new thing. Teaming up those old cotton sarees with cotton shirts of quirky prints and crop tops has given saree a whole new dimension. A cotton Ikat saree with a crop top is "oh so in" these days.  There are no wrong turns with this style. Rather than draping it plainly with that similar ikat blouse is far too common. Instead, try out a different style with the same pleated drape by pairing it with a shirt. You can also use a waist belt to make it more appealing and sexy.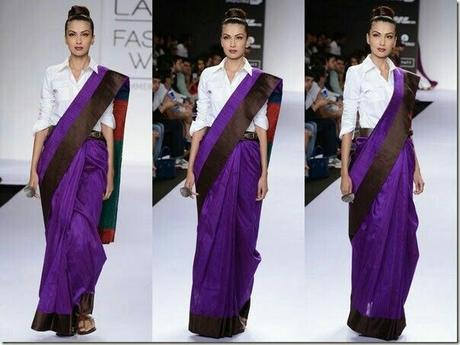 2.Palazzo saree - The palazzo saree is something that every girl wants to own. Draped stylishly with crop tops and other high neck tops make an appealing statement. These are draped with palazzo underneath it instead of a normal skirt (petticoat). Saree with a conventional style is something that women don't prefer now (except our moms and grandmas). Forget about that conventional and that "oh so common" petticoat, team it up with a difference and elegance. Palazzos can be deployed as a petticoat itself. Wear it with a trick and nonchalance.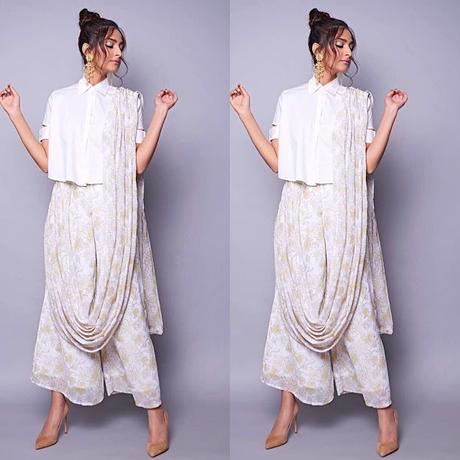 3.Dhoti Saree- The next in thing is the dhoti saree. Yes, it is! Dhoti might be an old and a traditional form of attire for gents. But since the year 2018 began, many Bollywood designers and celebs are drooling over this styl of saree. This is a draped dress/saree that otherwise exists out of the bounds of cultural norms. It is a nonconformist style that stands out in thousands and you just can't second about it. A dhoti saree is a loosely draped and pre-stitched saree that appears to be just like "dhoti" in a new avatar. Team it up with a crisp shirt or a long kurta. Tank tops can even be worn along with it.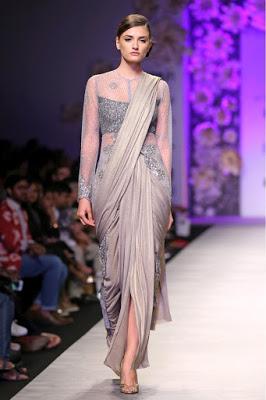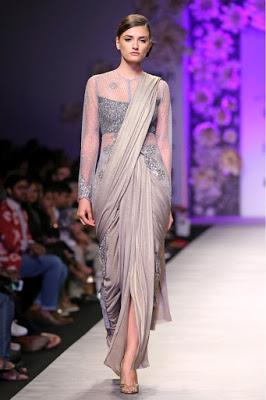 4.The kurta Craze - Next up in the line is the kurta craze. Pair your saree (cotton, khadi or crepe) with a contrasting kurta for a blouse. Here when you have a fitted kurta, you can drape any style on it. Designers suggest a simple and a loose drape with a kurta blouse.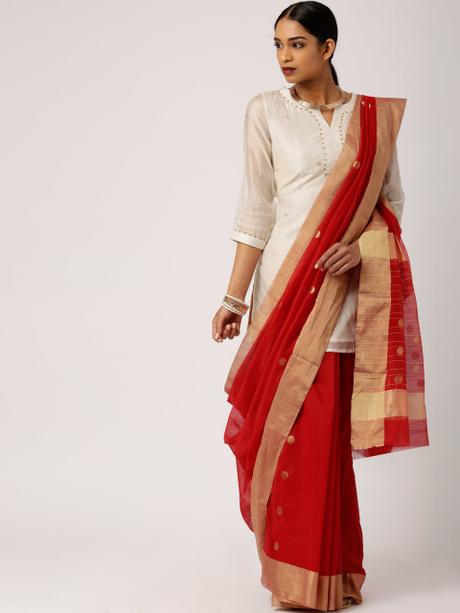 However, there are no rules to drape a saree, except the style that suits every individual personality. The style should suit the wearer and she should be comfortable at the same time giving it a clean and a stylish look. Because this is a trend that makes sarees a bit superfluous, but if done rightfully and with logic and style, it will come out to be none other than classic.
Designers and bloggers say that rules in the name of fashion doesn't go off beat but definitely takes the clients on a new high. After all who doesn't want to look chic with new styles? These styles are more accessible to the younger via Flipkart coupons rather than to our moms and grandmas.