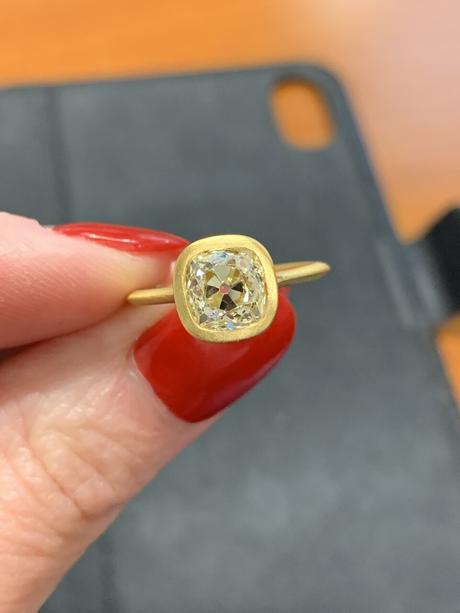 Caolsen posted this fabulous Cape Color OMC diamond ring in the Show Me the Bling forum at PriceScope. This is a gorgeous diamond solitaire, that is a beautiful as the day it was cut.
I love the Alex Parks brushed gold bezel setting with this beautiful diamond that is the color of light fresh butter. I also was stirred by the imagery Caolsen added by mentioning that it was cut to reflect candlelight all those years ago. What lights have danced in this lovely antique diamond? I absolutely love this, major kudos to Caolson!
The Stats:
1.92 st Old Mine Cut
Color: U-V
Clarity: VS U-V
Visit the original post with more pics and join me in congratulating Caolsen!
The Jewel of the Week is our chance to feature and appreciate a recently posted piece from the Show Me the Bling Community!
Thank you so much for sharing your jewelry experiences with us. We look forward to seeing more!
#JOTW
Come show off YOUR fantastic bling with fellow jewelry lovers and trade professionals Learn more about Ideal-Scopes on PriceScope!
By Kayti Kawachi