World No.1 Novak Djokovic slumped to a straight-set defeat at the hands of British No.1 Dan Evans in the third round of Monte Carlo Masters 2021. With the defeat, Djokovic ended his unbeaten run in 2021, giving Evans the biggest win of his career.
Dan Evans stuns Novak Djokovic in the first set
The first set was absolutely abysmal for Djokovic. Double faults, miss-hits, and desperate hitting saw Djokovic quickly fall behind Evans, 2-0. Early on, Djokovic's shortcomings at the net came to the forefront. As Evans defended to his fullest, Djokovic was forced to come to the net and unfortunately give away points. In no time, Djokovic was 3-0 and two breaks down.
All the skills on display

Evans & Djokovic taking it up a notch in Monte Carlo!@DjokerNole #RolexMCMasters pic.twitter.com/nsGVwTGygN

— Tennis TV (@TennisTV) April 15, 2021
But the Serbian held on to come back into the match 3-2. Djokovic regained the upper hand as he looked to level the set, but Evans held on, 4-2. Djokovic then took the opportunity to break Evans' serve and level the match, 4-4. Unfortunately, Djokovic's backhand went south as he lost multiple points serving at 4-4, handing Evans an unexpected break and service for the first set. Evans didn't flinch, and later took the first set, 6-4.
Dan the Man

Evans takes the first set 6-4 over World No. 1 Djokovic at the #RolexMCMasters

Stream set 2 live: https://t.co/hOHmv2wMlX pic.twitter.com/OYfvNePW7b

— Tennis TV (@TennisTV) April 15, 2021
Dan Evans finishes Novak Djokovic
Djokovic's backhand issues remained in the second set as well. Evans was easily targeting them. The British No.1 timed his passing shots to perfection as Djokovic was stretched in the first game. But Evans was showing signs of cracking, thus earning Djokovic the break in the second set, he led 3-0.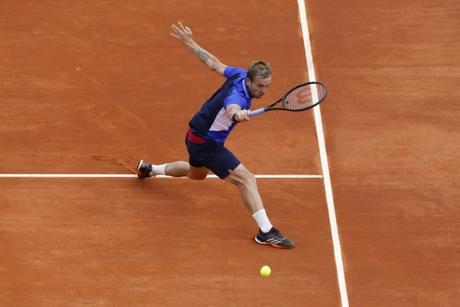 But at 3-1, Evans used every corner of the court to win back the break. To win the game, Evans hit a fierce forehand shot that landed on the line. Evans served brilliantly and kept Djokovic guessing. The World No.1 was not having much luck with his returns either, and coupled with Evans' in-form forehand, the second set was evenly poised at 4-4.
Evans found himself in position for the victory as Djokovic struggled with his serve. After a tough hold to lead 5-4, Djokovic had a set point saved by Evans. But Djokovic was broken courtesy of a double fault, and Evans served for the match. Later, Evans completed the stunning match to oust Djokovic out of the 2021 Monte Carlo Masters in straight set, 6-4, 7-5.
Dan Evans:

The first player to defeat Djokovic in 2021 #RolexMCMasters pic.twitter.com/t3Gyo3zS8j

— Tennis TV (@TennisTV) April 15, 2021