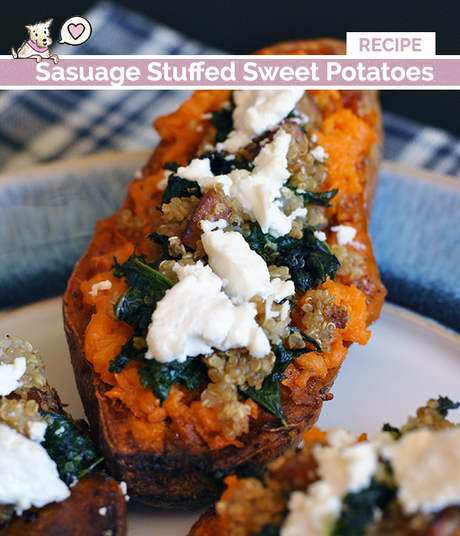 I took Monday off last week to sit on my butt and watch movies and bake some treats. My husband decided to take the day off as well and instead of a relaxing day by myself, we spent nearly 8 hours painting the main floor of our new house. As much as I was looking forward to fall movies and baked goods, Monday was a day well spent! The blue color I chose for the main floor was scaring me because it looked pretty dark when I used it in my office. We got it on the walls in the much bigger and airier living room and den and I can pat myself on the back for making the absolute perfect color choice! It's so pretty I could cry! We also finally took all the plastic off our fireplace and now I have pretty blue walls and brick to stare at every day. It ain't a bad life I live ;)
So since I didn't get to bake any fall goodies on Monday, I wanted to cook something that still felt like fall. For some reason baked sweet potatoes are that for me. I added apple chicken sausage and some sage and it was exactly the kind of recipe I was craving! Plus, since you can cook everything pretty much all at the same time, it's quick to whip up and you can eat it before tackling another paint project, even on a weeknight! This is a true statement because I cooked this, we ate it, and we still got the hallway painted before bedtime. Booyah!
Stuffed Sweet Potatoes with Sausage and Kale Recipe
2 sweet potatoes
6 oz. apple chicken sausage (or 2 links) – diced and cooked
1 clove garlic – minced
1/4 cup dry white wine (or chicken broth)
2 cups chopped kale
1/4 teaspoon smoked paprika
1/4 teaspoon ground sage
Pinch of cayenne pepper
Salt & pepper
1 cup cooked quinoa
2 oz. goat cheese
I start this recipe by getting my sweet potatoes in the oven so they can cook while you make the filling. Preheat your oven to 400-degrees. Cut the potatoes in half lengthwise and coat them in vegetable oil and a sprinkle of salt and pepper. Place them cut side down on a baking sheet. Cook for 25-40 minutes or until you can slide a fork right through them and the skin starts to pull away from the potato.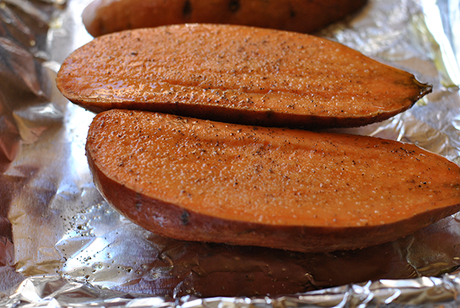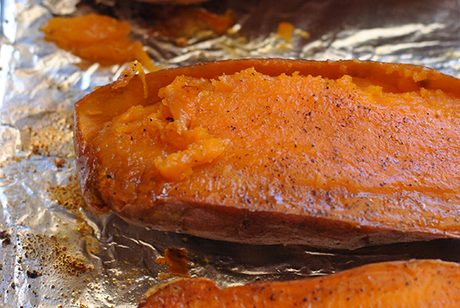 Get your quinoa rinsed and cooking according to the package instructions. You'll want 1 cup cooked, so that typically calls for 1/2 cups uncooked quinoa with 1 cups water. Bring the quinoa and water to a boil, reduce to a simmer and cook for 15-20 minutes until the liquid is gone. Once it's cooked, fluff and set aside.
While the potatoes and quinoa are cooking, cook your diced sausage on medium heat until it starts to brown around the edges. About 5 minutes.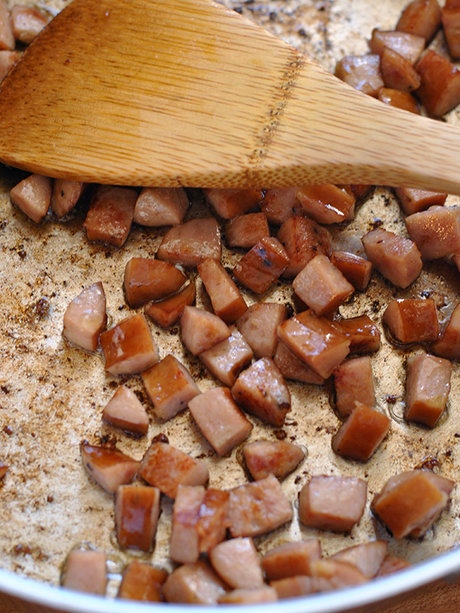 Pour in your white wine or broth to get the little bits off the bottom of the pan and then toss in your chopped kale and garlic. Let it wilt for 1 minute. Stir in your cooked quinoa and add your sage, cayenne pepper, salt and pepper, and paprika.
Once your sweet potatoes are cooked, take a fork and mash the insides around a bit in the skin and make a well for the filling. Add the stuffing and then add chunks of the goat cheese right on top. Place back in your 400-degree oven for 4-5 minutes until the goat cheese starts to melt.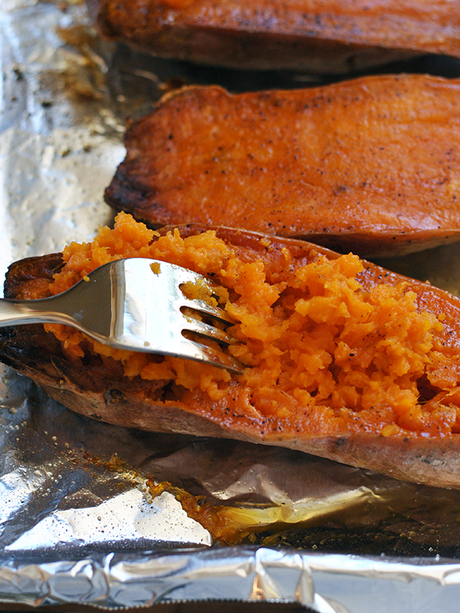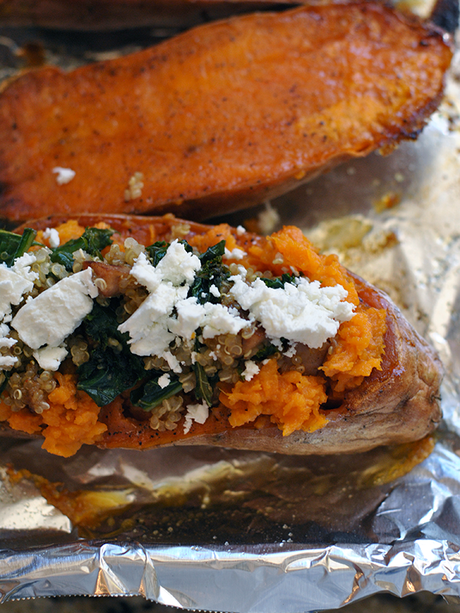 When your goat cheese is looking good and melty, it's time to dig in!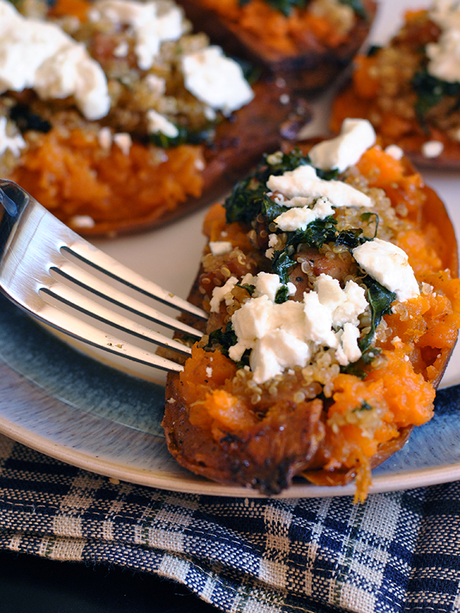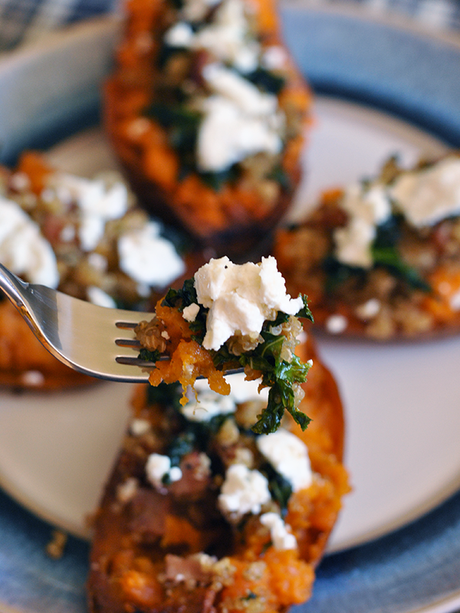 I would also recommend topping these with some chopped pecans or my husband said he wished there were some dried cranberries in his!