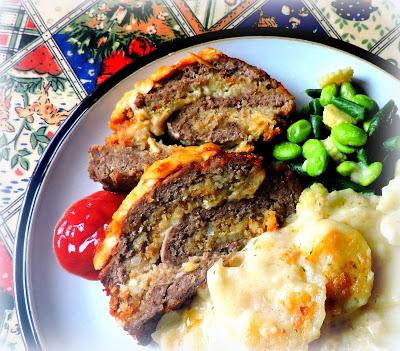 My husband doesn't quite understand our North American obsession with meatloaf.  Its not something he grew up with.  On the other hand for meatloaf is somewhat of an institution and what I would call comfort food at its best!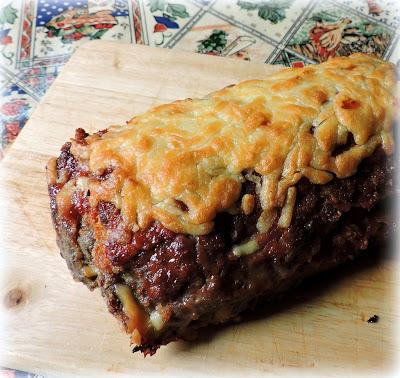 Its not something which really photographs well, but hey ho.  Don't just this book by its cover because it is absolutely delicious!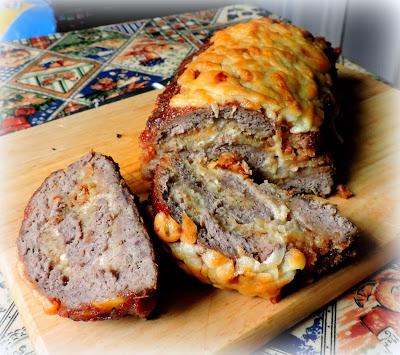 Its a bit different than the usual meatloaf in that you season your meat and pat it out to a rectangle, and then cover it with a type of onion stuffing mix . . . made from simmering onions in beef stock, and mixing that with dried bread crumbs.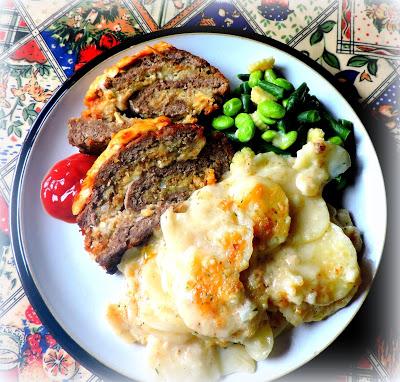 A layer of grated strong cheddar cheese gets sprinkled over that and then you roll the whole thing up like a jelly roll.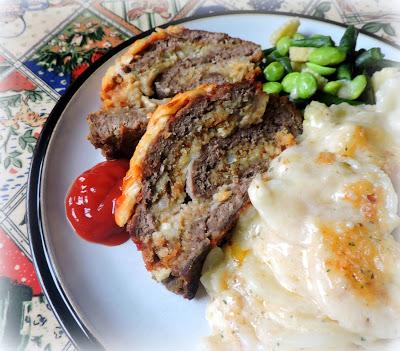 It gets baked in the oven and then glazed with a mix of tomato ketchup and maple syrup, for a bit of sticky yum yum.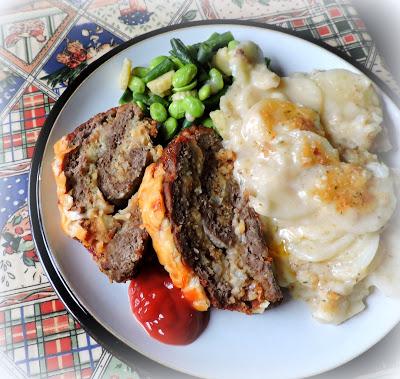 More cheese is melted on top and then it gets served cut into slices with whatever your favorite sides are.  You could serve gravy with it, but we like tomato ketchup!  Chill any leftovers and then serve the next day, thinly sliced and popped into sandwiches for a tasty lunch!  Scrummo!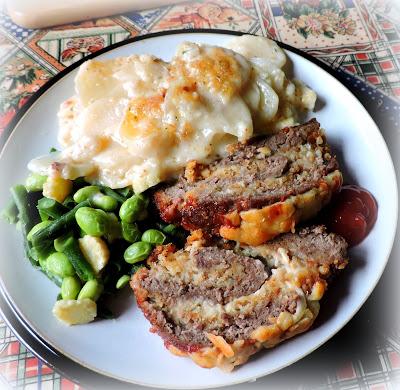 *Stuffed Meatloaf*Serves 6Printable Recipe  This is a moist and delicious loaf that slices well for sandwiches the day after.  
1 small onion, peeled and finely chopped (1/4 cup)80ml beef stock (1/3 cup)150g bread cubes (about 1/4 inch) toasted (2 1/2 cups)1 1/2 pound minced beef (ground beef)1 large free range egg1/2 tsp each onion, and garlic powder1/2 tsp salt1/2 tsp pepper1/4 tsp dried thyme, rubbed180g grated strong cheddar cheese (1 1/2 cups) divided 
To glaze:60g tomato ketchup (1/4 cup)1 TBS Maple syrup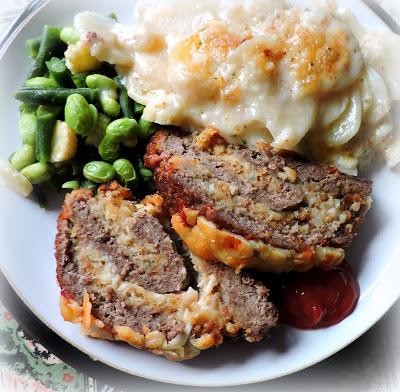 Preheat the oven to 180*C/350*F/ gas mark 4.  Place the onion in a small saucepan with the stock. Simmer for about 5 minutes.  Remove from the heat and stir in the bread cubes.  Set aside to infuse.
Mix the meat together with the egg, onion and garlic powders, salt,  pepper and thyme.  Pat out into a 14 inch by 8 inch rectangle on a piece of cling film.  Cover with the bread crumb mixture.  Sprinkle evenly with 120g of the cheese (1 cup).  Starting from a short end, roll up tightly.  Place seamside down into an 8 1/2 by 4  1/2 by 2 1/2 inch loaf dish. 
Bake uncovered, for 55 minutes.  Whisk together the maple syrup and the ketchup.  Brush over top, then sprinkle with the remaining cheese. Return to the oven and bake for a further 10 to 15 minutes, until glazed and the cheese has melted.  Let stand for a few minutes before cutting into slices to serve.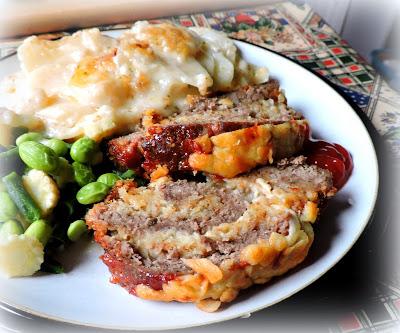 I love comfort food meals like this.  I served it with scalloped potatoes and mixed vegetables, but mash would go equally as well, or yes . . .  mac and cheese.  Bon Appetit!