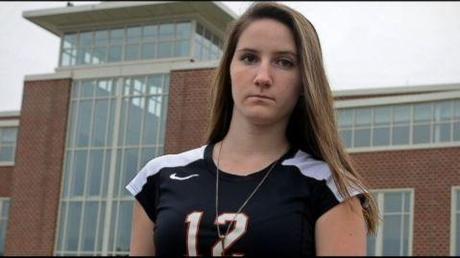 Erin Cox is a high school senior at North Andover High School.  In addition to her role as captain of the school's volleyball team she is also an honor student.  Earlier this month, after finishing work Erin received a phone call from a friend who had been drinking at an underage party.  Her friend asked her if she could pick her up to avoid recklessly driving home herself.  As any good friend Erin drove to the party to pick up her friend. 
A few minutes after arriving at the party, police officers arrived at the party.  Erin was not arrested.  Both eye witnesses and police officials state she did not drink alcohol but was in fact at the party to pick up her friend.  Erin was shocked to learn her school was demoting her from her captain position as well as suspending her for 5 games.
Why you might ask?
Well the school has a zero tolerance policy when it comes to underage drinking.  Even though there is no proof Erin was drinking, the school doesn't seem to care.  Wendy Murphy, the Cox family attorney, is trying to reverse the decision.
She states:
"By punishing Erin Cox, the North Andover School District sends a contrary and very dangerous message — that young people are better off letting their friends drive drunk."
Twitter supporters are using the hashtag #IStandWithErinCox to bring awareness to the school's ruling.
The school's decision to punish this hard-working and genuine friend is a poor reflection of the school.  It is ludicrous that Erin is demoted during her senior year and suspended for 5 games when it is a fact she did not drink.  In addition, she only went to the party to pick up her friend.
I am confused as to what message the school wants to direct towards their students.  Should Erin have allowed her friend to potentially drive recklessly, surely endangering herself as well as others?  The school should immediately reverse the ruling while issuing the biggest apology of their lives.  The stupidity of this situation is reminiscent to the decisions made by our politicians.
I STAND WITH ERIN COX, DO YOU?
Source: ABC News
Email: [email protected]
Twitter: @adrakontaidis & @talkrealdebate