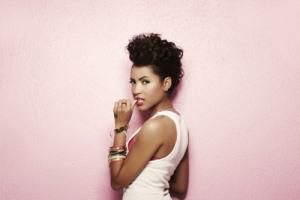 Photo Courtesy: officialsabi.com
This jam is sung by up-and-coming pop star Sabi and I'm 93% sure you'll recognize her voice from all the collaborations she has been a part of. This young lady has made sweet music with some pretty big stars:
So, where did Sabi come from and why did she get to meet B. Spears before I did? Sabi aka Jenice Dena Sab-bion Portlock was born in Inglewood, California in 1988. A big fan of music videos, Sabi grew up watching MTV. Of course that inspired her to become a singer/songwriter…that's what MTV does to a girl.
Not only did Sabi have a desire to sing, she also had dreams to become a dancer and actress. Appearing in a bunch of commercials, Sabi also appeared in a small, independent film titled, "The Smallest River in Almirante." What's so special about this film? Shia LaBeouf was the executive producer…oh, I'm impressed.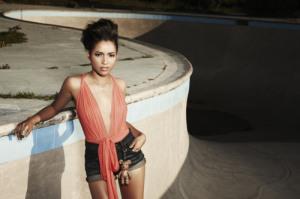 Photo Courtesy: officialsabi.com
Currently, Sabi is totally focused on her singing career. Starting out using a voice recorder to lay down the hot beats, Sabi caught a break in 2009 when she was invited to become one part of a female duo called The Bangz. This girl group was really starting to make headway until September 2009 when Sabi's singing partner, Ella Ann was seriously injured in a drive by shooting. Sadly, The Bangz could no longer continue and Sabi went solo.
Side note: "I grew up watching Britney's videos," Sabi says. "It's crazy to want to be a part of the music industry my entire life and then get the opportunity to be featured on a record by one of my idols." Okay fine…I'm bitter about it.
Sabi is currently recording her much-anticipated album, which is set to be released in 2012. The pop singer has released two promotional singles, "Goodnight" and "Wild Heart."
You may have heard "Wild Heart" on the E! network…it's the promotional song for season 2 of "Kourtney and Kim Take New York." cough…Team Khloe…cough
Favise lyrics: "Damn (Damn!)/This wild heart of mine/It's gon' get me in trouble"