I got injured the very next day after I came back from my long trip.  Thus I was not able to be in the kitchen and also sadly, I was not able to bake anything for this Christmas.  
We were not around for 3 Christmases and I was really looking forward to some Christmas bakes.  Well, as we aged, all sort of health issues strike. c'est la vie and life goes on.

During my trip, we had Stromboli and as I was eating it, I thought about my son.  Since he loves pizza, I am sure he will love Stromboli.  At least serving Stromboli is less messy than pizza was my first thought.

Stromboli is not as common as pizza here so I decided to give this a try.   If you have eaten a calzone, then the difference between these two is calzone has sauce over it while stromboli, the sauce is inside.  Well at least that was what I was being told.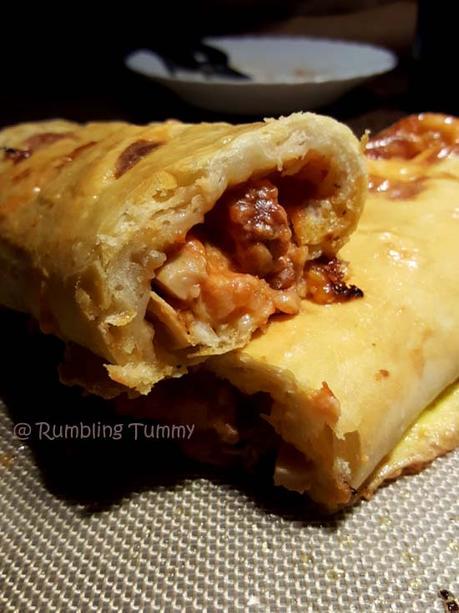 Findings: My son totally fell for this one.  He was even asking for it the next day. 
What you need:
Pizza crust (source: Laura Vitale)

500g plain flour
2 tsp salt
1 tsp sugar
2 tbsp olive oil
1 1/3 cup warm water
2 tsp yeastMethod (Crust)


Add sugar and yeast into the warm water.  Give it a stir and let it sit to turn foamy.


Place plain flour into a mixing bowl, create 3 craters.
Place salt, olive oil and yeast solution into the flour (in each crater).
Using a hook, knead into a smooth dough.
Cover and let it sit to double in volume.


Punch down and dough is ready to use.


Fillings:


Sausages of your choice, cut into small chunks

½ yellow onion, sliced finely

1 yellow bell pepper, sliced finely

¼ cup pizza sauce

1 cup shredded mozzarella cheese




1 egg (egg wash)




Method:




Preheat oven to 200°C.  Lined a baking sheet.




In a frying pan, add olive oil and sauté onion until brown. 




Add sausages and let cook for 10 mins. 




Add in bell pepper and sauté until no liquid.  Set aside.




Roll dough into a rectangle. 




Spread the sauce over dough with a 2" parameter untouched. 




Top with cheese to form a roll across.  Spoon pizza sauce over the cheese.




Place sausage mixture next to the cheese mixture. 




Fold long sides of dough over filling; press edges to seal.  




Brush beaten egg over it.  Slit some diagonal slit.




Bake for 15 to 20 minutes or until crust is golden brown.




Serve hot.

Blessed Christmas everyone!

If you have enjoyed this post by Rumbling Tummy, be sure to follow this Rumbling Tummy on Facebook, Instagram, Pinterest, Twitter and Google+.