This post was originally published in the September 2011 issue of
The Holland Times
.
The Holland Times
is a newspaper that reports Dutch news in English for the expat community. A monthly publication,
The Holland Times
can be picked up for free at various locations throughout Amsterdam, The Hague, and Rotterdam, or you can pay for a subscription and have it delivered to your home. For more information, check out the website.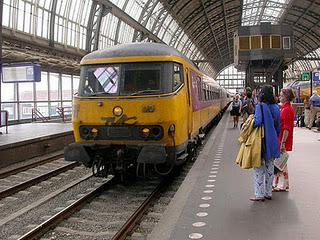 Dutch designers are using innovative ideas to spruce-up railway stations and help de-stress commuters. TIFFANY JANSEN reports how these creative concepts lift the spirits of weary train travellers.
Commuting by train can be a stressful endeavour. Once you arrive at the station, you have to wade through a sea of fellow travellers before taking your place in line at the ticket counter or kiosk to purchase a ticket.
Then there is the task of finding the platform your train will depart from, realising that at any moment you may be informed over the loud speakers that the platform has been changed, in which case you are now presented with the challenge of rushing to the new platform before the train leaves without you.
Packed together like sardines, you and the other passengers will shuffle onto the train and begin the hunt for a vacant seat. If you are lucky, you will find an empty spot and squeeze in next to a man in a suit who glances up from his book long enough to give you a dirty look for encroaching on his space.
Otherwise, you will stand in whatever space is available – the aisle, the stairwell, by the exit – sandwiched in with the rest of the unfortunate.
Perhaps the conductor will come through, forcing you to dig your ticket or OV-Chip Card out of your pocket to prove that your presence on the train is legitimate.
At your stop, you will squeeze your way to the exit and fight your way off of the train through the masses pushing to get on.
All this is assuming you avoid the train-travel curse dreaded by Dutchies and non-Dutchies alike: the vertraging, or the delay.
"Most train stations are dark and gloomy which adds to the depression and anxiety that commuters feel," says Beverly Hills psychiatrist Dr. Carole Lieberman.
To alleviate some of the depression and anxiety of commuting, Dutch railway stations are welcoming new innovations. One of these is the Transfer Accelerator that opened to the public on 6 July at Overvecht Station in Utrecht.
The brainchild of design firm HIK Ontwerpers, the Transfer Accelerator is a large slide that passengers can use as a faster and more exhilarating alternative to the ordinary stairs leading to the station's entrance.
The Transfer Accelerator has been a hit among commuters. "Children - and sometimes their parents - use the slide," says HIK Ontwerpers architect Henk Verhagen. "As time goes by, more and more businessmen are using it [as well]. And, of course, youngsters use it a lot."
The Transfer Accelerator is not just generating buzz at the railway station it calls home. Coverage of the installation has been seen all over the world from NOS Journaal here in the Netherlands to American news website and blog The Huffington Post.
Based in Overvecht, HIK Ontwerpers first presented the initiative to ProRail, the government agency responsible for the maintenance and organization of the Dutch railway systems, as a way to give the station a more playful atmosphere and detract from the area's less-than-stellar reputation.
The slide is part of the HIK Ontwerpers ongoing urban installations series, which has contributed illuminated poetry plates, an outdoor public kitchen and a "rent-a-park" car added to the station.
But Overvecht is not the only station looking to put a smile on commuters' faces. At Station Alphen aan den Rijn in Zuid-Holland, architects KuiperCompagnons of Rotterdam, in cooperation with the municipality of Alphen aan den Rijn, constructed a bicycle parking garage in the shape of a giant
apple
.
The Bike Apple, as it is aptly named, was installed in 2010 and holds up to 970 bicycles.
Both the Transfer Accelerator and the Bike Apple add "a touch of whimsy and practicality to the station," according to Dr. Lieberman.
"These new structures convey the message to train commuters that someone is paying attention to their weariness and stress, and is trying to come up with creative solutions."
Dr. Lieberman suggests painting stations in bright colours, decorating the stations with plants, and playing relaxing music as other ways to help reduce the levels of stress felt by commuters.
She also recommends that passengers bring an iPod or other music device along for their journey and play relaxation programmes or light music as a way to combat travel-related stress.
One such programme is Lieberman's own Shrink on Board, a relaxation program catering to stressed-out passengers.
"I would like to see 'Stress Free Zones' at railway stations," Lieberman says pensively. "Pastel rooms or clear glass bubbles where commuters can get massages, eat comfort food, be surrounded by flowering plants, and where silence is golden - no cell phone conversations, no crying babies, just quiet except for piped in new age or classical music."
For now, commuters will have to go to Schiphol airport for that kind of pampered treatment on the go. But it sure is nice to dream.
Though HIK Ontwerpers have no plans of a Transfer Accelerator monopoly at the moment, Holland has most certainly not seen the last of their innovative creations.
"There are a lot of possibilities," Verhagen says with a twinkle in his eye. "Ziplines, swings, seesaws… According to us the sky is the limit!"
Check out the October issue for Tiffany's article on a WWII Veteran's reunion with his past.
Photo:
Hunter-Desportes
, Flickr

Did you enjoy this post? Subscribe via rss feed or email to catch the latest from Clogs and Tulips: An American in Holland.
©2011, Clogs and Tulips: An American in Holland. All rights reserved. On republishing any part of this post, you must provide a link back to this original post