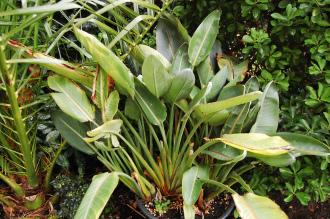 Strelitzia reginae (24/01/2016, Walworth, London)
Position: Full sun to light shade
Flowering period: Spring to early summer
Soil: Moist, well drained
Eventual Height: 1.5m
Eventual Spread: 2m
Hardiness: 9b, 10a, 10b, 11
Family: Strelitziaceae
Strelitzia reginae is a slow growing evergreen perennial with a clump forming habit. Its leathery grey/ green leaves are ovate with entire margins, up to 70cm long and 30cm across. Its leaves are in a fan shaped arrangement and appear at the end of 1m long petioles which emerge from its crown. Its orange and purple flowers appear appear at the end of flowering stalks which emerge from its crown, these resemble a bird's head. Its fruit is a leathery capsule. Its roots have rhizomes which aids its slow spread.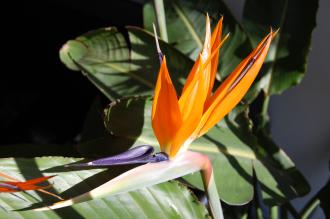 Strelitzia reginae Flower (19/03/2011, Walworth, London)
Strelitzia reginae, commonly known as Bird of Paradise, Strelitzia and Crane Flower, is native to South Africa. In its native habitat it grows in coastal bush and thickets.
The etymological root of the binomial name Strelitzia is named after Queen Charlotte (1744-1818) from the house of Mecklenburg-Strelitzreginae. Reginae is from the Latin meaning 'queen'.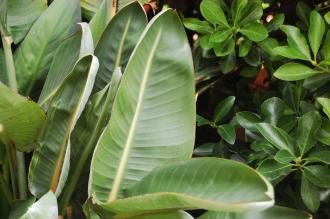 Strelitzia reginae Leaf (24/01/2016, Walworth, London)
The landscape architect may find Strelitzia reginae useful as a large, free flowering houseplant with attractive foliage. Where the climate allows, this plant may be used in landscape schemes as a dramatic evergreen foliage and flowering plant.
Ecologically, Strelitzia reginae flowers are attractive to pollinating insects, including bees.
The Royal Horticultural Society have given Strelitzia reginae their prestigious Award of Garden Merit in 1993.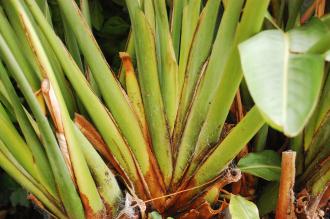 Strelitzia reginae Crown (24/01/2016, Walworth, London)
Strelitzia reginae prefers moist, loamy, well-drained soils. It tolerates most pH of soil.
When maintaining Strelitzia reginae as a houseplant its soil should be watered regularly. Watering should be reduced during the winter months. Its preferred active growing temperature rages from between 21ºc to 32º, although it will tolerate a temperature of low as 13ºc. Feeding with weak fertiliser solution should be carried out every two weeks during the growing season.

Landscape Architecture