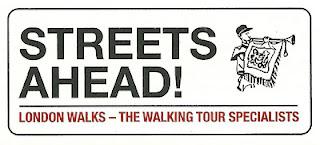 Streets Ahead is the occasional column from London Walks' Pen David Tucker…
Let's crunch some London numbers.
London's newest - and tallest - skyscraper, The Shard, going up on the Southwark side of London Bridge, will top out at 1,017 ft.
We know 1,017 ft. is tall. But how tall?
Well, maybe think of the London "skyscraper" of its era, Centrepoint built in 1966. It's 384 ft. high. Basically that's the 100 yard long American football field stood on end and topped up with the two end zones. (And what helps to get London's 21st century architectural Sequoias into perspective is to bear in mind that Centre Point is only 19 ft. taller than what must have seemed like the eternally [well, 250 years] reigning champ, St Paul's Cathedral.)
The Shard in short - "short"? - is about three times as tall as Centrepoint.
Or you want that horizontally, well, were The Shard felled like a Sequoia, walking the length of it would be like getting off at Tottenham Court Road Tube Station and walking down Charing Cross Road to Cambridge Circus to go to the Palace Theatre to see Singin' in the Rain.
Best for last, though. We've got it vertical - probing the soft depths of the London sky. We've got it horizontal - Sequoiaing down Charing Cross Road. Let's mine shaft it. They are, after all, busily burrowing away at the Tottenham Court Road-Oxford Street-Charing Cross Road-New Oxford Street junction at this very moment - burrowing away on the Cross Rail project.
Anyway, were you to bore a 1017 ft. deep well at Tottenham Court Road Station - a well deep enough, in other words, to sink every last inch of The Shard into it - that would get you almost down - to within about 100 ft. - of the well they actually did bore there, beneath Meux's Horseshoe Brewery as it then was, in 1877.
And how deep was that well? In another sense, I mean - not just the deep as the "inverted Shard and then some" sense.
It's several hundred million years deep, that's how deep it is. That 1146 ft. deep well they bored in 1877 went down through millions of years of London history. It bottomed out at what geologists call the Devonian rocks of the Palaeozoic platform.
So there's some hard rock indeed for you to roll about in your mind while you're waiting for Adam or Richard to get their Rock 'n' Roll London Walk rockin', of a Friday afternoon, from right there, Tottenham Court Road Tube Station.