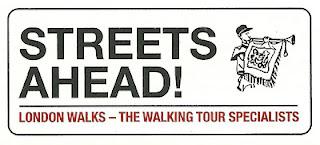 Streets Ahead

is the occasional column from London Walks' Pen David Tucker…
"London Walks guides do it best" (Old English saying).
They go where nobody else has thought to go, find out stuff you're not going to get elsewhere.
So let's hoist a stein to the guides who refresh the parts others cannot reach!
Here's a lovely little example.
It's just a butcher's in Mayfair.
"Just a butcher's?"
Think again.
Here's Richard giving you the choicest of cuts.
"Okay, it's Game Season and that's cue the ground landlord, the Grosvenor Estate. It's cue the Grosvenor Estate because their name means Great Hunter. Gros Venor. It's Norman French.
"But there's a lot more to it than that. This terrace is "South Kensington red brick and terracotta." The stucco is orange. It's what it is because that's how landowner Hugh Lupus Grosvenor, the first Duke of Westminster, liked it.
"And what Grosvenor liked Grosvenor got. He was a one-man planning and enforcement officer.
"You cottoned on to the fact that there aren't all that many pubs in Mayfair? It's because of the Duke. He duked dozens of them off his patch.
"He wasn't hidebound, though. This butcher's is a case in point. There was a clause in the lease that prohibited the butcher from publicly exposing carcasses. Certain fine aristocratic sensibilities - this is Mayfair, after all - wanted to be protected from the sight of those carcasses. They called on the Duke to make the butcher abide by that exact provision of the lease.
"The Duke came along to see for himself. And overruled his own lease. He said, 'Butcher Green's exhibition of prominent carcases of sheep may be permitted as an ornament to the street'.
"And that was that."
It's just the briefest of moments in Richard's Mayfair walk, but I like it very much. I like it because without his having drilled down that deep I never would have given that bit of shop frontage a moment's notice.
And I like it because it brings up the most precious pearl of all (the one you have to dive down the deepest to get): why things are the way they are.
And I like it - most of all, I think - because it's a chance to meet the man himself, the Duke (even though he's been dead for well over a century). More than meet him: get the measure of him!