Trend alert: There are simply too many street style photos of stylish bloggers, models, and editors wearing abbreviated and often voluminous bottoms to ignore it any longer.  But the question is, what do we call these short, wide pants—"culottes" or "gauchos"?
The Fairchild Dictionary of Fashion defines the split or bifurcated skirt as any garment which hangs like a skirt, but is actually pants.
Long, split skirts were developed for horseback riding in Victorian times so that women could ride like a man (side-saddle simply wasn't practical). Later, split skirts were worn so women could garden, ride bikes, and such and still look like they were wearing a skirt.
In the 1970s, the trend came back into fashion, hailed as the more comfortable version of the former capri pant. This era also saw the introduction of the palazzo pant trend, which has a similar billowing silhouette, but which hangs to the floor.
Let's set this straight—gauchos and culottes are cropped. If you're referencing a flowing full-length pant, please call it a palazzo pant.
So that's how the gaucho trend / culotte trend came into vogue, but are they the same thing? Glamour  says yes, gauchos and culottes are one and the same, and uses the terms "culottes" and "gauchos" interchangeably. WhoWhatWear calls them "gauchos" as does Lucky.  The Telegraph dubs them "culottes," as does Elle, Marie Claire, Stylecaster, and Refinery29. Perhaps more importantly, moste street style images on Pinterest label these lush, calf-grazing wide pant/skirts as "culottes."
The term "culottes" was co-opted from the original French definition of the word to describe these split riding skirts. As for tracing the term "gauchos," Wikipedia's gaucho entry only references the Argentine cowboy, not the clothing style. Dictionary.com defines gauchos, or gaucho pants, as wide, calf-length trousers based onthe pants worn by South American gauchos. 
Unwilling to dig any deeper (I'm writing a blog post not a fashion thesis), I will concede that the term "culotte" and "gaucho" are synonyms. BUT, I am unwilling to use it as a blanket term for billowing pants that look like skirts. Use the term "gauchos" and "culottes" for split skirts. That is, pants on the wide side (a more tailored short trouser is just that, a cropped pant). Also, they must be cropped—below the knee, hitting the calf, or at least above the ankle.
I wore gauchos in junior high, but I'm not so sure about wearing the culotte trend now. These ladies wear them well. Below are 20 street style photos of style bloggers, editors, and influencers pulling off gauchos/culottes beautifully.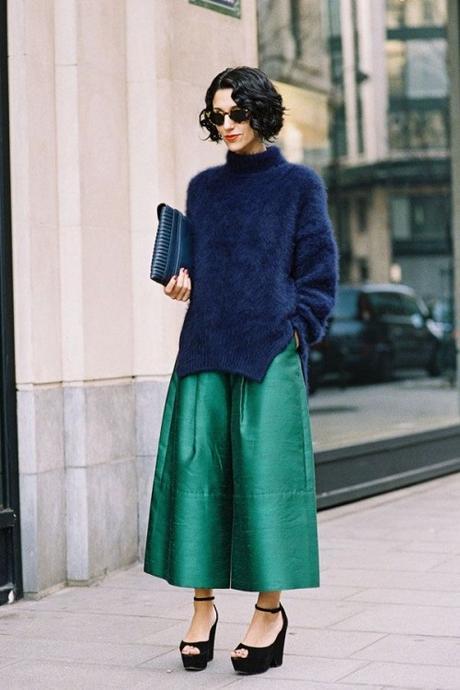 Fashion consultant Yasmin Sewell in green culottes at Paris Fashion Week AW13.
Photo by Vanessa Jackman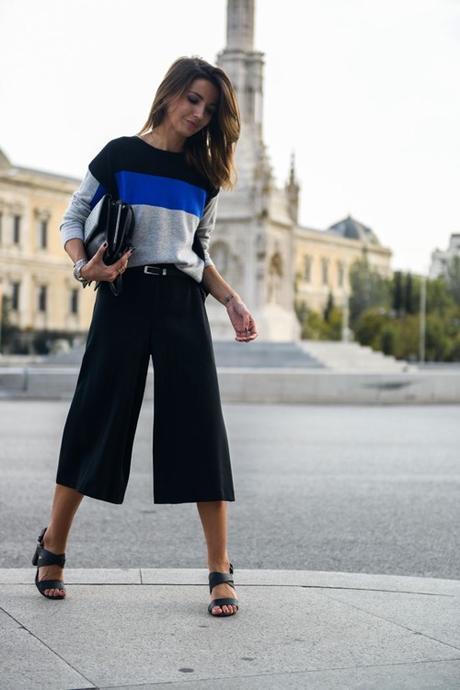 Blogger Alexandra Periera of Lovely Pepa in Madrid wearing a culotte
and colorblock look from Marks & Spencer's Arts Trend collection.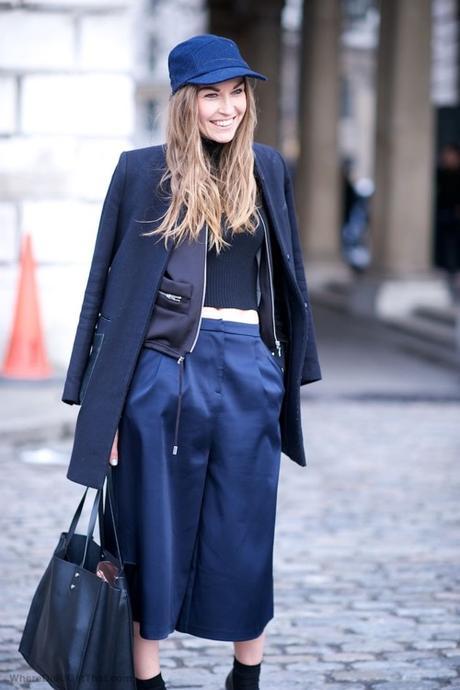 Blue wide leg culotte from Topshop.
Photo by Karen Blanchard/Where Did U Get That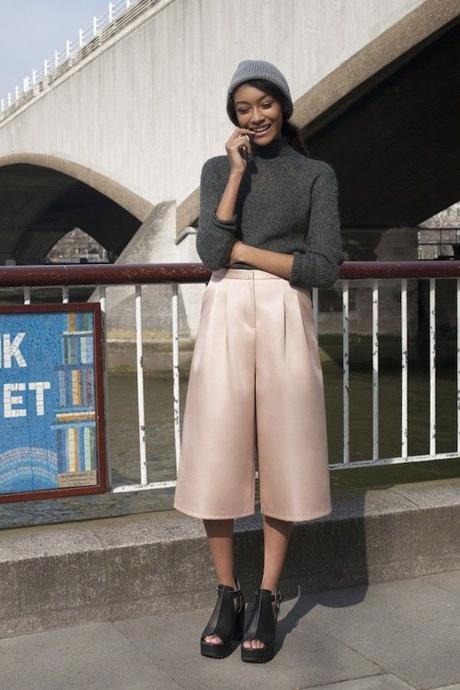 ASOS Fall 2014 Lookbook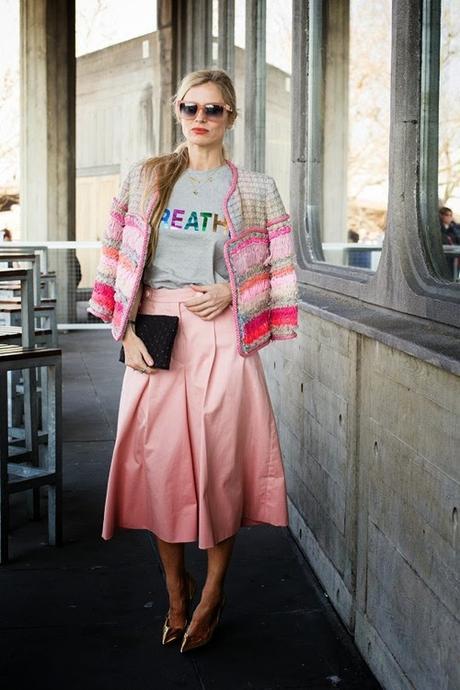 Model Laura Bailey at the Vogue UK Festival in pink culottes,
striped boucle jacket, "Breathe" tee, and blush sunnies.
Photo by Dvora.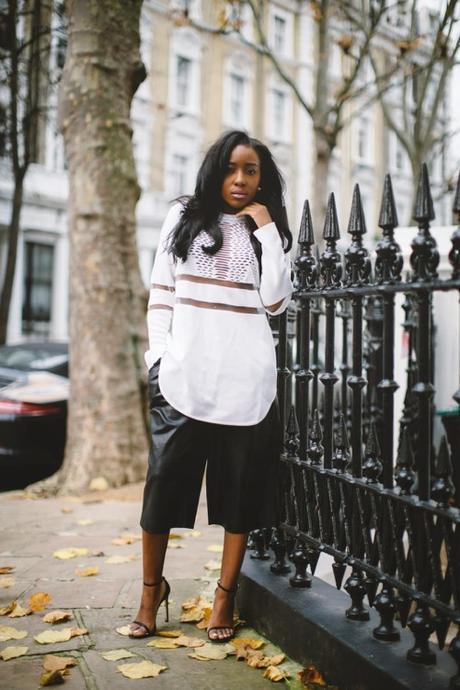 Style blogger Olivia Gold wears leather culottes by Zara,
Alexander Wang x H&M top and Stuart Weitzman sandals.
Photo by Paul Akinrinlola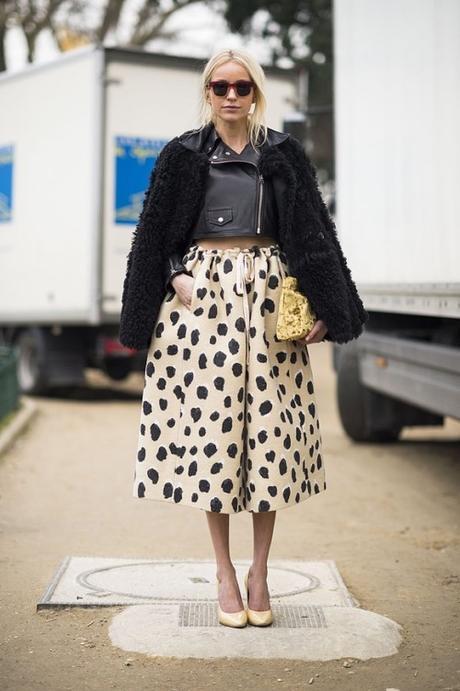 Editor-in-chief of Costume Norway Hege Aurelie Badendyck
wearing spotted drawstring culottes by Acne.
Photo by Adam Katz Sinding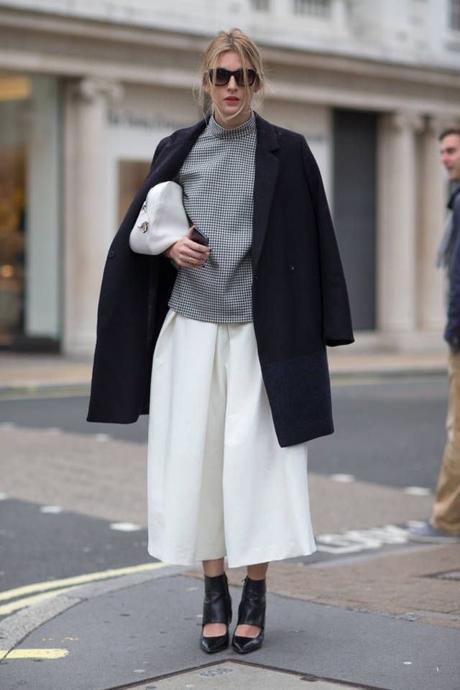 Parisienne Camille Charrière of style blog Camille Over the Rainbow
in London for the SS14 shows wearing voluminous white culottes from Tibi
paired with a Zara top, Jimmy Choo sunglasses, and Joseph cut-out boots.
Photo by Diego Zuko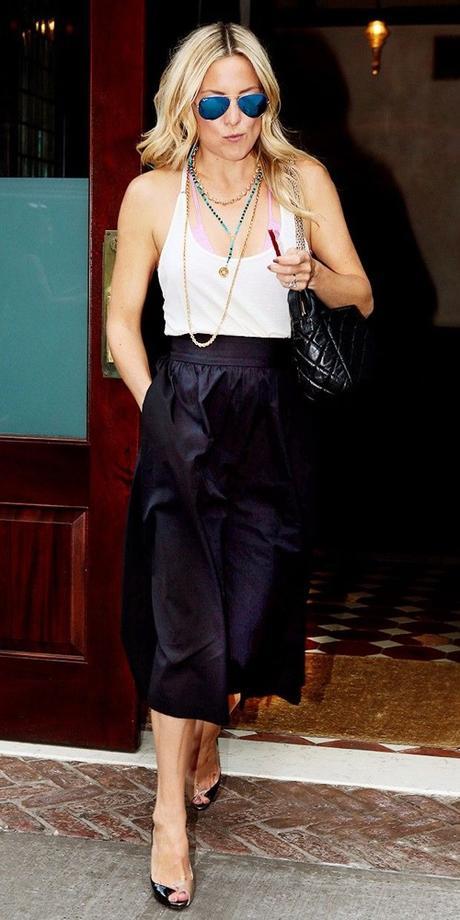 Kate Hudson in Alice + Olivia culottes.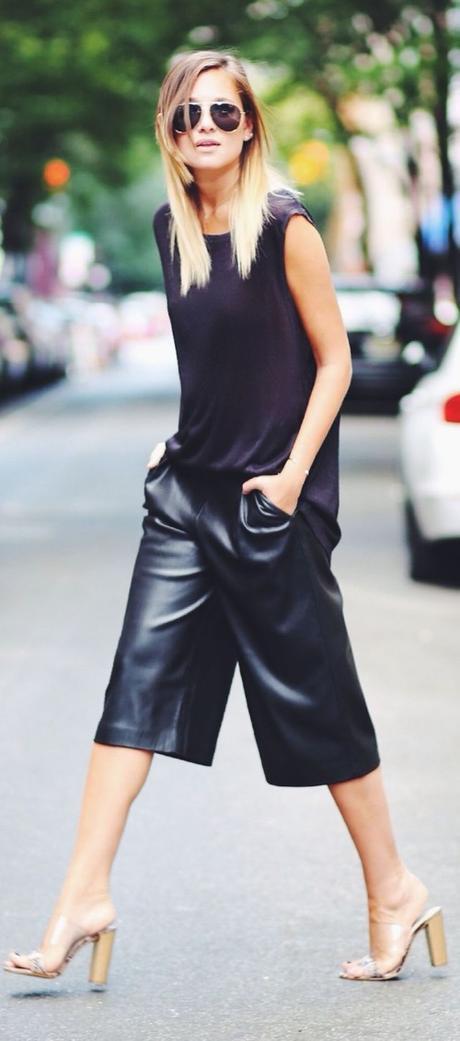 Danielle of style blog We Wore What pairs Zara black leather culottes
with an H&M tank and Guess? lucite and snakeskin slides.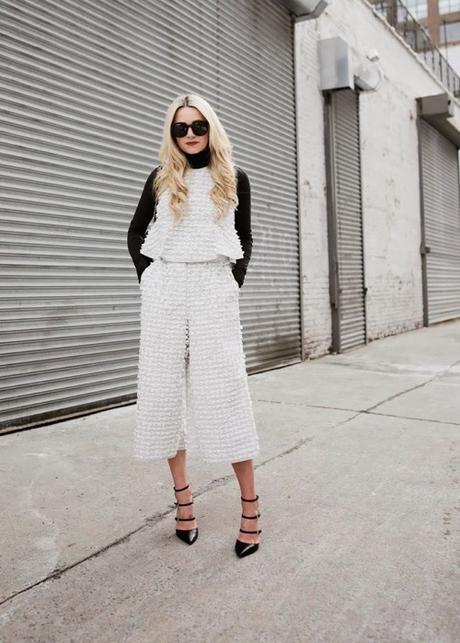 Style blogger Blair Eadie of Atlantic Pacific goes bow crazy in Tibi culottes
with a matching shell over a black Vince turtleneck.
Heels by Gianvito Rossi and sunglasses by Karen Walker.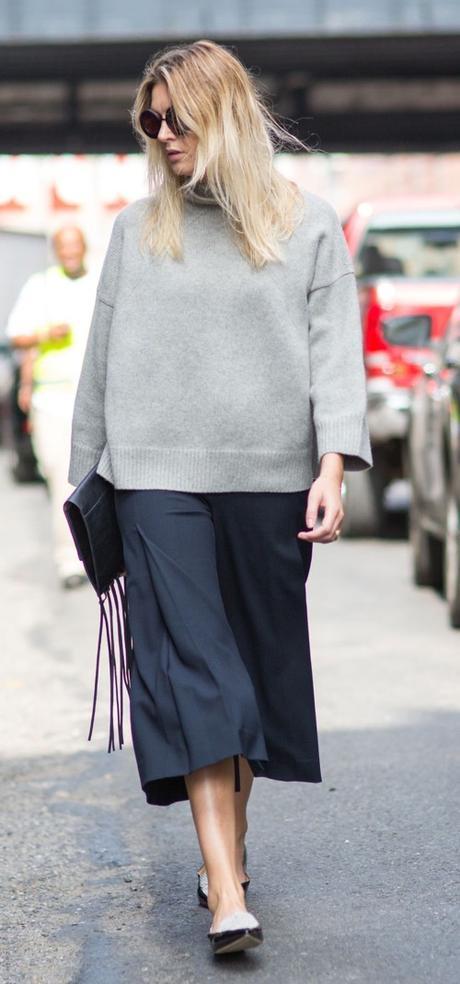 Camille Charrière of style blog Camille Over the Rainbow
during NYFW SS15 in black culottes with
boxy gray sweater, flats, and a fringed clutch.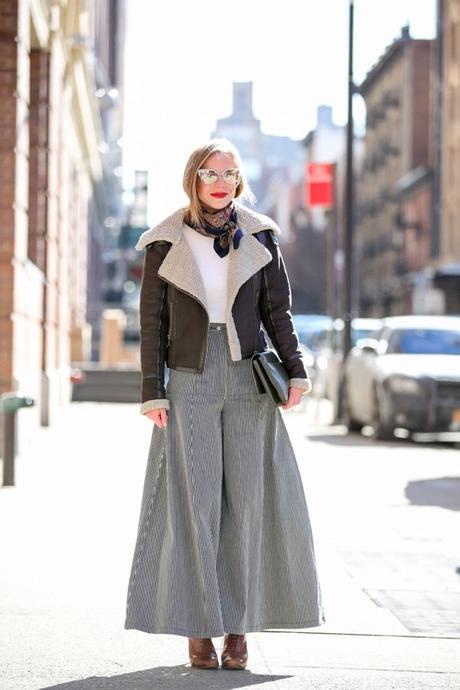 Culottes with a shearling-lined moto jacket at NYFW SS15.
Photo by Victoria Adamson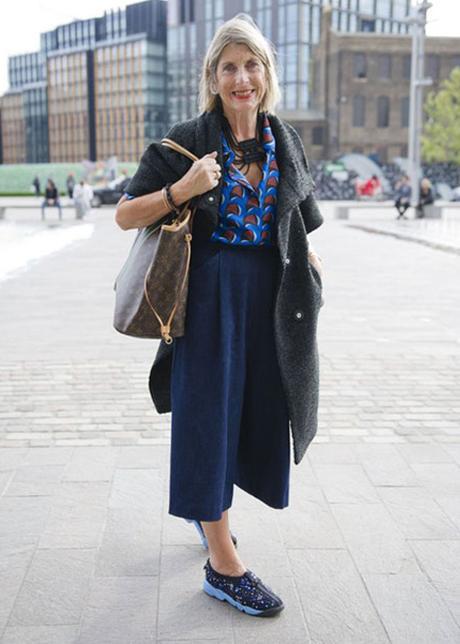 Journalist and jewelry expert, Avril Groom, at London Fashion Week
wearing Whistles culottes, J.W. Anderson printed blouse,
Schumacher coat, Dior sneakers and Louis Vuitton tote.
Photo by John Nguyen  •  Telegraph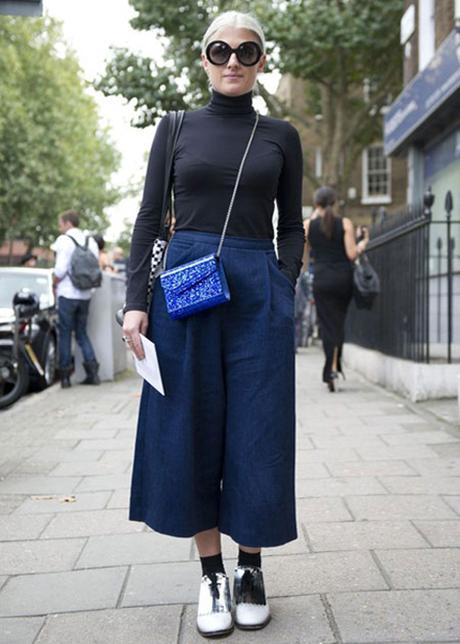 Jenny Kennedy, Junior Fashion Editor of ES Magazine,
wears blue culottes by Whistles and a black turtleneck by Wolford
accessorized with sparkly cobalt chain strap bag by Jimmy Choo,
and white and silver metallic oxford shoes by Marni.
Photo by John Nguyen  •  Telegraph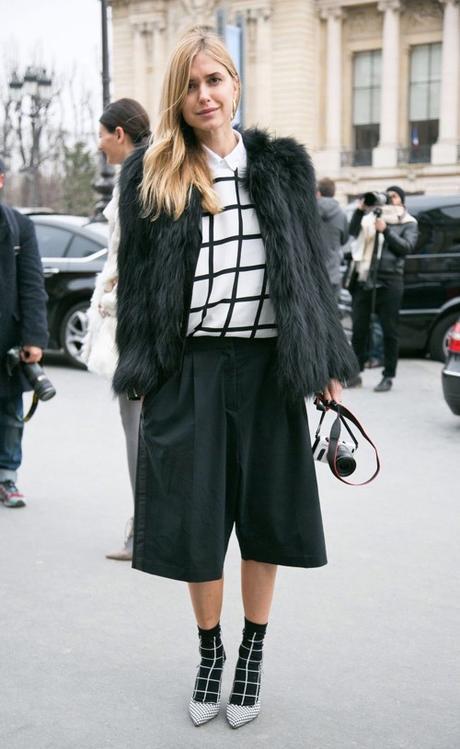 Danish street style star Pernille Taisbaek in black culottes,grid print top
and contrasting grid ankle socks, topped with a fur.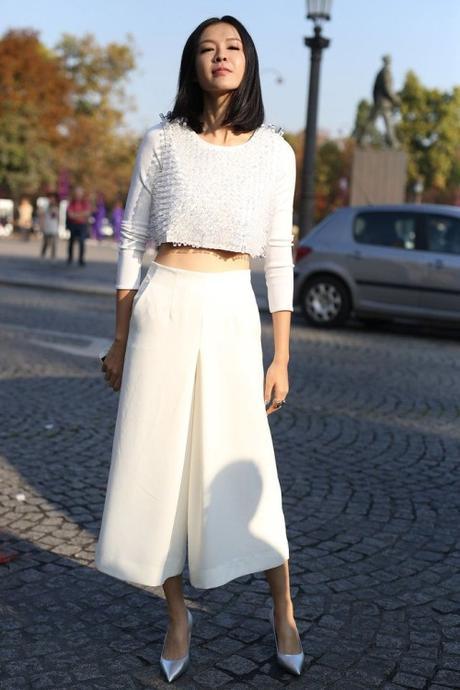 White culottes with a white crop top and pointy pumps at Paris Fashion Week.
Photo by Tim Regas/@wheresmydriver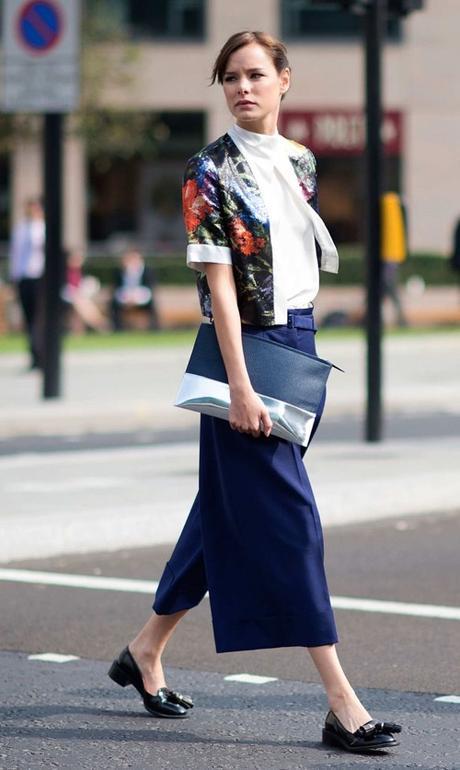 Blue culottes with sensible tassel loafers during Fashion Week.
Photo by YoungJun Koo/I'M KOO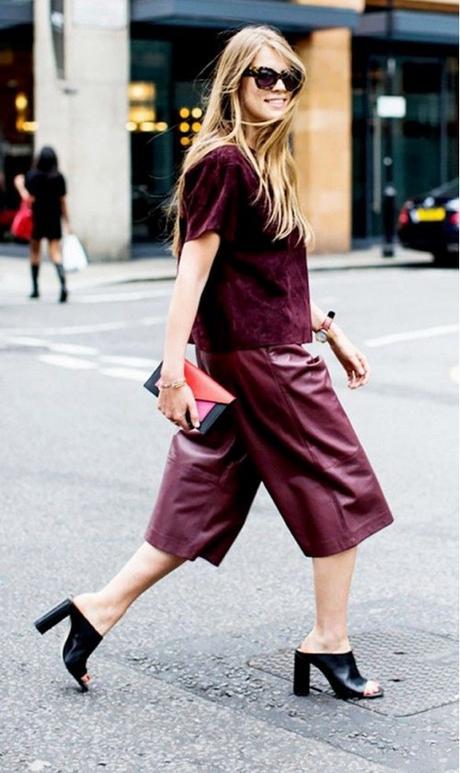 Joseph's Social Media Editor Monica Ainley in leather marsala culottes
paired with a boxy top, peep-toe mules, and colorblock Céline clutch.
Photo by A Love Is Blind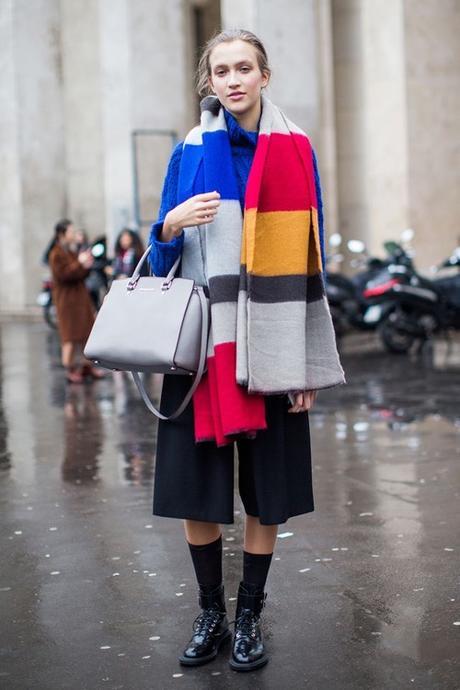 Black gauchos worn with knee socks and colorblock scarf
at the Spring 2015 couture shows.
Photo by Jonathan Daniel Pryce  •   Vogue