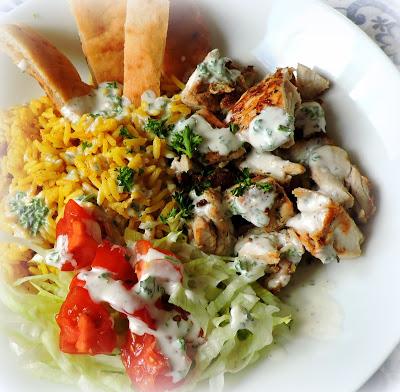 Generally speaking (and I know you should never speak in generalities) Saturday nights are takeway nights here in the UK.  Most people opting for an Indian or a Chinese from their local takeway restaurant.  Todd and I have only ever very rarely indulged.  Mostly I make our food here in the house by myself.  That way I know exactly what is in it.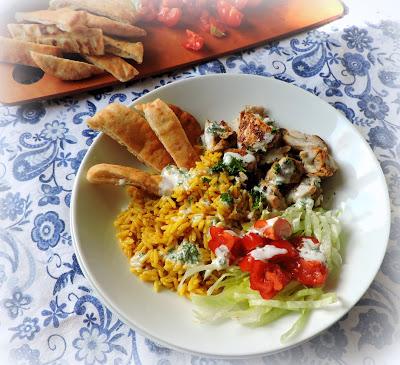 I suppose our Takeaways here in the UK are similar to what you might buy from a Street Cart in one of the larger cities in the US.  I saw this recipe on
Serious Eats
a few weeks back, and really wanted to try it myself.   It looked and sounded really tasty!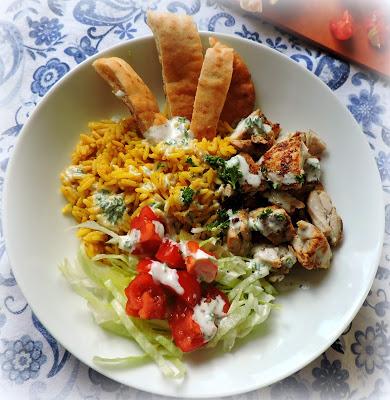 I have never eaten anything from a street cart, either here or in NYC, and I have never had this before in my life, so I can't really avow to its authenticity, but I can tell you (having now made it) that its really, really delicious!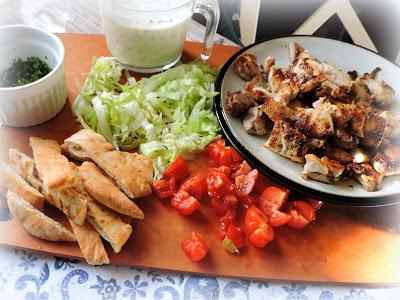 I loosely basically followed their recipe with a few variations.  I did the chicken a bit differently as you will see.  I didn't think their extra steps were necessary.  They basically cooked it twice.  I only cooked it once.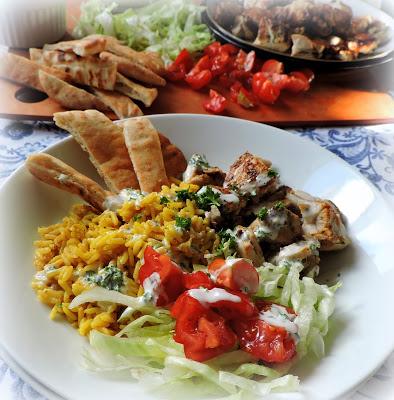 I used boneless, skinless chicken thighs that we got from Costco and they were really good.  I used dry oregano, which I rubbed between the palms of my hand and I grated/crushed the garlic, really fine.  Then I just mixed them with all of the other ingredients for the marinade.  I made the mistake of adding the oil to the marinade, but you know what?  It worked beautifully, so it really wasn't a mistake after all.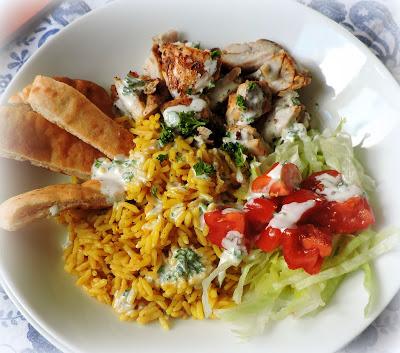 I cooked the chicken in a heavy bottomed non-stick skillet and I didn't have to add any extra oil to cook it.  The oil that was in the marinade worked well for helping it not to stick, and I think it actually helped it to brown better!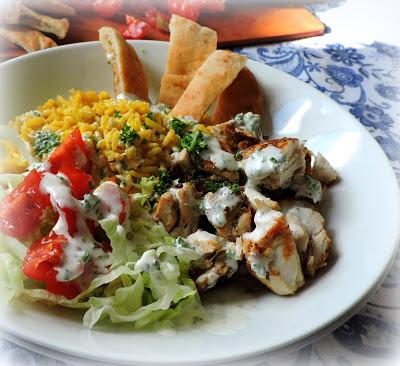 The rice was really easy to make and so flavourful!  I used Uncle Ben's long grain rice, but you could also use Basmati as the original recipe states.  It has a beautiful color and a lovely flavour!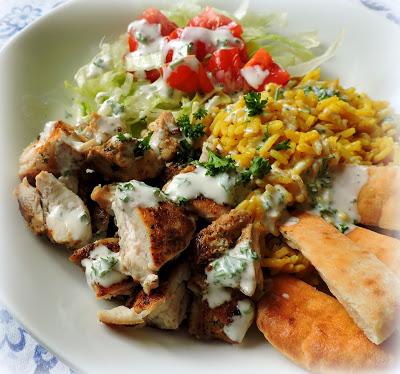 The sauce is delicious  . . .  mayonnaise (I use Hellman's), and Greek yogurt, sugar, vinegar, lemon juice, seasoning and plenty of parsley. I could eat this with a spoon!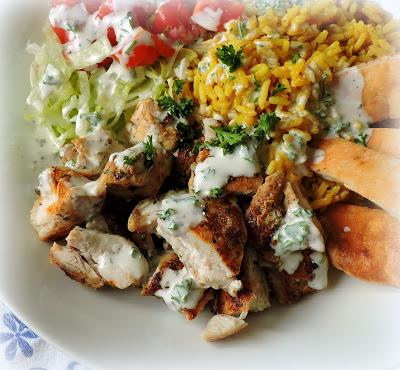 It goes beautifully with every element of this dish . . .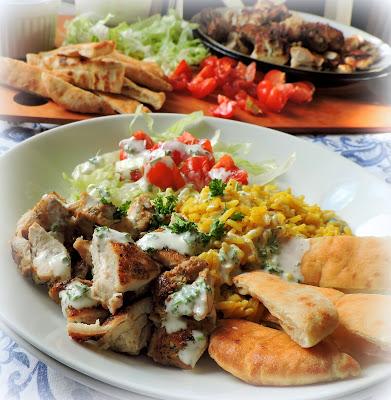 I was lucky enough to get some really lovely soft and fresh white pita breads.  They were gorgeous lightly brushed with butter and toasted in the oven.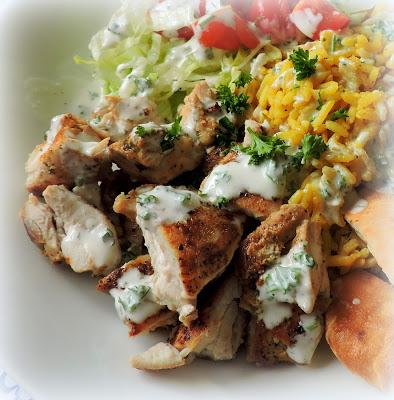 Other than that you only need some shredded lettuce (I used Iceberg) and some chopped tomatoes. I used cherry toms.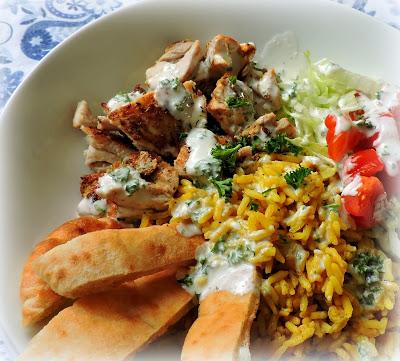 Altogether this was absolutely beautiful.  We both loved it and I know it is something we will want to eat again!  I highly recommend!
Yield: serves 4 generously
Author: Marie Rayner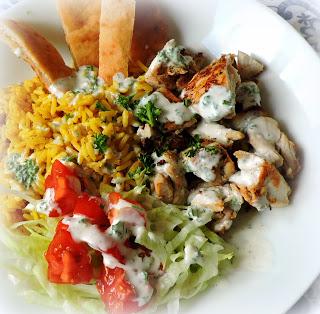 Street Cart Chicken & Rice
prep time: 15 mins
cook time: 30 mins
total time: 45 mins
This might look like a lot of work, but this goes together very easily and deliciously! I promise you. Put the chicken in to marinade before you do the rice, etc. Once you have everything ready, the final dish goes together lickety split and is oh sooooo delicious!
ingredients:
For the chicken:
2 TBS fresh squeezed lemon juice1/2 TBS dry oregano leaves1/2 tsp ground coriander3 cloves garlic, peeled and crushed60ml light olive oil (1/4 cup)fine sea salt and freshly ground black pepper to taste8 boneless, skinless chicken thighs, trimmed of any excess fat
For the sauce:
110g mayonnaise (1/2 cup)125g Greek yogurt (1/2 cup)1 TBS sugar2 TBS white vinegar1 tsp lemon juicea large handful fresh parsley, chopped (about 1/4 cup)fine sea salt and freshly ground black pepper to taste
For the rice:
2 TBS butter1/2 tsp ground turmeric1/4 tsp ground cumin315g long grain rice (1 1/2 cups)590ml chicken stock (2 1/2 cups)fine sea salt and freshly ground back pepper to taste

You will also need:
Shredded lettucechopped tomatoeswhit pita bread, brushed with butter andlightly toasted, then cut into 1 inch strips (See note below)
instructions:
Whisk together all of the ingredients for the chicken in a shallow
dish.  Add the chicken pieces, turning to coat.  Cover and chill for
about an hour, giving them a stir every now and then.
Heat
 the butter for the rice in a medium, heavy bottomed saucepan with a
lid.  Add the turmeric and cumin. Heat over moderate heat, until
fragrant. Don't allow it to brown. Add the rice.  Cook, stirring, over
moderate heat until the rice begins to toast.  Stir in the chicken
stock.  Bring to the boil, then reduce to a low simmer, cover and cook
on low heat for about 15 minutes without stirring. Set aside until all
of the water has been absorbed, about 15 minutes.  Fluff up with a fork.
To make the sauce, whisk all of the ingredients together until well combined.
Remove
 the chicken from the marinade and pat dry.  Cook in a lightly oiled
heavy bottomed pan or on the grill, over high heat, for about four
minutes without disturbing. Reduce heat to medium and flip the chicken.
Cook for a further 6 to 8 minutes until cooked through and the juices
run clear.  Transfer to a cutting board, lightly tent with foil and let
rest for about 5 minutes. Cut the chicken into 1/2 inch chunks. (I use my kitchen scissors to do this)
To
 serve, place a portion of rice into each bowl, top each with a portion
of the chicken, shredded lettuce, chopped tomatoes and toasted pita
bread strips.  Drizzle the sauce over top and serve.
Note - to toast the pita breads, brush lightly on both sides with some butter, place on a baking sheet, and then toast in a moderate oven (180*C/350*F/gas mark 4) for 8 to 10 minutes.  cut into strips with some kitchen shears.
Created using
The Recipes Generator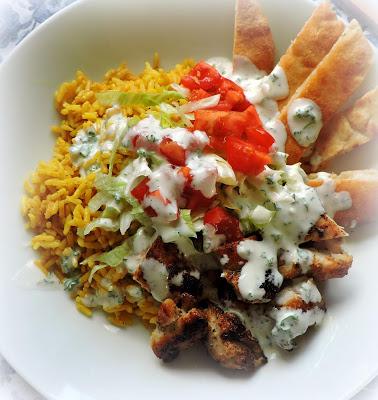 At first glance it might look like a lot of ingredients and a bit faffy, but trust me it is not.  Read the recipe through and then do each element of it one at a time.  Once you have all of them together, it all goes together like a breeze!  You are going to love this, I guarantee!  Bon Appetit!