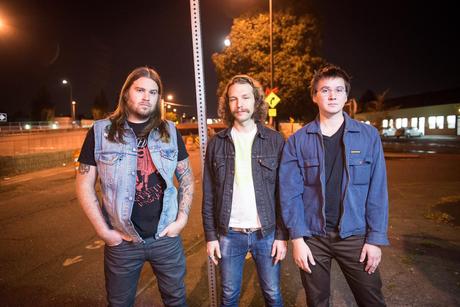 The Sleeping Shaman are streaming Sons Of Huns' debut LP from EasyRider Records,Banishment Ritual, in its entirety prior to itsNovember 29threlease atTHIS LOCATION. Vinyl pre-orders are live at the EasyRider Records websitehere.
.......................
Praise forBanishment Ritual:"I'm having visions of the painted desert and feeling like my brain is being boiled in a cosmic soup!...BLAST THIS BAD MAMMA JAMMA LOUD!"-CVLT Nation
"You could play a game trying to spot the multiple film TV/Sci-fi cameos the band have included. Though you're probably having too much fun listening to the awesome riffs the band have written...Banishment Ritual will definitely win a load of praise from the Stoner Rock crowd when it's unleashed upon to the galaxy. This is one album you cannot afford to miss."-The Sludgelord
"Everywhere they play they blow crowds away as if it were a sixth sense. With an amp set up that would dwarf Metallica's, and double the classical training, Sons of Huns are easily three of Portland's most metal musicians."-bePortland.com"...a blazing rampage of a song complete with backmasking."-The Portland Mercury
In a city like Portland, Oregon, where there are quite literally hundreds of people playing heavy music – and playing it
well
, at that – it takes a bold, tightly-honed punch to the crowd's ears in order to stand out. Formed in the winter of 2009 and armed with a full stack of Orange cabs, a lifetime of experience and enough classical training to out-riff any band that dares stand in their SG-wielding path, stoner-rock (or "brontosaurus rock", as they like to call themselves) trioSons of Hunshave consistently blown crowds away. Peter Hughes (guitar), Shoki Tanabe (bass) and Ryan Northrop (drums) have headlined shows in anywhere from tiny bars to the main stages of Portland's biggest music festivals, and had the honor of opening for the likes of Red Fang, Andrew W.K., Danava and even the world's most metal comedian, Brian Posehn.
Prior to this year's huge milestone of being signed to modern stoner rock's premiere independent record label,Easy Rider Records, Sons of Huns released both an acclaimedself-titled EPin 2011 and a seven-inch single for their lumbering, thunderously catchy song about astral projection,"Leaving Your Body,"with a massively successfulmusic videoto match, depicting the three members as hooded figures performing a ritual in the dead of night. Throughout their reign in the Pacific Northwest music scene, they have become widely known for their ability to remain musically serious, nailing every song with precision while also turning every live show into a sci-fi, psychedelic-rock party and livening the spirit of every crowd with their jokes and unforgiving volume.
Though Sons of Huns have caught the attention of underground-heavy-music lovers both here in the US and overseas without a full-length record out, the band will release their first LP,
Banishment Ritual
, on
November 29th
and hit the road. Though the band is sad to announce the departure of Shoki Tanabe, who is blasting off to pursue a lifelong dream of teaching English in Japan, they are excited to have managed to nab Aaron Powell from his usual throne at the low end of Spokane, Washington's heavy-psych groupBelt of Vapor, as a touring bassist.
Ready your senses and join Sons of Huns as they forge their way through this unpredictable genre, traversing unexplored riffs and stacking them atop one another to hypnotize you and give all the ladies "the fever." Wherever you are, they will find you.
Peter Hughes - vocals, guitar
Shoki Tanabe - vocals, bass
Ryan Northrop - drums
Aaron Powell - touring bassist
Listen to the title track, "Banishment Ritual," here" (http://www.cvltnation.com/exclusive-cvlt-nation-streaming-sons-huns-banishment-ritual)
Listen to "Horror In Clay" and preorder the gatefold 2XLP here: (http://www.easyriderrecords.com/product/sons-huns-banishment-ritual-double-lp-pre-order)
Watch Sons Of Huns' video for "Leaving Your Body" here: (https://www.youtube.com/watch?v=cV967zcgY7o)
Upcoming Live Shows:
November 23

ALBUM RELEASE SHOW @ Dante's, Portland OR (w/ Gaytheist, Monogamy Party and Vultures In The Sky)Facebook Event

December 3

@ Doug Fir Lounge, Portland, OR (w/ Portugal. The Man and Hustle And Drone)

Dexcember 7 @ The Know, Portland OR (w/ The Ax and Fellwoods)