This Strawberry Rhubarb Crisp has the most delicious Oatmeal Cookie Streusel, and is a breeze to throw together!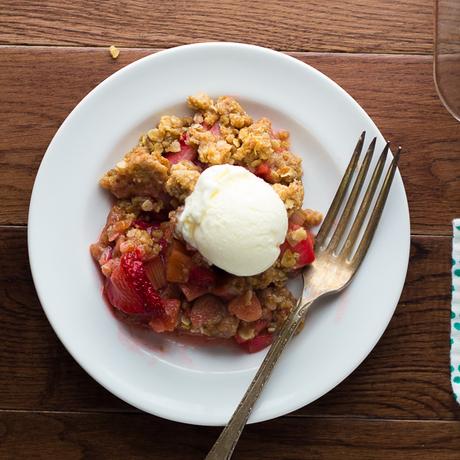 Spring just hasn't sprung until rhubarb makes its way into my kitchen.
Growing up, we had an endless supply of rhubarb…in fact we couldn't keep up with it!  Now…not so much.  My rhubarb isn't exactly 'thriving'.  There are a few piddly stems poking up through the ground, and that's about all she wrote.
And the first thing that comes to mind when I think of rhubarb is my Dad's rhubarb crisp.  Well, actually the very first thing that pops into my head is the story of two friends who decided to see whether rhubarb leaves really are poisonous…spoiler alert: they most definitely are!
The second thing that comes into mind is my Dad's rhubarb crisp.  The third thing that comes to mind is the time my dad nearly lit the microwave on fire while thawing a bag of rhubarb…with the metal twist tie on…for said rhubarb crisp.  Sorry, Pops, my memory is still a mile long!
Continue reading: STRAWBERRY RHUBARB CRISP WITH OATMEAL COOKIE STREUSEL