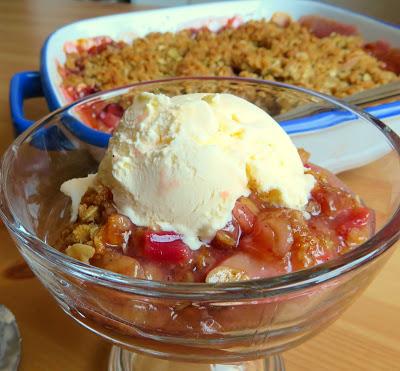 It had to be done. Tis the season and all that. The season for delicious rhubarb and strawberry desserts.  Desserts such as Strawberry & Rhubarb Crisp.  A family tradition going back bazillions of years!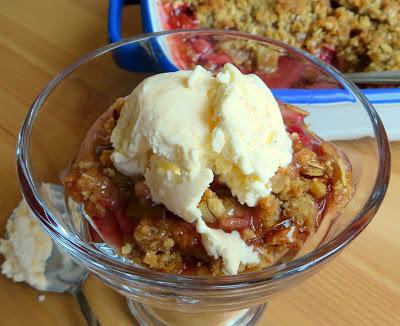 Strawberry & Rhubarb Crisp is an old family favorite. It is something my mother made and her mother before her. It is a delicious dessert that I made for my own family when they were growing up and it is a dessert I still make at least once a year for my husband.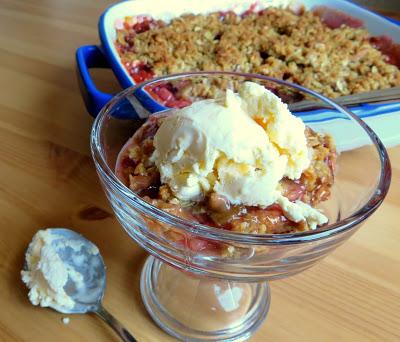 Even though it is not something I can still enjoy myself, it is something I can make for him and that he can enjoy to his heart's content.  I have cut my original recipe in half to make only four servings because we are only two and he can only eat so much.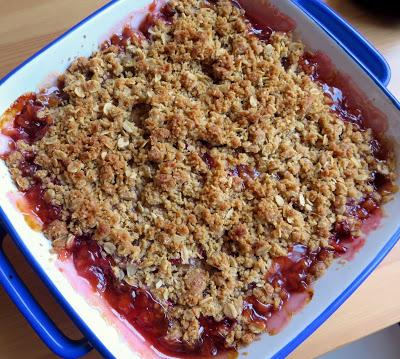 So if you are a larger family, or if you just plain want more of it, feel free to double up all of the ingredients and pop it into a 9 inch square baking dish. It will require the same amount of time to cook, or possibly a bit longer depending on your oven.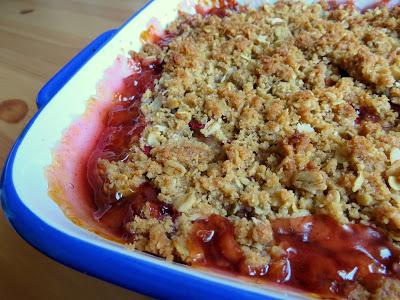 This delicious Strawberry & Rhubarb Crisp is the taste of Spring. Pure and simple. You can't get much more spring-like than this!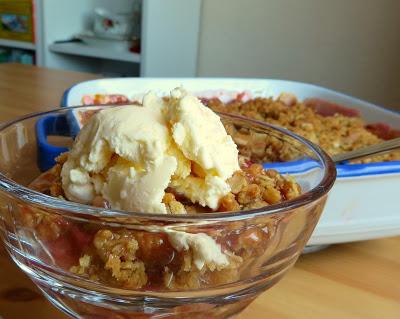 In our home it is enjoyed warm and topped with scoops of cold vanilla ice cream.  Oh boy  . . .  those warm buttery crisp and oaty crumbs . . .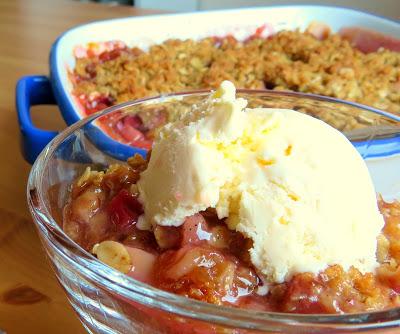 That delicious fruit filling, both sweet and tart at the same time  . . .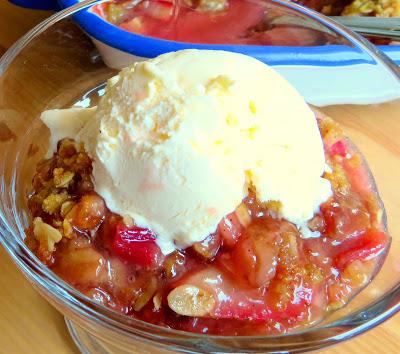 That fabulous contrast between the warmth of that sweet fruit with the buttery crumb and that rich vanilla coolness melting slowly into its surface  . . .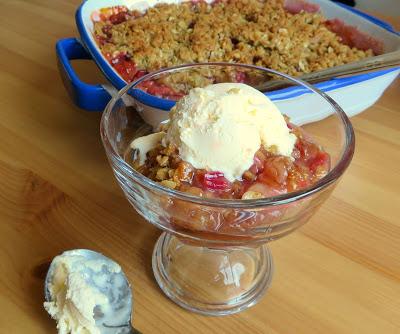 That topping so crisp  . . . the filling so flavor filled  . . . the rich creaminess of the ice cream.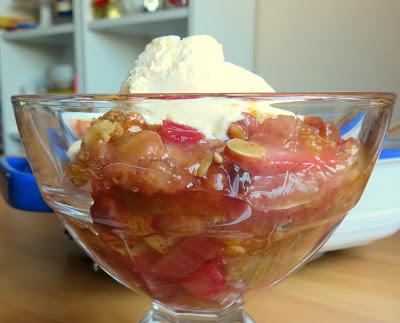 Strawberries and rhubarb are a taste combination . . . a marriage  . . .  made in heaven. It is no accident that these two ingredients are ripe and ready at the same time.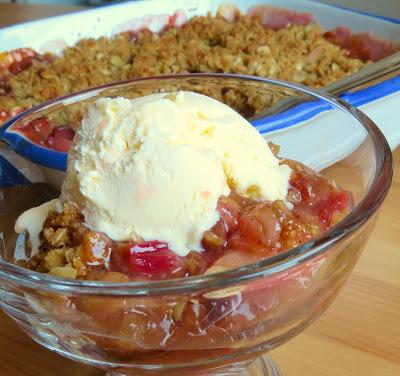 This divine combination of flavours and textures was meant to be enjoyed together.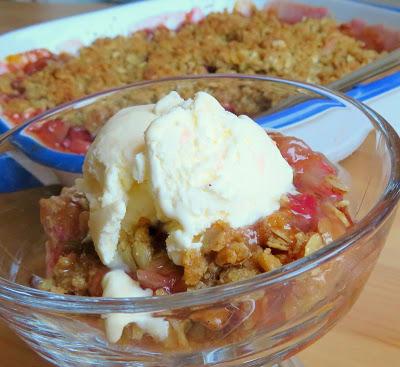 Oh sure, each one is delicious in its own right, but put them all together and you have an incomparable match that never gets old or tired or boring . . .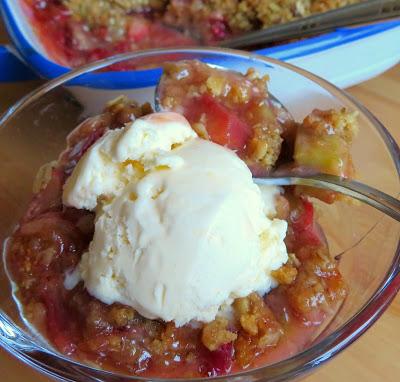 This is comfort plain and simple  . . .  traditional  . . . a family pleasure enjoyed down through the generations.  You just can't beat it.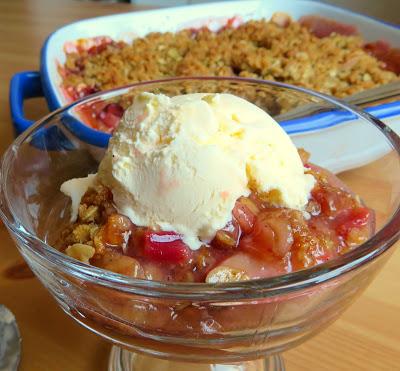 Print
Strawberry & Rhubarb Crisp
Yield:
4
Author:
Marie Rayner
A timeless classic that must be made every year because not only is it delicious but it evokes a bazillion memories.
Ingredients:
You will need:
200g chopped rhubarb (2 cups)
175g sliced strawberries (1 cup)
vanilla bean ice cream to serve
For the sauce:
100g granulated sugar (1/2 cup)
120ml water (1/2 cup)
1 TBS cornflour (cornstarch)
1 heaped TBS strawberry preserves
1/2 tsp vanilla
For the crumble:
70g plain flour (1/2 cup all purpose)
50g rolled oats (1/2 cup)
100g soft light brown sugar (1/2 cup, packed)
60g butter, melted (1/4 cup)
1/2 tsp ground cinnamon
Instructions:
First make the sauce.  Whisk the sugar, water and cornflour together in a large glass beaker.  Cook in the microwave for about 2 1/2 minutes, stopping to whisk it every thirty seconds, until the mixure is thick and bubbling. (alternately you can do this in a small saucepan over moderate heat.)  Whisk in the jam and vanilla.  Set aside.
Preheat the oven to 180*C/350*F/ gas mark 4.  Butter an 7 or 8 inch square baking dish.
Whisk together all of the crumb ingredients until well combined. 
Put the chopped rhubarb and berries into a bowl. Pour the sauce ingredients over top and fold together to combine.
Press half of the crumbs into the prepared baking dish. Pour the fruit mixture evenly over top. Sprinkle the remaining crumbs over top of th fruit.
Bake in the preheated oven for 45 to 50 minutes. The crumbs should be golden brown and the fruit mixure bubbling up around the sides.
Leave to cool for about fifteen minutes. Serve warm, spooned into bowls with a scoop of vanilla ice cream on top. Delicious!
Did you make this recipe?
Tag @marierayner5530 on instagram and hashtag it #EnglishKitchenCreated using
The Recipes Generator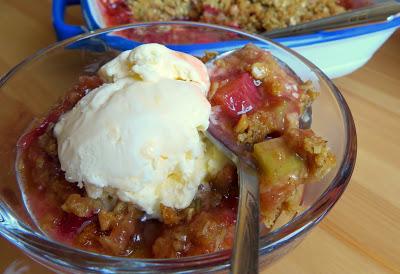 What is your favorite thing to do with rhubarb and strawberries, either together or individually?  I really want to know.  Lets share! 

Follow my blog with Bloglovin