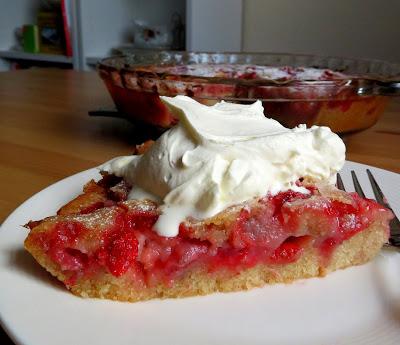 Earlier this week we had a surprise package of goodies delivered to our doorstep by someone in our church.  It was filled with all sorts of lovely things.  Chocolate, cookies, a bar of carbolic soap, hand wash, powdered milk, apples, pears, cherries, face masks,  dry potato flakes and a lovely basket of the sweetest smallest strawberries.   It was a really nice surprise!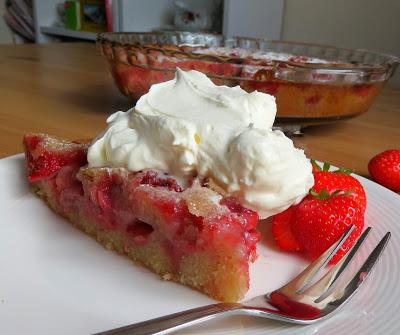 The cherries got eaten and enjoyed right on the night!  Oh but they were some good.  Todd's enjoyed the pears, I am enjoying the apples and today I baked us a lovely Strawberry Cake Pie wih some of the berries.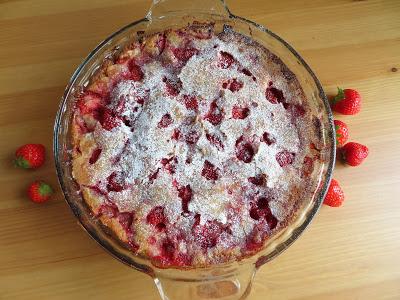 The smaller the berry the sweeter the fruit and these were all about the size of grapes and so tasty.  So what exactly is a cake pie?  I can hear you asking  . . . .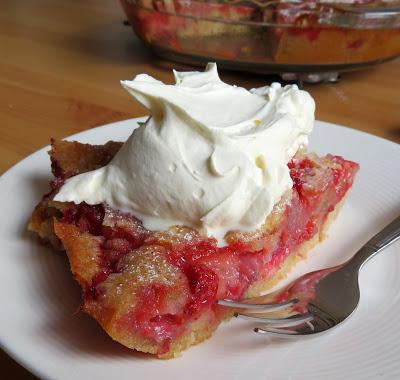 Its not really a pie because there is no crust and its not really a cake because it doesn't rise like a cake, but it has a texture very similar to a cake. (There is no leavening in it other than two eggs.)  Does that make sense?  I have no other way to describe it other than . . .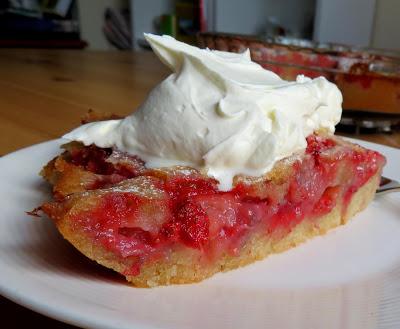 DELICIOUS!  Its delicious.  Incredibly so.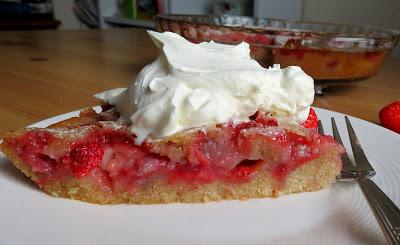 It goes together very quickly.  Its a matter of whisking together dry ingredients separately from wet ingredients and then whisking them together . . .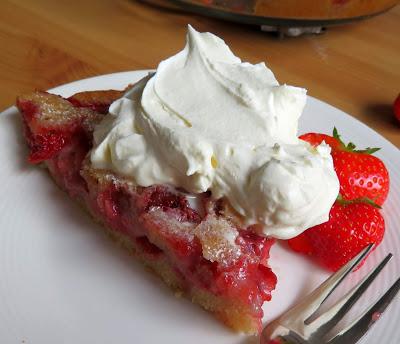 Folding in a quantity of quartered berries. I suppose you could also use raspberries or blueberries in this as well, but strawberries are incredibly tasty . . .  just saying . . .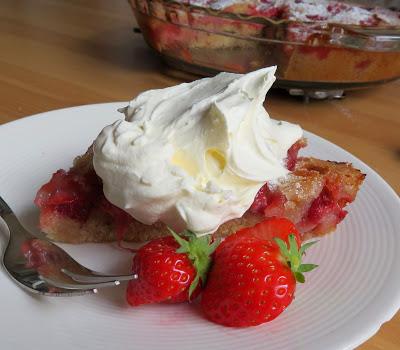 You spread the resulting batter in a greased glass pie dish.  I have never used a metal one. If you are using metal I might be tempted to flour it as well and I would check the bake sooner.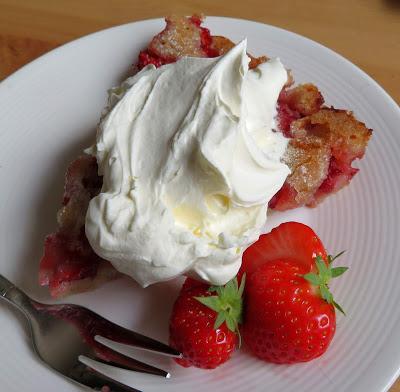 More berries get pushed into the top  . . .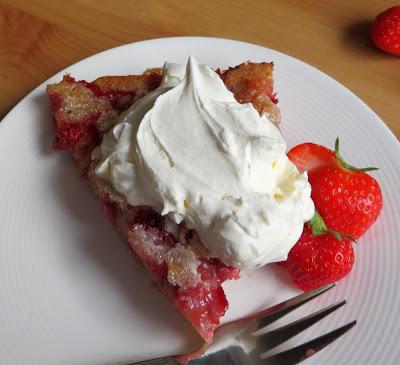 And some granulated sugar gets dusted all over the top prior to baking  . . .  resulting in a crunchy sweet topping  when done.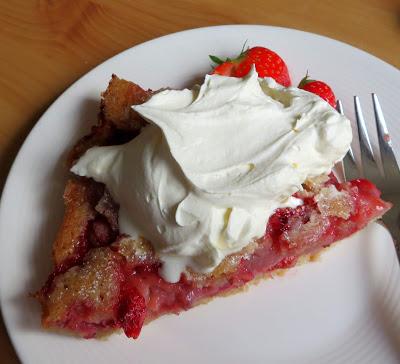 This is fabulous cut into wedges and served warm with some ice cold vanilla bean ice cream  . . .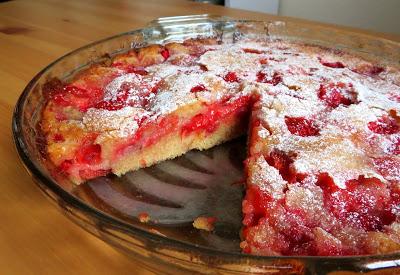 You can also allow it to cool completely and serve it with dollops of softly whipped cream . . .
You can also dust it with some icing sugar for serving as well to pretty it up a bit.  Its not exactly the  most beautiful girl in the pageant  . . .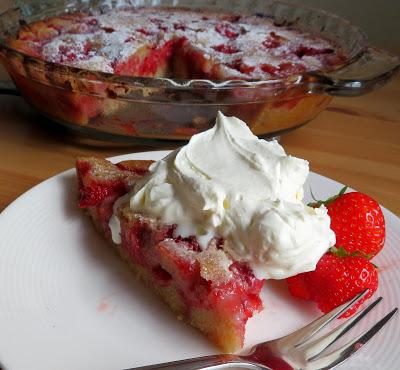 But it would certainly win Miss Congeniality and every other award.  This is the BEST!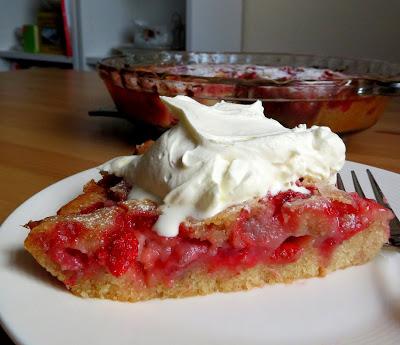 Strawberry Cake Pie
Yield:
Serves 6
Author:
Marie Rayner
This is easy and very quick to make.   Its a really delicious way of using fresh berries during strawberry season.  Serve warm topped with ice cream, or at room temperature with softly whipped cream.
Ingredients:
190g caster sugar ( 1 cup, fine granulated sugar)
140g plain flour (1 cup)
1/4 tsp salt
120g butter, melted (1/2 cup)
2 large free range eggs
1 tsp of vanilla extract
1/2 tsp almond extract
350g  quartered fresh strawberries, divided (2 1/4 cups)
2 TBS granulated sugar
icing sugar to dust
vanilla ice cream or softly whipped cream to serve
Instructions:
Preheat the oven to 180*C/350*F/ gas mark 4.  Spray a 9-inch glass pie dish with some cooking oil spray.  Set aside.
Whisk together the melted butter, eggs and extracts in a beaker.
Whisk the flour, sugar and salt together in a bowl.  Add the wet ingredients and whisk together to combine thoroughly.   Carefully fold in all but 45g (1/4 cup) of the berries.  Spread in the prepared pie dish.  Arrange the remaining berries on top decoratively. Sprinkle with the regular granulated sugar.
Bake in the preheated oven for 40 to 45 minutes.  (Start checking at 35.)  It is done when golden brown and a toothpick inserted in the center comes out clean or with a few moist crumbs.
Dus with icing sugar prior to serving if desired. Allow to cool on a wire rack to just warm before slicing to serve with ice cream, or to room temperature to serve with whipped cream.
Did you make this recipe?
Tag @marierayner5530 on instagram and hashtag it #EnglishKitchenCreated using
The Recipes Generator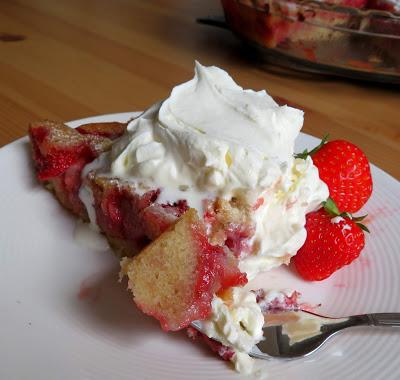 Moist and sweet . . .  buttery and stogged to the hilt with beautifully berries. What more could you ask for?

Follow my blog with Bloglovin