This easy Strawberry Banana Smoothie Bowl is a simple and sweet treat! It's a healthy Paleo + vegan breakfast or snack made with only a few ingredients, and you can add whichever toppings your heart desires to customize to your tastes.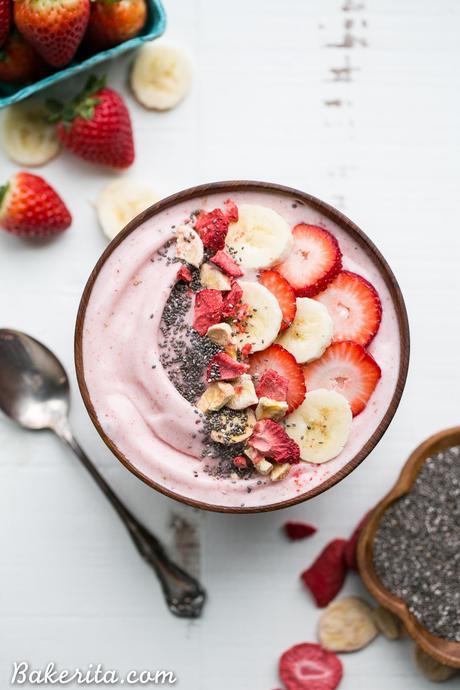 Smoothie bowls: yay or nay? I LOVE them, which is obvious based on the number of smoothie bowl and acai bowl recipes I've posted on the site, as well as the frequency with which I make them for breakfast and go out to local juice bars to get them.
But, some people don't see the point. "Why do you need to EAT your smoothie with a spoon?" they say. "Who has time to sit and eat a smoothie?" they ask. I've seen smoothie bowls on a whole bunch of lists of food trends that have gotta go in 2017.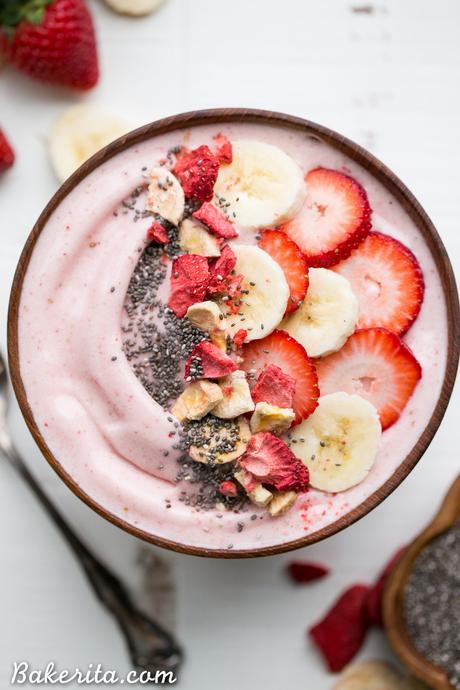 I'm here to revolt against that, because at least over here, smoothie bowls are here to stay. When I drink a smoothie, I never feel like I've had a real meal. I can't drink a meal through a straw and get the same satisfaction as a meal I ate with a fork or spoon – no way.
When I've had a smoothie bowl though, thick and creamy and loaded with delicious crunchy + fruit toppings, I definitely feel like I've had a meal, and it's enough to keep me going through the morning. Bonus – they're so refreshing, and absolutely delicious.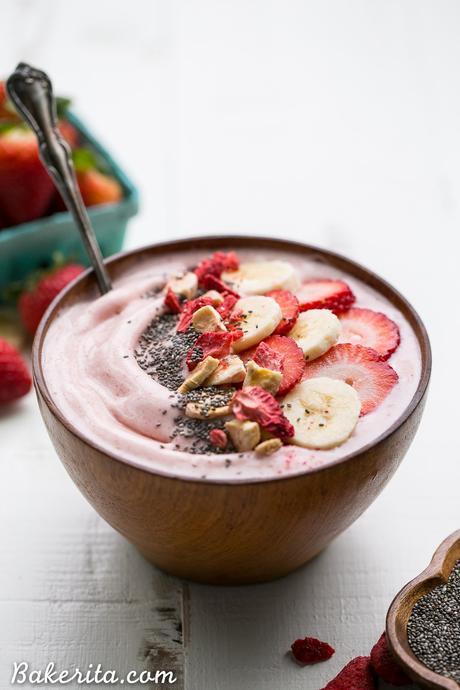 When I was a kid, strawberry banana smoothies were my favorite, and my go-to whenever one of my parents made me a smoothie. Strawberries and bananas are still two of my faves, and man, I think they make a better smoothie bowl than they do a smoothie!
Mostly because I can add EXTRA bananas and strawberries and other goodies on top. This Strawberry Banana Smoothie Bowl couldn't be much easier to make with just three simple ingredients for the smoothie base.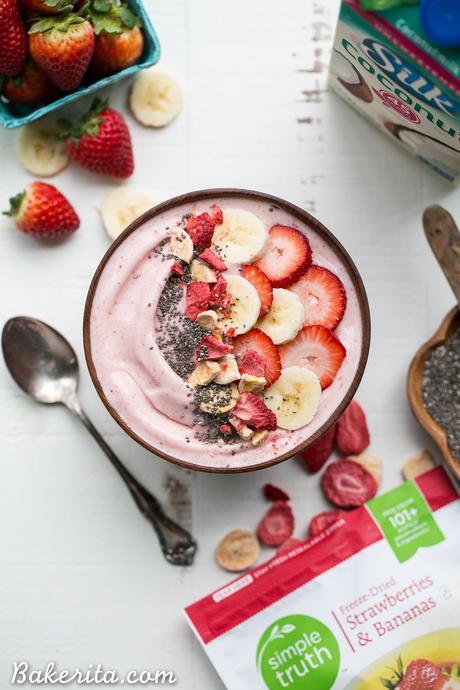 I went to my neighborhood Ralph's to shop for my smoothie bowl goodies, and grabbed my fave Silk Unsweetened Coconut Milk to use as the blending liquid for my smoothie. I love the slight coconut taste and how creamy it makes the bowl. I find the banana adds enough sweetness for me, but you can use the original Coconutmilk if you want things sweeter. Also, quick note: the packaging for Silk's coconutmilk has changed from the photo, so note that it's a little different now if you're headed to buy it yourself!
I also headed over to the healthy snack aisle and grabbed some Simple Truth Freeze Dried Strawberries & Bananas to top my bowl with – they're so good I could eat them all on their own and they make the perfect crunchy topping for my bowl, especially paired with fresh strawberries and banana slices.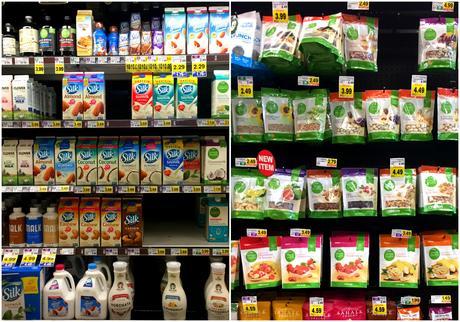 A sprinkle of chia seeds rounded out the top of my bowl and provided some extra nutrients too. If you want more crunch, you can find a ton of nuts and snacks that are perfect for topping your bowl near the Freeze Dried Strawberries & Bananas in the healthy snack aisle at Ralph's, too. I wanted to grab all the delicious-looking Simple Truth snacks!
If you're still iffy on the smoothie bowl trend, you've got to try one to make up your mind! Let me know where you stand in the comments :) enjoy!
Facebook | Instagram | Twitter | Pinterest | Snapchat
Remember to #bakerita if you try the recipe!
Strawberry Banana Smoothie Bowl (Paleo + Vegan)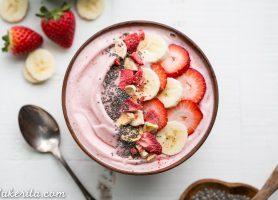 Save
Print
Prep time 5 mins Total time 5 mins   Author:
Rachel Conners
Serves:
1 bowl
Ingredients For the smoothie bowl
1 banana, frozen
1½ cups frozen strawberries
½ cup Silk Unsweetened Coconut Milk
For the toppings
Simple Truth Freeze Dried Strawberries + Bananas
Fresh strawberries, sliced
Fresh bananas, sliced
Chia seeds
Directions
Combine frozen banana, frozen strawberries, and coconut milk in a blender (I used my Vitamix). Puree until completely smooth - the mixture should be thick. Add a touch more liquid if necessary to get it to blend completely smooth.
Transfer to a bowl and add toppings as desired. Enjoy!
3.5.3226
This post is sponsored by Whitewave Foods and Kroger. As always, all opinions are my own! Thanks for supporting the brands that support Bakerita.

There's more where that came from!
Mango Pineapple Smoothie Bowl

Peanut Butter Acai Bowl

Berry Pitaya Smoothie Bowl

Banana Almond Butter Grain Free Granola

Raspberry Acai Bowl

Strawberry Banana Muffins