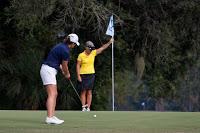 Instead of playing for lowest score, as in stroke play, consider the finesse of playing the oldest form of golf, namely match play, the next time you go out on the course for couples' night!
Stroke play is about how few strokes you have at the end of the round while match play is all about how many holes you win.
There is a strategy to winning both competitions but in match play, it's all about understanding both your partner's as well as your own position and making decisions based on his or her moves.
Settling the score will be so much fun when you don't have to rely on score and handicaps and instead plan a psychological attack which offers the golfer a chance to be rewarded for winning one hole at a time.
Here are a few ways to feel empowered during match-play and win in spite of the deficiencies you might have during stroke play.
KEEP EMOTIONS IN CHECK: Try not to feel negative if you lose a hole to your opponent. In stroke play, getting a snowman can really blow your round both on the scorecard and psychologically but in match play, losing one hole will not determine the final outcome. It is important to hold your emotions in check and put on your best poker face. No worries about blow-up holes will also allow you to recover more quickly which keeps you calmer and focused on the mission at hand...beating your spouse or partner!
GIVE GIMMES? There is no harm in giving 2-foot putts to your playing partner, now is there? Especially when/if he or she returns the favor. The fun part comes into play if you are down later on in the match and then, instead of giving that "gimme", you decide to have your partner make the shot. Doubt may creep into your mate's mind about whether or not he makes the shot and...hey, you never know what can happen.
SHOW CONFIDENCE: Consistency breeds confidence, something you need to outwardly show in match-play so make sure you practice your short game on the range, especially putting (see above note.)
IT'S NOT OVER 'TIL IT'S OVER: This quote on pga.com says it best...
"Always stay positive. This has got to be the Golden Rule when it comes to match play. You're not out of it until you run out of holes."
Now that you have a few golf tips on how to beat your partner in match play, suggest this format the next time you are out on the first tee!
What golf tips can you share about match play? Post them in the comments section of this golf blog and tag us with them on Twitter @Golf4Beginners!