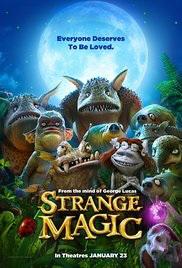 Director: Gary Rydstrom
Writer: David Berenbaum, Irene Mecchi, Gary Rydstrom (Screenplay) George Lucas (Story)
Starring: (Voice Talents) Alan Cumming, Evan Rachel Wood, Elijah Kelley, Meredith Anne Bull, Sam Palladio, Kristin Chenoweth
Plot: Goblins, elves, fairies and imps, and their misadventures sparked by the battle over a powerful potion.
There may be spoilers the rest of the review
Verdict: Kids Will Enjoy
Story: Strange Magic starts as we see the difference between the Fairy Kingdom and the Dark Forest, the two kingdoms are side by side but both live different lives. When one of the fairies, Marianne accidently steps into the dark forest, angering the Bog King.
Marianne is about to marry the handsome fairy Roland but learns of his true nature, finding herself crushed. Swearing off love, Marianne sets out to protect her sister Dawn and friend Sunny from danger and the dark forest.
When Roland wants to become king, he must find a way to make Marianne take him back which leads him to trick Sunny into going into the dark forest to find a love potion so they can both get the one they want by finding the Sugar Plum Fairy.
This brings the Bog King into the Fairy Kingdom to retrieve the love potion giving the fairies one day to retrieve the potion or he will keep Dawn prisoner forever, with Marianne going out to rescue her.
Thoughts on Strange Magic
Characters – Marianne is the typical strong female character who doesn't want to follow the traditional trends and be extra independent, she fights for family while hating love. Bog King rules the darkness, hating the world because of his failures in love, he is a strict ruler but also sums up what it is like to have loved and lost becoming bitter to the world. Sunny the comic relief and we see him give us the most laughs as he tries to find a way to show his love for Dawn. Dawn is the annoying princess who is very shallow. Roland is the arrogant wanna be king who is completely annoying throughout.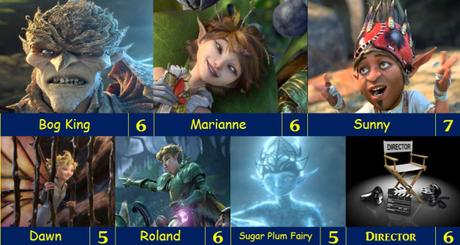 Story – The story is the old forbidden love story about two different sides of the fence falling in love against the wishes of everyone. We touch on the elements of trying to force someone to fall in love with you and the consequences it will have on them. It focuses a lot of the people's individual mistakes when it comes to love.
Adventure/Comedy/Family/Fantasy – We have a big adventure into the world forbidden, with elements of comedy going on throughout. We also have the fantasy elements of the film which is one the whole family could enjoy with catchy songs throughout.
Settings – The creation of the worlds looks fantastic seeing how both sides live giving us a beautiful selection of settings.
Animation – The animation does work well bring it into a different style to the normal, that all looks great.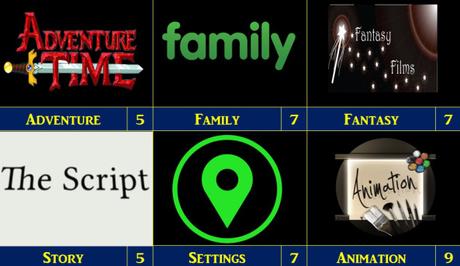 Final Thoughts – This does have a very big judgmental statement being made about treating people equally but this doesn't over shadow the fun music side of the film.
Overall: This has a poor rating overall but this is enjoyable.
Rating

Advertisements