Is it boredom or perversity that brings us to try some weird technique or color combination?
I began two new abstract paintings, covering the background in a light dull turquoise and letting them dry.  Then I started to brush on blocks of color I had already mixed with water:  a pale yellow, green, brown, red and black.  But a couple of the colors were very thin and started to drip. 
At first, I wiped up the drips, but then I decided to just let them go and even encouraged them to drip more.  Now what am I going to do next time to make this thing work?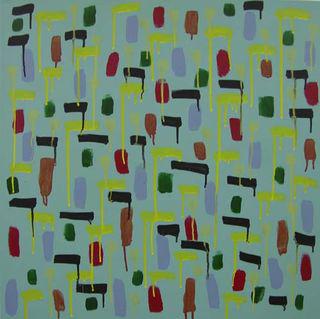 Canvas #135, 30" x 30" acrylic on canvas.