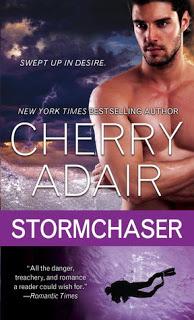 ABOUT THE BOOK:

No one charters the depths of passion on the high seas like New York Times bestselling author Cherry Adair...
In the darkest storm...
Nick, Logan, and Zane Cutter are a tightknit, unstoppable force in the family treasure-hunting business. Now that half-brother Jonah has arrived at the scene, he's got a lot to prove—and a powerful enemy who wants to stop him dead in his tracks.
Love will find a way....
A perilous sea journey. A bitter nemesis. A woman whose spectacular beauty and talents are to die for…Over and over, Jonah will be tested. Is he worthy of carrying the Cutter name? With his eyes on the prize, Jonah will fight with all his heart. But desire often comes with a price. . .
READ AN EXCERPT:
MY REVIEW: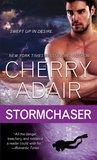 Stormchaser by Cherry Adair
My rating: 4 of 5 stars
Stormchaser by Cherry Adair is a 2017 St. Martin's Press publication.
Cherry Adair is very good at creating unique storylines and never seems to fall into a rut. Some of her plots are masterfully woven and some rely more on action, which was the case here, but there is a level of suspense that builds along the way, which kept me captivated, wondering just how everything would work out in the end.
Overall, this one is a little different from what I normally expect from my romantic suspense novels. But once it gets going it is a very fast paced, super steamy, read, that kept me very entertained.
This review is the copyrighted property of Night Owl Reviews. To read the full review, click on this link: https://www.nightowlreviews.com/V5/Re...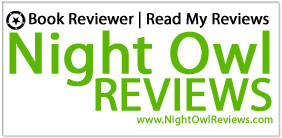 GET YOUR COPY HERE:
https://www.amazon.com/Stormchaser-Cutter-Cay-Cherry-Adair/dp/1250016347/
http://www.barnesandnoble.com/w/stormchaser-cherry-adair/1113857448
ABOUT THE AUTHOR: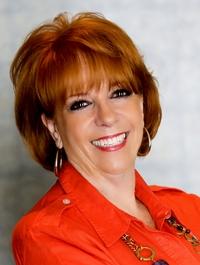 New York Times bestselling author Cherry Adair's innovative action-adventure novels have appeared on numerous bestsellers lists, won dozens of awards and garnered praise from reviewers and fans alike. With the creation of her kick butt counterterrorist group, T-FLAC, years before action adventure romances were popular, Cherry has carved a niche for herself with her sexy, sassy, fast-paced, action adventure novels. She is hard at work on two new series - CUTTER CAY and LODESTONE, and loves to hear from readers. Cherry loves to interact with readers, and she's easy to find on Facebook http://tiny.cc/l1iva or Twitter http://twitter.com/CherryAdair. 
To see scenes from Cherry's books, find a printable book list, read excerpts, watch videos, learn more about characters, or receive her newsletter, visit www.cherryadair.com