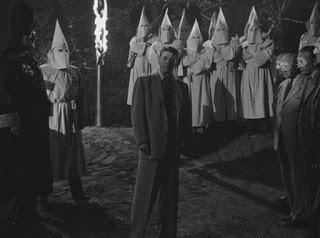 Made in the early days of the Civil Rights Movement, Storm Warning (1951) is your typical cockeyed message picture. Stuart Heisler tries a shocking expose of the Ku Klux Klan, but couches it in the blandest way possible.
New York model Marsha Mitchell (Ginger Rogers), visiting her sister Lucy (Doris Day) in a small Southern town, witnesses the Klan killing Adams, a nosy journalist. Marsha's shocked to recognize Lucy's husband, Hank Rice (Steve Cochran) as one of the killers. District Attorney Burt Rainey (Ronald Reagan) tries persuading her to testify; Marsha, wanting to protect her sister, lies during an inquest. But eventually Hank's disgusting behavior pushes her too far.
It's possible to watch Storm Warning as a straightforward thriller. Heisler has the tense blocking and moody blocking of a noir, though the movie lacks any strong Southern atmosphere. Writers Richard Brooks and Daniel Fuchs construct a compelling melodrama, where Marsha values loyalty to her sister over doing right. Fortunately for Rainey, Hank's a sleazebag who not only kills innocents but beats his pregnant wife. Even the local Klan chieftain (Hugh Sanders) deems him a liability.
As anti-Klan films go, Storm Warning proves less enlightened than The Black Legion (1937), which at least acknowledges prejudice as a component in mob violence. Warning envisions the Klan as a mere "racket," murdering white journalists and menacing white women with whips and beatings. Heisler makes them a hick mafia guilty of little more than graft; some sullen black extras offer the only evidence of race. Removing white supremacy from the equation makes the town's lockstep support of the Klan hard to buy.
At least Warning tries for occasional nuance. Rainey's righteousness is set against a town who doesn't like the Klan, but prefers them to "outside agitators" like Marsha and Adams. Rainey's assistant even admits to joining the KKK before realizing what heavies they were. Still, the filmmakers treats their actions with contempt and the townspeople's indifferent with cowardice, ending on a repentant position speech from Marsha. Dislike of the Klan amounts to an appropriately Reaganesque call for "law and order."
Ginger Rogers, playing starkly against type, gives an effective turn, tough as nails but confused by personal loyalty. Doris Day is similarly engaging, a tragically mixed-up character. Ronald Reagan is effectively straight-laced, while Steve Cochran and Hugh Sanders make skin-crawling villains.
In the end, Storm Warning can't help being unsatisfying. Competently made and well-acted, it dances around the issues it raises, a toothless dog thinking itself a wolf. At least there's the sight of Ronald Reagan espousing liberal virtue, wonderfully perverse in retrospect.