Keep a few store cupboard staples on hand, and you can whip up this easy Lemon Tuna Pasta in a flash. The perfect meal with which to end a busy day.
Total Time Investment: 25 minutes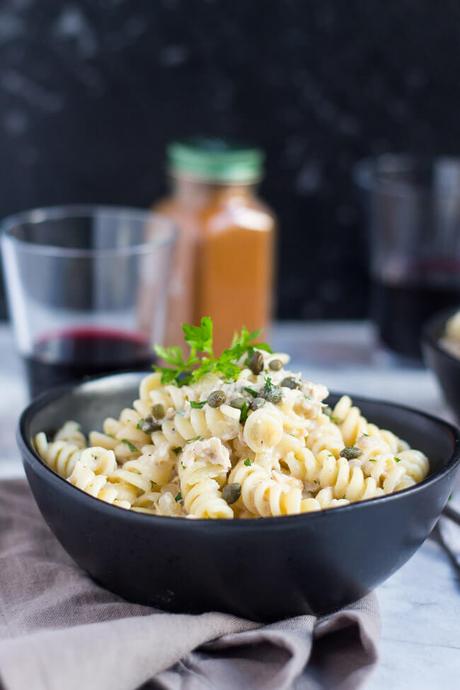 If you've taken my free 9 Day Challenge you will know that I am big on having at least one recipe that you know off the top of your head, and can whip up with your eyes closed. A recipe that takes little time or effort to cook, and for which you always have the ingredients on hand. This lemon tuna pasta is that recipe for me.
I like to keep a well stocked store cupboard. With a stack of essentials I can always whip something up for dinner, even if the day goes completely off the rails and I can't cook from my menu plan. I rely heavily on my pantry, fridge and freezer to create easy meals at a moments notice. Crammed with simple basics like pasta and rice, garlic, sour cream, cheese, chilli, canned goods, a few herbs, eggs and bacon (always bacon) I can always manage to rustle up something to eat, even if it is only an omelette.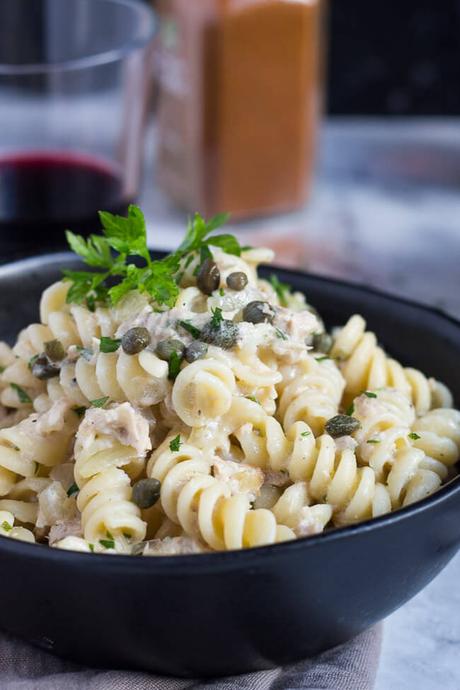 Pasta is nearly always my fallback recipe when it comes to emergency meals. Whether it be meatballs nestled in my home-canned tomato pasta sauce, a speedy pesto pasta, or even just a simple sauce of olive oil, garlic and chilli. The only downside to these pasta meals is that they really need a good dusting of Parmesan cheese to finish them off, and there are (rare) occasions when there is none to be had in the fridge. I could, in a pinch, use cheddar, but it's really not the same. Which is why I love this tuna pasta so much - it requires no Parmesan to finish it off.
I am never without the ingredients for lemon tuna pasta in my kitchen. The minute I make the dish, any ingredients used go straight onto the shopping list. This is a well loved family favorite, and as I know the recipe off by heart it requires no mental effort on my part to make it. Absolutely perfect for those days when nothing goes to plan.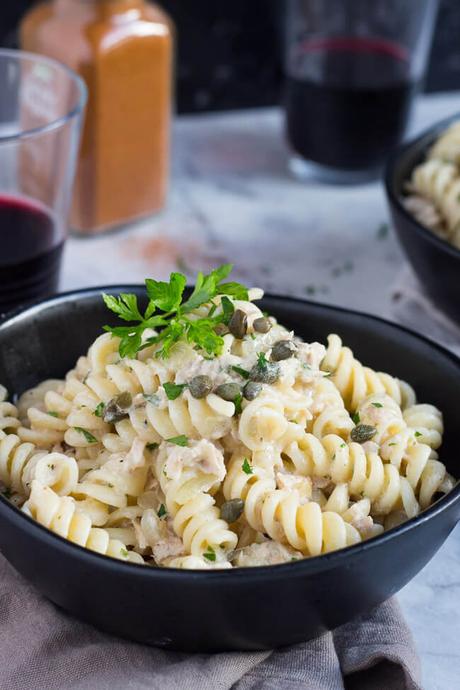 Ingredient Substitutions
It is difficult to suggest substitutions for this recipe. I've tried slight variations and it is never as good. So I would rather give you some options to ensure that you always have the key ingredients instead.
I grow my own parsley, and have my own lemon tree, so these particular fresh ingredients are usually on hand - except in summer when the tree goes bare and the parsley bolts to seed. To keep my store cupboard well stocked, I freeze produce when it is abundant.
Chopped parsley freezes particularly well. If you are buying your parsley from the supermarket, wash and chop it as soon as you get it home. Store it in the freezer in an airtight container or a zip lock bag. Frozen parsley is not really suitable for garnishing a dish as it goes a little limp when defrosted, but it is great for incorporating into dishes, and is perfect in this tuna pasta.
To preserve lemon juice, squeeze the lemons when abundant and freeze the juice in ice cube trays. Store the cubes in zip lock bags, and drop them directly into dishes as you cook. Or defrost as required for use in cakes or other dishes.
You can use cream in place of sour cream. If you do so, add extra lemon juice to balance out the creaminess.
Leave out the capers if you don't have them/don't like them. I've forgotten to include them on occasion and the tuna pasta is still delicious.
Use gluten free pasta to make the dish gluten free.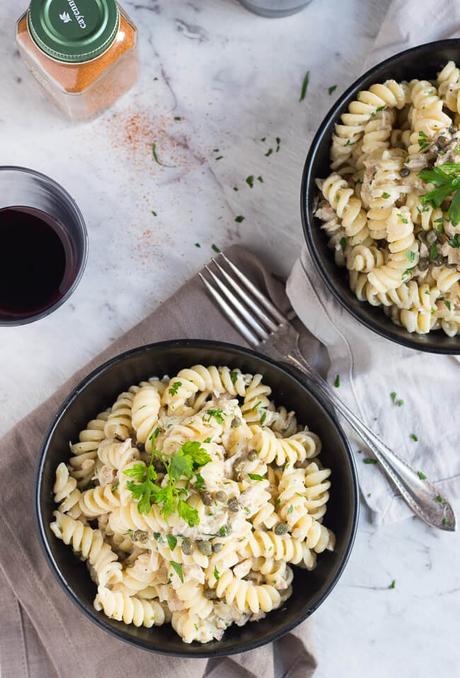 Tips & Tricks for Great Lemon Tuna Pasta
This tuna pasta is best made with tuna canned in olive oil. I have made it with tuna in spring water and it is not as good. Don't use tuna canned in brine or the final dish will be too salty. Drain the tuna well before it is added to the fry pan.
I have made this with spaghetti, penne and any other pasta shape I have found in the cupboard. My preference is fusilli, a corkscrew shaped pasta that holds the sauce perfectly.
Salted capers work better in this dish than capers preserved in vinegar. If you only have capers in vinegar, rinse them well before adding them to the sauce.
I prefer to serve the cayenne pepper on the side, which allows everybody to add as much, or as little, as they would like. That strategy works well when serving this dish as a family meal, as you can omit the cayenne pepper from the children's meals. The cayenne can be added directly to the sauce if you prefer.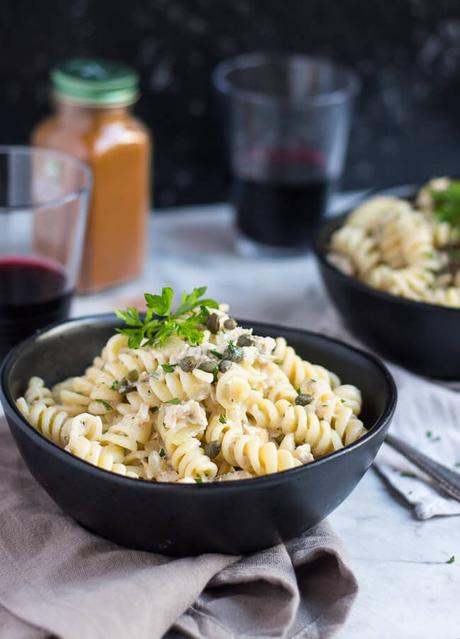 Easy Lemon Tuna Pasta
--------------------------
The Theme for this month's Recipe Redux is "Spring Clean the Kitchen" - cook with at least 3 ingredients that are actually in the refrigerator or pantry right now. My lemon tuna pasta recipe, for which I always have the ingredients on hand, is the perfect fit for this theme. If you are looking for more easy store cupboard ideas, then check out all the great recipes in the link up below.