Let's help find Coach Donjie's bike that was stolen yesterday and most importantly the thief so that we can beat him to death or at least punish him. Sir Donjie is the father and coach of Ariana Dormitorio the MTB Phenon for XC races and all regular mountain bikers knows them well.
Read the story below: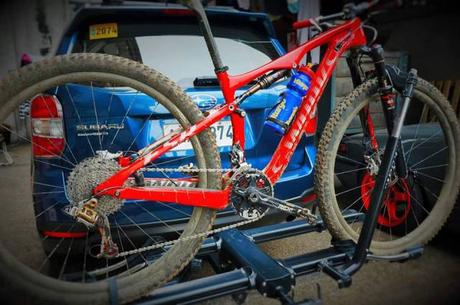 "Hi Guys. My Specialized S-Works Epic bike, color red, was stolen from our house yesterday at 5:30pm. The guy who stole it was seen on CCTV and he came in a motorcycle and parked in front our house. There was a delivery truck bringing goods at that time, that is why the gate was open. He went inside and rode off with my bike as seen on the video. He left his motorcycle parked and came back for it 4 hours after. We are currently garthering more CCTV footages from the neighborhood to see if his motorcycle plate number can be identified and traved to him. We would like to ask your help in sharing this incident so that if my bike can be seen elsewhere, or maybe they try to sell it, then we can capture this thief. My bike can easily be identified because it is one of the very few Red S-Works Epic in the country today. The Rotor InPower crankset on it is also one of the few in the country today. Likewise with the Roval Carbon Wheelset on it. They might sell it piece by piece, so please be warned. Thank you for the help." – Donjie Dormitorio

The said CCTV footage can be watch on sir Donjie's FB wall himself or click here.
Distinguishing parts:
ROVAL SL 29 wheels
Rotor InPower Crankset and QRings
Specialized Epic SWorks 29 Frame
Rock Shox Brain SID 29 Fork
3T seatpost, stem and handlebar
Red grips