Skip to content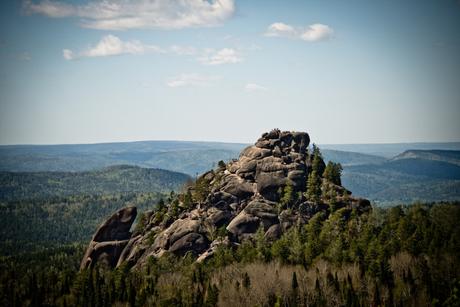 Stolby is a beautiful nature reserve well worth visiting, but it includes a lot of big rocks along your way. If you decide to climb these rocks, which many people do, make sure to bring proper safety equipment. You can find memorials unlucky hikers along the way. The rocks are called "Stolby". "Stolby" is the plural of "stolb", the Russian for "pillar". The regular Stolby goers call themselves "stolbists", and the public activity as a whole is termed "stolbism". It is an exceptional activity with a long history of over 150 years and old customs recorded in a special folklore.The place was discovered in 1624 by Russian kozaks, explorers of Siberia, who built a small fortress at the influx of the Kacha River into the Yenisei. They wondered at the huge intricately shaped stony blocks rising amid a thick forest and gave them the biblical name "Stolpy", reduced later to the popular "Stolby". Since then the name came into use for these and any similar rocky features in Siberia and the Russian Far East and was accepted as a geological term.
महान चरित्र का निर्माण महान और उज्ज्वल विचारो से होता है
© Vikas Acharya Founder of Journal edge, 2013 - 2016. Copy prohibited. But you're welcome to "reblog" with full credit given to Vikas Acharya at Journal Edge.
I have no © on some of these images. If you find your image which is copyrighted mail me to [email protected] we'll remove them within the next 48hrs. All Image credit goes only to their Original Photographers and website owners.
My name is Vikas Acharya and I am a freelance writer, ghostwriter, and Blog-writer. Contact me to find out how I can help you create high-quality blog content, lead magnets, ebooks, and web copy for your business. I have worked with a wide range of organizations including Internet startups, advertising agencies, and various websites. From widely distributed press releases and blog posts, to targeted letters , I ensure customer satisfaction in everything that I do. well-known brands and publications including Tata Capital, Realtycompass, CondomBazaar, You Tube, Myntra, Asus Mobile, Delmonte Foods, Airtel, Dabur, The Dance Bible, UB Group and many more.

MTWTFSS
*Information on the traditional uses and properties of herbs/ animals/ yoga/ places are provided on this site is for educational use only, and is not intended as medical advice. all image credit goes to their Photographers. The events, characters and objects depicted in the Blog are ficticious. Any similarity to actual persons, living or dead, or to actual firms, is purely coincidental. I'm not a guru, nor do I have any kind of a black lore or accomplishment. Were all written in my article entitled have been expressed only through education purpose.
" Apr
1
2
3
4
5
6
7
8
9
10
11
12
13
14
15
16
17
18
19
20
21
22
23
24
25
26
27
28
29
30
31