When I purchase a handbag, I always try to find a purse that has a special spot for my keys because I hate digging in my purse to search for my keys when I have my hands full.  It never fails that my keys make it to the bottom of my purse, when my hands are full or I am carrying my toddler.  If you are constantly digging in your purse to find your keys, check out Catchy Clip.  Catchy clip was designed to attach to your keys so that you can easily find them.  Don't forget to enter the giveaway.  No purchase necessary.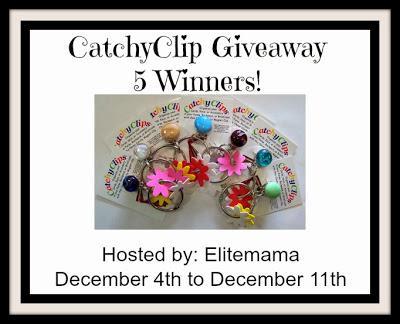 Sponsored By: CatchyClips Hosted By: Elitemama
We all know how much of a pain it can be when it comes to finding our keys or cards in our purse. It's ever woman's issue and we always try to find an alternative to resolve the "fishing through the purse" dilemma. CatchyClips is the perfect solution to finding your keys or even your credit cards in a breeze. With CatchyClips, you can easily attach your keys or cards to the inside pocket of your purse, backpack or even your briefcase. Here's a video explaining the magic of the CatchyClip:
You can find Elitemama's review on the CatchyClip here.
Giveaway Time!
5 lucky winners will receive a CatchyClip in their choice of color. This giveaway is open to US residents who are 18 years or older. Giveaway begins December 4th and will end December 11th. Enter the GiveawayTools form below for your chance to win! Entry-Form