I realized it's been a while since I updated you on the Stitching Games over on Stitcherie.  Last month's clue was "Cheese",  so I stitched in my the face and hair on my canvas, with the story that my Little Witch (canvas by Patty Paints) was getting ready for picture day at Spell School.  Making up the stories that go along with these clues add so much fun to the actual stitching-- go check out the discussion group over on Stitcherie to see what I mean, our participants have really come up with some entertaining yarns (no pun intended!)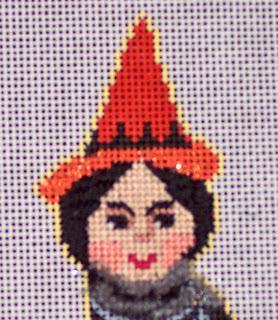 Next up is a fabulous stitch of my Pirate Mermaid by Andrea K of Stitch by Stitch in Larchmont, New York.  Great work, love the beads!  Be sure to check out the shop blog to see more!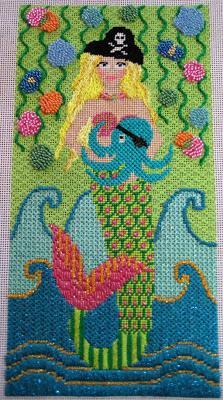 And lastly, here is a stitched and in the finishing process Garden Party Heart by Jeannine Bartnicki of BeStitched Needlepoint in Scottsdale, Arizona.  She has Carolyn Hedge Baird of the Chaparral in Houston choosing ribbons from the shop's extensive ribbon selection for the finisher to use when fabricating this into a pillow.  I cannot wait to see it when it comes back!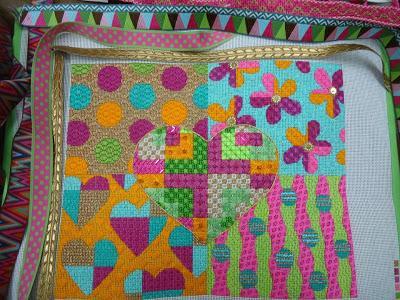 Hope you've enjoyed looking, I'll be back by the weekend with more from Crazy Patch Boo-nanza!