Here is what I stitched for the April clue for the Stitching Games over on Stitcherie: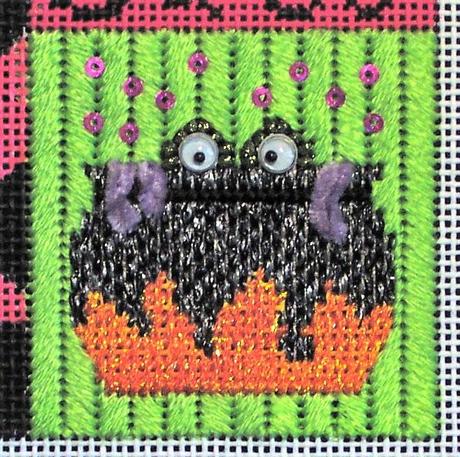 The clue was "bacon", so it seemed obvious that the frog cooking in the witch's pot would be the area to work on. But what was the connection?  That cauldron looks like it is cast iron, which is often seasoned with... BACON grease!  Some of our other stitchers with canvases with absolutely no food-like images really had their work cut out for them, but they all rose to the challenge, as usual!
I stitched my background to match the one in the upper left panel that I stitched in January, with 3 strands of Splendor in an alternating Gobelin.  The cauldron and fire were stitched in Brick and Encroaching Gobelin respectively, with a really great black/grey variegated metallic from Rainbow Gallery called Treasure Chest and a red/orange variegated size 12 braid from Threadworx for the fire.  A dark green FyreWerks frames the eyes, which are of course, novelty googly-eyes that wiggle! The other embellishments are tiny purple sequins from The Collection for the brew bubbles and I used a pale violet chenille thread from my stash for the dribbles down the side of the pot.  
Here is my canvas as it was back in January, before the first clue was stitched:
Here's a detail of the April clue area before stitching: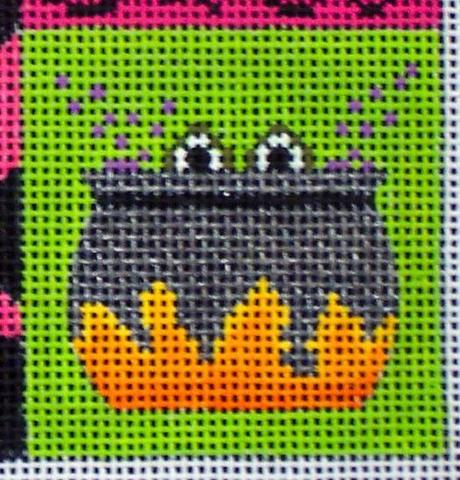 And finally, the whole canvas as it looks as of today:May's clue is "Tortoise", another head scratcher!  Since tortoises have a reputation for being slow, perhaps I'll stitch the background of the center panel, since black-on-black stitching also has a reputation for being slow and tedious!  Who knows if I'll end up changing my mind once I finally get to stitching (towards the end of the month, as it always seems to be with me!)  Check back soon and see, and follow the action directly over on Stitcherie!