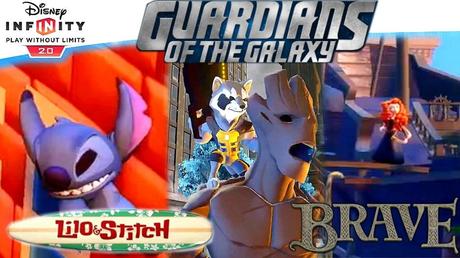 We know there's going to be a huge amount of Marvel characters in Disney Infinity 2.0; it is called Marvel Super Heroes after all! But that doesn't mean there won't be any Disney or Pixar characters turning up too. In fact, Wesley from Family Gamer TV has already spotted some new characters in the Disney Infinity 2.0 trailer! Watch this video to find out who he's spotted.
He's found Stitch, the crazy alien from Lilo and Stitch, Merida, the lovely Scottish princess from Brave, and Maleficent, the witch from both Sleeping Beauty and the upcoming film Maleficent. These are all Disney films, and none of these characters were in the first game, so it looks like they will be all-new non-Marvel characters for Disney Infinity 2.0. Which is good news if you don't like super heroes (although lets face it, everyone loves super heroes).
The Disney Infinity 2.0 release date is autumn 2014 – just a few months away! If you wan't to see some more amazing Disney Infinity 2.0 gameplay and information, check out our Disney Infinity channel.
If you loved this Disney Infinity video, follow us on Twitter for loads more amazing stories and gameplay footage, and subscribe to Family Gamer TV on YouTube.