Stir Fried Chicken in Chilli Bean Sauce
…
You know what
?!!
Some recipes are magical. They just know what your soul needs and hit the spot – whether you are feeling down and out or feeling on top of the world. A
bracadabra

!!

and 
i
t is taken care of at the first bite
 (
and all this while you thought only chocolate had that magical power
!!
tch tch
!!
J
)
…
adapted from one of Jeremy Pang's recipes, hope you enjoy it as much as we do
!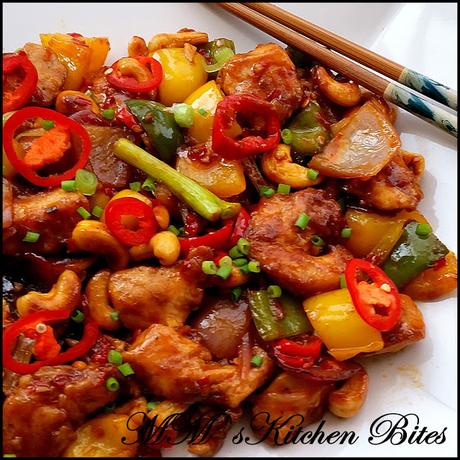 Stir Fried Chicken in Chilli Bean Sauce
Ingredients:
Chicken, boneless and skinless, diced into bite sized pieces, either all breast or all thigh pieces

Garlic cloves, finely chopped, 3-4

Onion, cut into wedges and petals separated, 1 medium size

Bell Peppers, chopped into large cubes, ½ large yellow pepper and ½ large green pepper

Spring Onions/Scallions ,only the green portion, tops finely chopped , middle portion cut into about an inch and a half long pieces, 3-4

Cashews, 100-150gms (I had roasted unsalted cashews so I used those. You can either roast the cashews in a preheated oven at 180C for about 5 minutes or toss around with ½ tbsp oil in the wok on low heat till pale golden.)

Oil, 1 tbsp + 1 tbsp

Pepper powder, to taste

Salt, to taste

Fresh Chillies, thinly sliced, as few or as many as you want (I used the fat red ones which impart flavor but don't have any heat)
For the marinade:
Chinese 5 spice powder, ¼ tsp

Sesame Oil, ¼ tsp

Sugar, 1 tsp

Light Soy Sauce, 1 tbsp

Cornstarch, 1 tbsp
For the sauce:
Chilli Bean sauce, 2 tbsp

Oyster sauce, 1 tbsp

Light Soy Sauce, 1 tbsp

Rice Wine Vinegar, 1 tbsp
Garnish:
Fresh chillies and spring onions, reserve a few from cooking
Instructions:
Marinate the chicken with sugar, Chinese 5 spice powder, sesame oil, light soy sauce in a medium size bowl. Sprinkle with corn starch, toss to coat well and leave to marinade in the refrigerator for about half an hour to overnight. Get the chicken back to room temperature before cooking.
Mix the sauce ingredients in a small bowl and keep aside.
Heat a large wok on high heat for about a minute.
Swirl in 1 tbsp oil and heat it till it starts to shimmer. Stir fry the marinated chicken for 3-4 minutes till done. Remove the chicken and keep aside
Add the remaining 1 tbsp oil to the wok. Add in the red chillies and garlic and stir fry for about 10 seconds.
Add the onions and stir fry for another 30 seconds or so.
Add the peppers and the long cut scallions. Stir fry for a couple of minutes. All vegetables should still retain some crunch.
Add the chicken back into the wok with cashews, finely chopped green onions, crushed pepper and the sauce mix. Stir fry for another minute or two till everything is coated well with sauce. Taste and add salt if required.
Top with the reserved spring onions and chillies. Serve hot.
Notes:
Chilli Bean Paste is also known as "Toban Djan". I use the Lee Kum Kee brand which is a little more garlicky than a couple of other brands that I have tried. A really good and must have addition for your kitchen if you cook Chinese often. If you don't, you can try substituting with Sambal Oelek or any other Asian Chilli sauce.

You can replace sugar with honey. Add honey right at final stage of tossing.