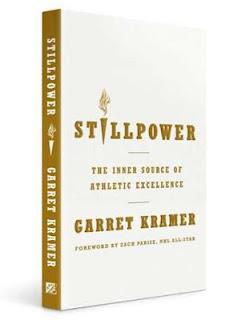 The 2012 Summer Olympic Games are in full flight.  Young athletes from around the globe are in London with the hopes of translating their training and talents into Olympic gold. If passion and perseverance were all that one needed to succeed in these games, then every last athlete would walk away with a medal around his or her neck. But as we know all too well, that isn't the case. There is something else that elevates a talented athlete to the podium.
Garret Kramer calls it Stillpower.
With a simple and straightforward approach, Kramer is an insightful new voice in the discussion about youth sports, coaching and mentoring our young athletes.  Kramer's book "STILLPOWER: Excellence with Ease in Sports and Life" goes directly against some of the age-old coaching methods that just don't make sense: "My way or the highway." "Keep pushing." "Play mad." "No pain, no gain." "Willpower is the key." And Kramer believes that summoning willpower is not what athletes need to do on the court, field, course or track. They need to do the opposite.
Stillpower vs. willpower.
STILLPOWER is a great read and a book that lends itself to inclusion in the discussion of many topics: Sports, parenting, mentoring, coaching and the 2012 Summer Olympics.
Here's some more info about Stillpower...
STILLPOWER is a perspective of clarity. It is a confidence and a deep trust in one's own inner wisdom. It helps athletes make decisions from higher states of mind, even when we are losing or when we are struggling personally. STILLPOWER allows anxiety and stress to fade without pressing or giving up. We return to that higher state of mind where we will always have the opportunity to perform better. On the field. On the court. In the classroom. The principles are clear and concise and transferable to all aspects of life.
STILLPOWER is not a self-help book and it doesn't espouse calming techniques, or meditation, or mantras. It's a basic, yet dynamic approach. Actually, the book is so stunningly simple and intuitive that it almost need not have been written, but we will return to it often as the ideas it presents are clarifying and provide the framework for fulfilling engagement for coaches, mentors, parents and athletes.
For coaches, STILLPOWER is the secret to engaging our team. It helps coaches tap into the natural joy and love that we all experienced playing sports as kids. When we ran full bore for pop-flies. Did back flips off the diving board. Played pick-up games until dark. Played the game as a game. For mentors, STILLPOWER helps us bring out the inner wisdom in those we teach. We trust in them, so that they trust in themselves. For parents, the book helps us get through to our children and make sure the proper lessons are being taught that will lead to contentment and success
We can change the system. We can promote structure and freedom simultaneously. We can empower our kids to follow their passions. We can perform to the best of our ability. We can compete full bore, but with a sense of freedom, peace, and ease. We can act with composure, thus allowing our imaginations to soar.
We can perform with STILLPOWER.
About the Author
Garret Kramer is the founder and managing partner of Inner Sports, LLC. He has provided consulting and/or crisis management services to hundreds of athletes and coaches; from well known professionals, Olympians, and teams, to high school and collegiate players across a multitude of sports. A former collegiate ice hockey player, Kramer often lectures on topics related to the states of mind that lead to success on and off the playing field, and is credited with bringing the principles of Mind, Consciousness, and Thought to the athletic community at large.