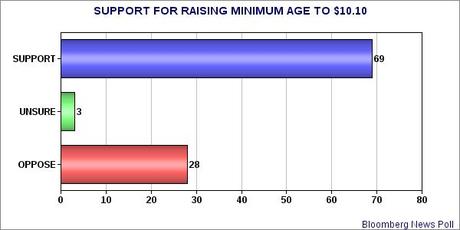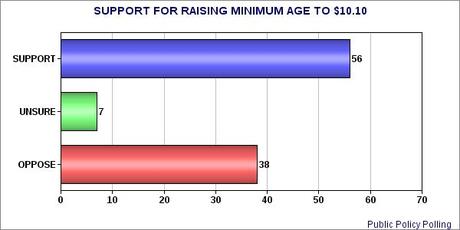 Evidence continues to grow that a significant majority of Americans would like for Congress to raise the minimum wage to $10.10 an hour. Two new polls have come out (a Public Policy Polling survey and a Bloomberg News Poll). The PPP poll shows 56% of Americans supporting the raise, and the Bloomberg poll puts the support at 69%. Either way, it shows that the congressional Republicans (who are blocking the raise in the minimum wage) are once again out-of-step with what the public wants.
The Republicans are hoping to pin their electoral chances this year on public dislike of Obamacare, but as more people get signed up (over 8.6 million total, and over 4.2 million who have purchased private insurance) that issue is fading -- and by November might not be much help. That's because as people get signed up, they realize they can now get better insurance for less money than before Obamacare came into effect.
As Obamacare fades as an issue, other issues will come forward -- and one the Democrats should take advantage of is the desire of the public to see the minimum wage raised. They could get a lot of mileage out of the minimum wage issue -- especially if they point out how it would cut the need for social programs (and couple it with job creation and protection of Social Security and Medicare). The Republicans are on the wrong side of the minimum wage issue (and several other issues), and the Democrats need to make sure the public knows that -- again and again until November.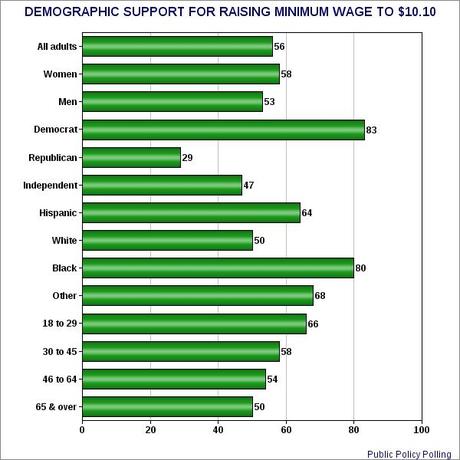 The Public Policy Polling survey was done between March 6th and 9th of 1,152 nationwide registered voters, and has a margin of error of 2.9 points.
The Bloomberg News Poll was done between March 7th and 10th of 1,001 nationwide adults, with a margin of error of 3.1 points.
------------------------------------------------------------------
Right-wingers love to talk about any job at all providing dignity to the person that accepts it -- even a minimum wage job that won't cover the person's living expenses. I've always thought that was crap. Although I give a person credit for trying whatever they can to get by, there is little doubt that real dignity comes from working a job that will cover basic living expenses (so the person doesn't have to ask anyone, including the government, for help). And it looks like the American public agrees with that.
The chart below is from a YouGov Poll taken between March 7th and 10th of 1,000 nationwide adults, with a margin of error of 3.5 points. Americans don't believe dignity comes with a job that keeps a person (or family) in poverty. Dignity comes from supporting yourself, and that can't be done today with a minimum wage job. We must raise the minimum wage to $10.10 an hour -- not a huge wage, since it is only about $21,000 a year (or less than half of the medium income). But it will allow many to have the dignity of working and supporting themselves without help from others.