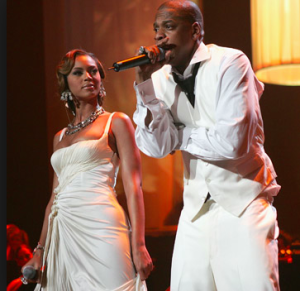 In Case You Were Wondering If Hip Hops First Couple Was Headed For Splitsville The Answer Is ……. NO !
People Magazine Is Reporting That The Couple Has Mended Their Problems And Renewed Their Vows In A Private Ceremony .
Elevatorgate Had The Whole World Buzzing About The Couple Status After Solange Was Seen Assaulting Her Brother In Law . Divorce Was Up In The Air For A While But The Carters Seem To Be Back In A Good Space . Reports Claim Their Were 'Major Problems' But Thats All In The Past .
Further Confirming The Good News , The Couple Are House Hunting Overseas . The Pair Were Seen Checking Out A Few Properties In Paris , In A Gated Neighborhood Named 'Millionaires Row' , Must Be Nice .
Paris Holds Sentimental Value To The Couple Being That They Got Engaged There & Also Conceived Baby Blue There .
Congrats Carters !