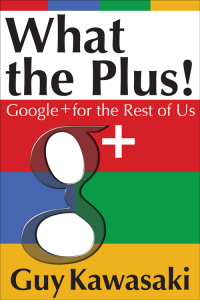 Have you had trouble bonding with Google+, the Google service that competes with Facebook? I had just about written it off. Then, I came across Guy Kawasaki's new e-book, What the Plus!, Google+ for the Rest of Us.
Guy predicts that Google+ will overtake both Facebook and Twitter as the site of choice for social networking. Be skeptical if you like, but give Guy his due. He has 755,000 followers on Twitter, and 132,000 subscribers on Facebook, so he uses and understands social media extremely well.
His major reason for being so bullish on Google+ is simple. He believes that for many social media objectives, "Google+ is to Facebook and Twitter what Macintosh is to Windows: Better, but fewer people use it, and the pundits prophesy that it will fail. As a lover of great products, this rankles my soul." He is convinced that if Google+, Facebook and Twitter had all launched at the same time, Google+ would be the clear leader among the three.
He notes that Google is not just a couple of folks in a garage with a little seed money. The company is massive, and it is committed to Google+ for the long term. It can give Google+ the staying power it needs while it builds a following.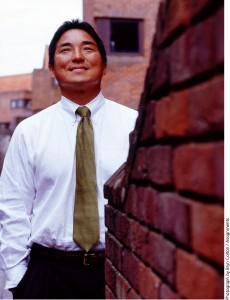 Guy Kawasaki
Above all, Guy's book is a kind of owner's manual for Google+. In 14 chapters, he provides insights into all the functionality available through Google+ along with specific, detailed advice on how to get the most from the site.
If, like me, you have an established but anemic presence on Google+, this book can help you rethink your objectives and teach you how to use Google+ effectively. At $2.99 (less than a grande latte at Starbucks, he points out), the book is a great investment to learn how to use what can still become the premier social networking site.
Remember, for decades, people considered Apple to be the runner-up to Microsoft. Cute, but reserved for special niches. Today, of course, Apple has become a powerhouse in personal computing and personal electronics. Guy Kawasaki, as an original "evangelist" for Apple, helped set the forces in motion that made Apple a market leader. He thinks he has found another fledgling enterprise that will become the major force in its field. I'm willing to give him a listen and give Google+ another go. How about you?