The #britishflower hour on twitter last night was awash with talk of tulips and dahlias - both at the forefront of my mind at present. Am spotting the first signs of color in the tulip buds, and most of my dahlias are growing away nicely now and I am trying to keep them bushy and strong, out of the frosts which are threatened for this week.  None last night though - phew!  The stems on most of my flowers do seem to be slowly lengthening though and lifting them up from soil level at long last.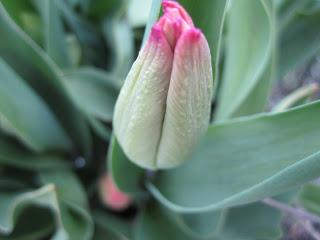 'Perestroyka' (I think! Can't yet tell if it's a lily flowered form or not)
There seemed to be a general consensus that things are growing a bit shorter this year - well apart from those lucky Cornish growers with big polytunnels of which I am so jealous.  Don't think they'd go down to well with my neighbours though, or my children who would then definitely lose their last remaining bits of lawn!  I was also listening to 'Farming Today' on the BBC World Service last weekend whilst arranging flowers in the small hours and there was a big discussion on there about more farmers starting to cover their land with tunnels in order to get reliable crops.  This mental weather is playing havoc with their livelihoods I'd imagine.
Still, can't complain about it today as in my neck of the woods we have beautiful blue sky, the leaves on the garden trees are starting to unfurl, and the tiny white damson blossoms are looking gorgeous.  My 'boing' moment prediction for last Wednesday was, it seems premature, and I am still waiting for the magic to fully happen.  It must be imminent though as the lawn even got its first haircut of the year at the weekend.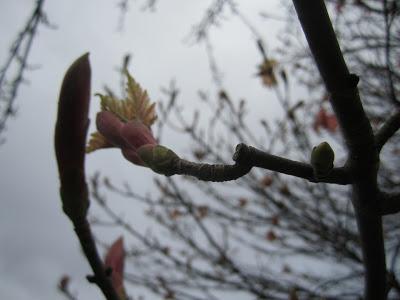 Have got to sow my Bells of Ireland seed this morning as I've had them in the fridge for a couple of weeks in order to encourage them to germinate.  Am also going to sow some red orach direct into the garden as it is such a brilliant plant - dark red, edible leaves and amazing plumy seed heads which are great as fillers in flower arrangments later in the season.  I've sown some seeds directly already: cornflowers, cosmos and sunflowers as they have historically done better for me this way than when transplanted from pots. Will have to keep an eye out for them emerging as everything has to take pot luck with the cats' trampling paws these days.  Have really got to get cracking with my veg sowings at the allotment as well, so that's all on my to do list for this week.
Soooooo nice to be able to garden again after all this waiting. Now that I have a couple of weeks break from flower stalls, I can at least relax about the speed of development.  Having said that, I'll doubtless be doing my garden march yelling at all the flowers to slow down by this time next week, you wait and see!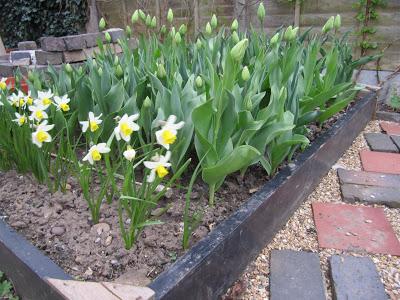 Still waiting for those tulips to open.
  Narcissus 'Jetfire' have been great for weeks now, with the odd new bud still coming out.