%%bloglink%%
It seems to me whenever a major storm is about to hit somewhere, the news always shows pictures of grocery store shelves or sections of Home Depot that have been cleared out by shoppers desperate to get their hands on anything that might provide for them until the storm passes.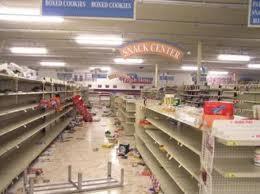 No one forced those panicked shoppers to grab carts full of goods. They stocked up because the fear of going without was greater than the fear of having too many cans of food on hand when the storm passed.
This is what I imagine the pantry looked like for those shoppers after they got home.  Shelves filled with everything and anything.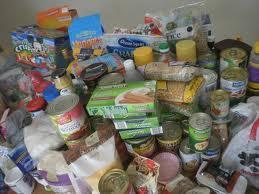 Eventually, however, panic fades and food stockpiles slowly turn into just everyday pantries.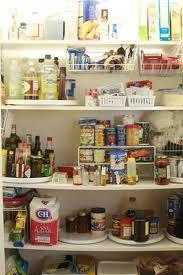 Like the shoppers filling their carts on TV, investors became panicked during the 2008/2009 storm and started stockpiling their cash and now five years later, they're still at it.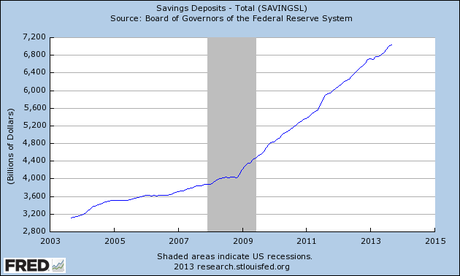 Not only are people hoarding cash in savings accounts,  they're also stockpiling other perceived "safe" investments such as CDs, US government bonds, and bonds of well known companies.
Proof of this can be seen in the low yields investors are willing to accept.
Since no one HAS to buy a CD, banks have learned the greater the demand is for CDs, the lower the yield banks have to pay in order to entice people to buy them.
I'm guessing since the national average yield on 2.5 year CDs (matures April 2017) is 0.15%, demand for CDs remains very strong.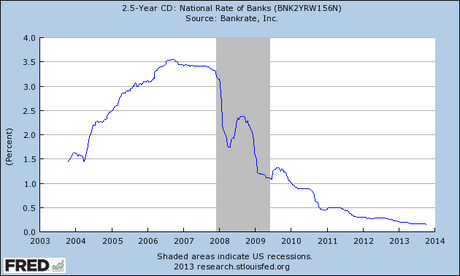 Similarly, companies are able to pay very small yields on their bonds because demand for bonds remains strong.
Here is a listing of the earliest maturing bond with a yield to maturity of 1.00% of greater for each of the companies in the Dow Jones Industrial Average. [i]
Name   Symbol   Maturity   Yield to Maturity
3M      MMM3869561   6-26-17   1.29%
American Express   AXP.MZ                              9-13-17   1.80%
AT&T      T.MB   5-15-16   1.17%
Boeing     BA.GCE   11-20-16   1.06%
Caterpillar      CAT.GQO   3-15-16   1.13%
Chevron      CVX3938384   12-5-17   1.48%
Cisco      CSCO.GI   3-14-17   1.26%
DuPont      DD.HL   12-15-16   1.01%
Exxon      XOM.GH   7-2-17   3.79%
GE      GE.HAS   11-15-14   1.00%
Goldman Sachs    GS.AST   11-15-14   1.03%
Home Depot      HD4047738                        9-10-18   1.89%
Intel      INTC3940192                    12-15-17   1.56%
IBM      IBM3816099   2-6-17   1.23%
Johnson and Johnson   JNJ.GO   8-15-17   1.48%
JP Morgan      JPM.RM   5-1-15   1.10%
McDonalds      MCD.HD   3-15-17   1.28%
Merck      MRK3671639   9-15-17   1.51%
Microsoft      MSFT3926357   11-15-17   1.27%
Nike      NKE.GE   10-15-15   1.21%
Pfizer      PFE4013015   1-15-17   1.12%
Proctor & Gamble   PG.HN   2-15-19   1.93%
Coca Cola   KO3830397      3-14-18   1.61%
Travelers Insurance   TRV3668412   6-20-16   1.12%
United Technologies   UTX3860971   6-1-17   1.32%
United Health      UNH.HP   11-15-16   1.09%
Verizon                                VZ.RJ   2-15-16   1.29%
Wal-Mart      WMT.HZ   4-5-17   1.34%
Walt Disney   DIS3819067   2-15-17   1.14%
I view cash, CDs and these types of corporate bonds as the "canned goods" of the finance world.
How long are you going to hoard your cash waiting for the storm to pass?  
---
[i] Source: FINRA.org. yields as of 10-11-13.