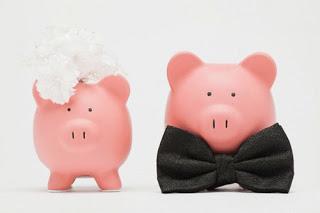 Whatever your wedding budget, you don't have to resort to cheap accessories and tacky options to keep within budget. 
One of the most common things I hear from the couples that we work with is that they simply do not know if the budget they set matches the wedding experience that they want. 
As a wedding planner, discussing the budget is one of the first things I do for my couples that are looking for complete wedding planning and styling, we go over your wedding vision and your wedding priorities and the amount you have set to create that wedding. I believe in being honest with my couples, and I always let you know if your wedding vision is feasible with your wedding budget. Often, we need to tweak certain aspects in either the budget or vision to create a balance, and I monitor our budget during all phases of our wedding planning so that you can have a stress-free budgeting experience.
Here are ten tips to help have the gorgeous wedding you've always dreamed of without sacrificing one ounce of style.
1. Decide What's Most Important
Pick your top three priorities and allocate a little extra money for them (i.e., wedding dress, catering, and band). Next, pick the three things that come lowest on your priority list (flowers at the ceremony, cake, wedding favours), and budget accordingly.
2. Cut the Guest List
We know it's tough, but one of the fastest and most effective ways to lower your wedding cost is to pare down the invitees. Get out that red pen! At an average of $100 a head, taking 10 guests off the guest list saves $1,000!
Tips: Having trouble figuring out which guests to cut?
Make a rule and then whittle away. For example:
Rule #1:

If you have never spoken to, met, or heard the name of a particular guest, they get cut. 

Rule #2:

Anyone whose bedtime occurs before 9 p.m. could be considered cut (All under-12 year-olds) Unless they are nieces and nefews and you really want them to be there.

Rule #3:

Significant others? Consider someone worthy of an invite if he or she is currently living with or has been in a relationship for more than one year with the friend you want to invite.
3. Bridal Party Size
Consider the size of your wedding party as this impacts the cost of cars, gifts, hair, makeup, dress or suits, shoes etc.  And it is definitely cheaper for two than for ten.
4. Re-use where you can
Items such as flowers at the ceremony can be transported to the reception for recycled use.  For example instead of having flowers on the end of each seating isle, have some large bouquets assorted around the front of the ceremony and entrance sitting on chic stools for a more glam look.  Then these could be transported back to the reception for decoration around the bridal table.
5. Consider Stationery Costs
Most people are of the view that if they had create their own stationery it works out cheaper for them.  Well not necessarily.  Professional stationery providers can actually produce a better quality stationery at probably the same cost if not cheaper than doing it yourself.  This is because they have access to cheaper printing costs and cheaper purchase costs for paper and accessories. So consider using a quality professional that has reasonable costs, which will save you time, money and stress while achieving high quality glam stationery.  Try Sparklebox!
6. Venue Selection
Choosing a venue that requires less decorating can save you a huge amount on the budget.  There are plenty of venues available that have so much character and style require little effort to make them look special for your wedding celebration. A great example of this is the Great Hall at Sydney University.  It has marble floors, and stone walls, but has so much character with the large Murial on the paintings hung along each side of the hall, the grand piano and beautiful stained windows shinning through the 15m ceilings.
7. Substitute Less Expensive Flowers
Choose wedding flowers that are in season, and pick locally grown flowers rather than blooms that need to be flown in from afar to reduce costs. Your Florist or wedding planner should be able to help with this.
8. Simplify Your Menu
Reduce the number of overall dinner courses (making three courses fabulous costs less than serving five individual courses) and keep your menu simple. Stick with the specialties of the season and region.
9. Save the Good Stuff
Have the caterers bring out the fancy Dom Perignon for the toast, but then switch to a less expensive champagne for the rest of the night.
If your not utilising an unlimited beverage package, you can also have the caterer serve the drinks upon request rather than have bottles of alcohol left on the tables for guests to help themselves.  This saves on wastage and high consumption.
10. Pare Down the Cake Extras
Order a smaller, fabulous cake that's exactly what you want and, in the kitchen, have several sheet cakes of the same flavor cut for your guests. And stay away from tiers and (time-consuming) handmade sugar flowers or special moulded shapes. Have your caterer decorate each plate with a flavoured sauce instead.
Note: So i hope this helps with your wedding planning.  Contact us via our Facebook page for a free copy of our wedding budget planner!!!
Please contact Sparklebox for a consult on planning your joyous event!
xxB