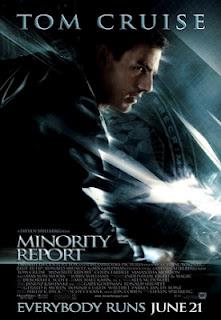 Filmed from March to July 2001, Minority Report was not influenced by the September 11 attacks later that year, yet retrospectively it seems the first of Steven Spielberg's attempts to grapple with the aftermath of the tragedy. A neo-noir in which crime is committed and prosecuted in the mind, Minority Report proves disturbingly prescient in its vision of a world in which murder is punished preemptively. Though based on an even older Philip K. Dick story, the film feels like the meeting point of the Patriot Act and the impetus for the Iraq invasion, albeit the focus lies not on wars and national defense but mere law enforcement. As the PSAs encouraging support for a national PreCrime system argue to the people, "That which keeps us safe also keeps us free."
Chief John Anderton (Tom Cruise) believes that motto with all his heart. Having lost his son years ago to an unknown kidnapper/murderer, John looks at PreCrime as a way to prevent such pain from afflicting anyone else. Using a trio of genetically engineered psychics to predict when murders will occur and who the perpetrators and victims will be, Anderton and the rest of Washington D.C.'s unit have reduced the murder rate in one of America's most violent cities to zero. The resultant utopia resembles that of Demolition Man: exceedingly bright and almost eerily calm. Only where Demolition Man presented its peace as the product of nanny-state liberalism, Minority Report shows how instant detention has cleared the streets.
Perhaps that's why the brightness of Spielberg's future D.C. is so garish and uninviting. Using the bleach-bypass method he employed for Saving Private Ryan, Spielberg casts his world in a quasi-chiaroscuro, not fully employing black-and-white but suggesting the obliteration of a moral gray area in this new societal order. Anyone predicted to kill by the "PreCogs" is guilty and arrested before the act is committed. There are no extenuating circumstances, no appeals, only a quick journey to a massive prison that resembles a high-tech Guantanamo. Some of the police offers working in PreCrime have never even covered a homicide. They simply trust in the system, which clearly marks people as either innocent or guilty.
But naturally, there isn't much drama in a world where evil has already been figured out and dealt with, and soon Anderton's faith in the new way of things is directly challenged. First comes the intrusion of the bureaucracy, in this case Danny Witwer (Colin Farrell), a representative of the attorney general. Before PreCrime can go national, the federal government wants to make sure there are no flaws. The fact that Witwer is even investigating the system cracks the illusion of the system's infallibility, and his intervention sets in motion events that lead Anderton to a potential flaw, at which point his world turns upside down.
Predicted to kill a man he's never even heard of, Anderton must flee and try to clear his name, and Spielberg stages a number of impressive chases as the chief ducks his co-workers. He leaps across maglev cars racing at hundreds of miles per hour in every direction, hitches unwitting jetpack rides off the officers come to arrest him and dukes with Witwer in a car manufacturing factory before driving away in the car that is constructed robotically around him. Spielberg's direction is at his most fluid and dynamic, the welcome return of his more coherent, formal style communicating as much energy as Saving Private Ryan with out all that camera jostling tedium. A sequence in which tiny, retina-scanning automatons move through an apartment looking for Anderton is filmed, De Palma-style, with a top-down camera gliding over the partitions of rooms, peeking in on the domestic bliss and drama of the tenants as the mechanized creatures scurry around looking for their mark. As a showcase for Spielberg's talent with action filmmaking and pacing, Minority Report is his best pure rush since Indiana Jones and the Last Crusade.
Yet it also displays some of the director's deepest conceptual probings. Like so many of Spielberg's films, Minority Report details a loss of innocence, only here this loss is visited on an adult instead of a child, and more than once. Anderton's world is shattered once when his son disappears, but he also loses the new, cocooned world he creates around himself when his name comes up as a future killer and he is put on a path to undermine the PreCrime program. Spielberg finds complexities in the man by staging him as both perpetrator and victim, someone who deliberately sets out to uncover the truth and is then wracked by those revelations.
The titular minority report refers to an aberration among the hive-mind visions of the three PreCogs, a "disagreement" on how a future might play out. Anderton goes so far as to abduct the most powerful of the PreCogs, Agatha (Samantha Morton), to try to find his own minority report, to be told that he really doesn't have to kill the unknown man he's been predicted to murder. However, if he did have a minority report, he himself would disprove the fallibility of PreCrime and the necessity to dismantle it. And yet, as the "inventor" of PreCrime (Lois Smith) tells him, the best way he could destroy the system would be to kill the man, thus proving its inability to fully protect people. No matter what Anderton does, everything will change, and he'll be destroyed by it.
Naturally, Spielberg uses this foundation to toy with the notion of fate. Agatha, once sprung from her holding chamber to accompany Anderton, can predict even small occurrences that happen without fail. Yet it is also she who tries to urge Anderton not to carry out his predicted destiny, arguing that his knowledge of his future gives him the power to change it. But it is precisely that knowledge that ultimately leads him to the doorstep of a man he does not know, at which point he discovers something that makes him capable of the murder Agatha and her siblings foresaw. This constant mixing of paradoxes, ironies and quandaries is visualized in the film's key shot, perhaps the single most striking shot of Spielberg's oeuvre, that magnificent two shot of Anderton and Agatha holding each other, their heads seemingly growing out of each other's. As Agatha shares a hive mind with her siblings, so does she swap thoughts with Anderton for a moment: having stolen Agatha to try to clear his name, Anderton now feels that he must go through with the predicted action, while Agatha the psychic tries to convince him to change his fate.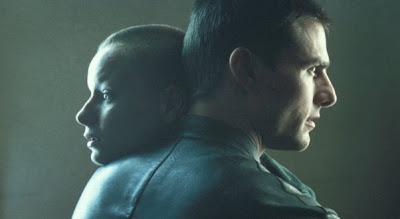 This is heady stuff, exceeded only by A.I.'s uncompromising views on humanity itself. But apart from the director's more current interest in moral complexity, Minority Report also features a unique take on the classic Spielberg theme of neglectful parents. Here, he flips the dynamic, so that instead of focusing on the wronged child, we see the parent coping with his failure, whether perceived or real. Anderton blames himself for Sean's kidnapping, and he can hardly live with himself for it. Loyal to the legal system and outwardly so strong, Anderton retreats into a drug haze when in private, watching old home movies as he dopes himself to blot out the pain for a few minutes. The aforementioned retired PreCrime pioneer likewise comes across as the regretful parent, viewing herself as having failed children who were born different and then experimented upon without care. Though not as direct an examination of Spielberg's dearest preoccupation as Catch Me if You Can, Minority Report nevertheless represents one of the director's last great looks into one of his foundational hangups, this time from a different angle that exposes new moods and interpretations.
Like Spielberg's other 2002 film, Minority Report represents a meeting of the director's two best sides, the populist audience-charmer and the serious-minded artiste. Some criticize the ending, and I agree there are a few issues. Any time you see Max von Sydow in a film, you can pretty much bet he's guilty of whatever the crime is, which dampens the suspense somewhat. As to the charge that its "solution" to the PreCrime system is too absolute, I never could gel with that reading. I've always believed that it's better to let a guilty man go free than to cage an innocent one, and by revealing the flaws in the system, Anderton and others have no choice but to scrap its progress. True, Spielberg doesn't even try to address the larger framework of justice, but that's a subject for another film. Perhaps, continuing off his Kubrick high, the director incorporated the lesson that the late, great director imparted with his altered finale of A Clockwork Orange, that dismantling a bad cure for horrible actions is as important as finding a working method of treatment for crime. Minority Report doesn't set out to find a bold new solution to law and order but to discard a flawed one. And in the face of subsequent foreign and domestic policy in this country, the film's message has since come to resemble a warning.