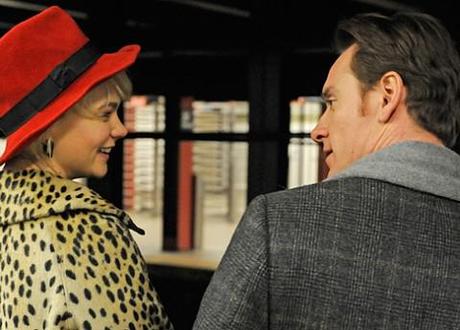 Carey Mulligan and Michael Fassbender in Shame.
On paper, a film about a miserable sex addict who lives with his sister may not sound like Oscar material. But director Steve McQueen's Shame, starring Michael Fassbender and Carey Mulligan, has already been tipped for Academy Award glory by some critics ahead of the US release. But the movie's scenes of full-frontal nudity and group sex are not to everyone's taste.

Riveting. "Shame isn't an easy film to sit through, to describe or to figure out, but it's riveting, spectacular, passionate cinema," wrote Andrew O'Hehir at Salon. O'Hehir praised Fassbender and Mulligan's "massive, irresistible" performances, and also said that the movie's soundtrack is the best of 2011.
Satisfying. "This is fluid, rigorous, serious cinema; the best kind of adult movie," said Xan Brooks in The Guardian, also heaping praise on Fassbender's portrayal of Brandon, a "sex-addicted corporate drone". Brooks wrote that although the film is set in Manhattan, it may also be relevant to the wider world: "Brandon is soon exposed as a casualty of a bull-market culture where sex has been traded so heavily, so easily and in so many exotic flavours that the consumer has gorged himself sick."
Beautiful. Variety's Justin Chang argued that Shame is more "accessible" than McQueen and Fassbender's previous cinematic collaboration, IRA hunger-striker drama Hunger: "McQueen has transitioned from Hunger's austere study of enclosed environs to a more open, traditionally constructed narrative without abandoning the formal deliberation and moral concerns that have informed his work." Chang highlighted the wordless eight-minute opening section, saying that Fassbender "transfixes" even when he says nothing.
Boring. But Fassbender's moody silences did not impress The New Yorker's Anthony Lane: "Fassbender, who was, frankly, much sexier and more devilish in X-Men: First Class, is required to spend much of his time staring with blank intensity into the middle distance." Lane argued that for a film about sex, Shame is curiously unsexy, with the protagonist never looking as if he's having fun during all the masturbation and humping. Indeed, Lane suggested that McQueen included the NC-17 material just for the sake of it, rather than to explore the main character.
More film reviews

The Deep Blue Sea
Snowtown
My Week With Marilyn
Immortals
The Iron Lady
More film »