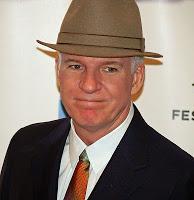 For no particular good reason, I found myself thinking about Steve Martin this morning. Now well along in his third (fourth?) career, the bulk of the movies he appeared in or contributed to--mostly from the late 70s to the late 90s--are increasingly distant to popular memory. And perhaps that's for the best; the argument can be made that his cinematic work never really equaled what he achieved in stand-up, television, and musical comedy. Still, after thinking about it a while, I had to admit to myself that Martin made or was part of more moments of genius than most working entertainers ever manage in equally long careers. He's five pieces of evidence, in chronological order:
1) The Jerk (1979). If the is such a genre of films as "the Saturday Night Live movie," which I'll define performers-developing-a-character-for-a-three-minute-skit-and-then-building-a-movie-around-it," then this Steve Martin vehicle--featuring "Navin R. Johnson," who emerged from a stand-up routine of his--has to be one of the funniest and most successful ever, up there with The Blues Brothers or Wayne's World or Anchorman.

2) All of Me (1984). A genuinely funny and good-hearted movie, with a few physical comedy routines that legitimate compare with some the very best from all of film history.

3) L.A. Story (1991). An absurdist parody of life in the white upper-middle classes of Los Angeles in the 1990s, but also something very close to a kind of magical realism/romantic comedy mash-up.

4) Leap of Faith (1992). Additional evidence that some of the best and most communicative and relatable of dramatic actors are those who have done comedy--and, probably against Martin's own wishes, also one of the most unapologetically (though not sectarian) Christian films made in Hollywood in my lifetime.

5) Bowfinger (1999). On paper, everything about this film seemed to promise comedy gold. Script by Steve Martin. Starring Martin and Eddie Murphy. Directed by Frank Oz. A parody of Hollywood movie-making, Scientology, life in Califonria made by consummate insiders. So you expect it to blow up in viewers' faces, right? But it didn't--not in the least.

Honorable mentions: Pennies from Heaven, Roxanne, Dirty Rotten Scoundrels, and a personal favorite of mine, Loony Tunes: Back in Action.