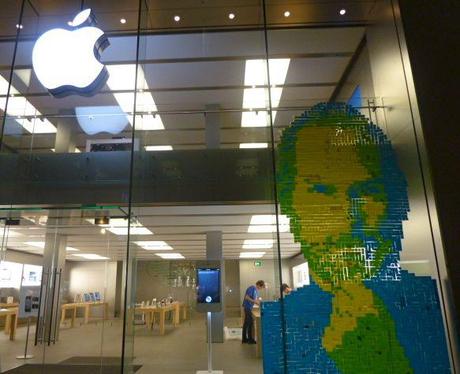 Steve Jobs tributes are showing up everywhere.  The Apple Store in Munich is no exception where Steve Jobs is prominently displayed via thousands of post-it-notes, one of the few things Steve Jobs did not invent, for fans to write their respects.  I don't recall the last time that an inventor and business magnate was as celebrated as Steve Jobs.  What are some memorable tributes that you recall?
This photo has been submitted as part of Travel Photo Thursday by Nancie at Budget Travelers Sandbox.   Check out her site for more travel photos.
Don't forget to join in the fun of Food Friday tomorrow.  Write a food or drink related post of any kind on your blog, or link to an old post, include the page link from Food Friday on your post, then  come back here and place your link in the Mr. Linky form at the bottom of the post.  Check out last week's Food Friday to see how it works.