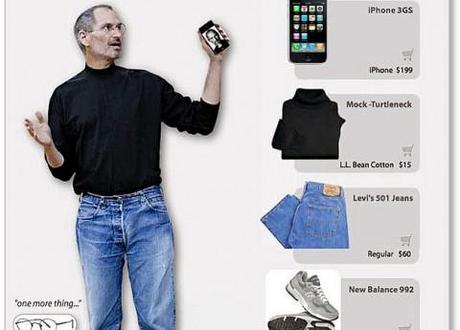 Photo credit: Photo Giddy http://www.flickr.com/photos/[email protected]/4038940252/sizes/z/in/photostream/
Rise of the (mock black) turtleneck. Gossipy website TMZ reported that sales of black mock turtlenecks, as worn by Steve Jobs at product launches, have skyrocketed since his death. TMZ interviewed a rep for the St. Croix clothing brand (which kitted out Jobs) who revealed that they'd experienced an "almost 100% increase in sales" in the first 24 hours after his passing. The grateful rep added, "we have a great respect for everything he did and we're glad he believed in our American-made product."
Do you want a black turtleneck just like Jobs wore?
Timeless geek chic. At Daily Beast, Robin Givhan praised Jobs' "timeless Geek Chic" and marveled at his commitment to his "uniform of faded, relaxed-fit jeans and black mock turtleneck. In both his attire and his company, Jobs proved simplicity is powerful and elegant." Givhan lamented that men, "have relied on the anonymous power suit. It is a universal form of public camouflage – blandly appropriate and never distracting." With this in mind, she celebrated the "astounding" "sartorial distinction of Jobs: "He made the kind of personal style statement that eludes most men. His clothes – neither disconcertingly flashy, nor self-consciously dowdy – came to be uniquely associated with him, indicative of the streamlined ease of his technical wizardry, but wholly accessible, uncomplicated and welcoming." What really impressed Givhan was the authentic geekiness of Jobs' look: "His wasn't a fashion-world interpretation of nerdy style, which would inevitably have involved atrociously expensive eyewear and some achingly self-conscious mix of Thom Browne, Band of Outsiders, and the spoils of a vintage store or a back-alley dumpster dive. Jobs's clothes were the real nerdy deal." Givhan concluded that Jobs got his clobber spot on in terms of conveying the desired message: "He didn't reek of hipster attitude, the kind of intimidating insider bravura that leaves outsiders unnerved. But he wasn't so aggressively dorky that he overwhelmed the room with his awkwardness.""
His attire was "unquestionably efficient and banal, yet with just the tiniest hint of Steve McQueen cool", purred Givhan.