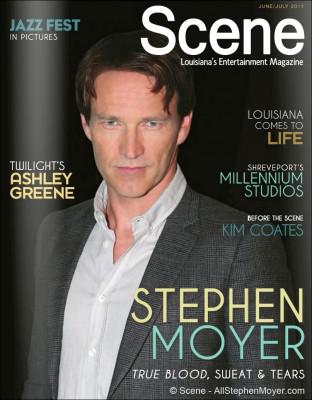 Stephen Moyer was interviewed by the Louisiana Scene Magazine. This interview took place before the Toyota Celebrity Race so some of it is old news but there are some very interesting tidbits about Season 4 and possible projects for Stephen for during the hiatus.
We are still waiting for the release of The Double with Richard Gere in which Stephen plays a Russion prisoner. The writers of that movie are working on a new project  and Stephen is hoping to be able to do that, filming will take place in Marseilles during the summer. He is looking at a project with Nick Copus, the director of the thriller ICE in which Stephen played an English politician. Yet another possibility might be the new thriller Winter. Fingers crossed that Stephen will have more luck with his hiatus projects then last year.
source: Scene Magazine
Right click and open in new window for easier reading.