Yesterday Stephen Moyer attended the premiere of The Caller in San Juan, Puerto Rico. He gave his interviews while hurricane Irene raged outside leaving the hotel without electricity.
The first interviews that pop up are in Spanish, but with a little help I was able to make something readable out of it, it's not a perfect translation but you get the meaning. Read the interviews after the cut.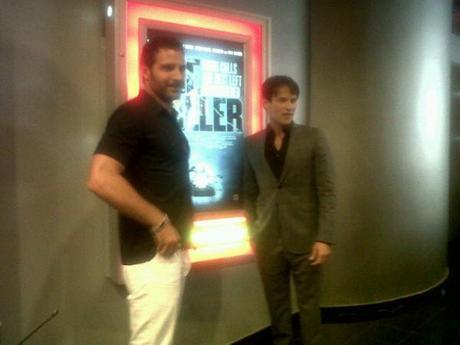 Ed Quinn and Stephen Moyer - credit Tiffany Doll
From Primerahora translated by GloomySunday
He gives himself airs of importance? Unapproachable celebrity? Nothing could be further away from the truth.
The True Blood star, Stephen Moyer, made display yesterday, Tuesday, of his friendliness and humility when, with extreme easiness, he talked with this journal about the thriller The Caller which he shot last year in Puerto Rico along with actress Rachelle Lefevre (Twilight).
During a very quick visit to the Island, Moyer shared some of his impressions of The Caller (film produced by Puerto Rican Luillo Ruiz) and went into great detail about the most meaningful experiences of his career, of 20 years already.
He also talked, with passion, about his wife and co-star in True Blood, Oscar winning actress Anna Paquin.
How would you describe your character in The Caller and what is his importance within the story?
"John" is a very positive influence on the character played by Rachelle Lefevre ("Mary Kee"). "Mary" is in the middle of a divorce and arrives at this place that makes her feel strange and starts to receive these weird calls. She then feels she has some support from me in the middle of those weird things that are happening around her.
Through The Caller, you worked for the first time with Rachelle Lefevre, who just like the rest of the cast of Twilight, has had her share of fame. How was your experience with her?
I didn't know much of Rachelle's work until we met through this film. To be quite honest, I was surprised at how professional she was. She's one of those actors who gets completely into her role from day one. My professional relationship with her was delightful and productive. The good thing about Rachelle is that she manages to capture the audience attention from the beginning to the end.
The most recent projects you've worked on have stood out for being darker productions such as Priest and The Caller. Do you consider yourself as an expert on that league?
Actually, I don't know, because every character is always different. You have to see each role as a new challenge. I only know that you have to connect with the character as much as you can and do your best.
How important has it been the scope you've had in the artistic scene thanks to True Blood?
I had a solid career for 16 years before True Blood, but the series has been very important for me to be able to enter the television drama. I also feel that True blood has given me the opportunity to choose the projects I want to participate in.
Did you ever imagine the great success that True Blood has had?
Yes, I always believed so. When I read the pilot, I said: "It's going to be wonderful and I want to be part of that". In fact, before Twilight broke out we were already in the scene with much success.
Why do you think the public is fascinated with vampiric characters?
I think it's due to several factors. Vampires have always been perceived as sexy beings and the fact that they live forever is another factor that fascinates the audience. Besides, they belong to an old-fashioned world and people love that.
What are the advantages and disadvantages of being married to a woman who is your co-star in True Blood?
[He takes a deep breath and his face lights up] Advantages?… Well, that I can see her all the time and that is wonderful, to be able to see each other and work together ¡all the time! Neither of us thought we were going to have a romantic relationship, but it happened and it's wonderful. Disadvantages?… I can't think of any.
How do you and Anna (Paquin) complement each other?
We are quite different in our ways and the way we work. She is disciplined and well focused and I'm not like that. Thanks to her, I've learnt to appreciate different kinds of work and my vision about what this career means has broadened. I learn the lines when I get to the set because I live the character more like that, she learns them before.
What is next in Stephen Moyer's professional agenda?
I'm going to London to continue with the promotion of The Caller and I will begin to shoot a movie called Evidence at the beginning of September, which is a thriller, but it's going to be really fun too.
From Elnuevodia.com by Google Translator
A sky full of black clouds obscure the afternoon. With the wind blowing and rain respectable speed splashing your face, Stephen Moyer presents mysterious.
The scene is almost vampiric and straight out of "True Blood" the series that has established itself as one of the world's most famous vampire show.
"Beware! Do not sit there! "He says. But it is too late. The seat is wet and he laughs.
Behind the pallor and the fangs of his character "Bill Compton", the English actor does not hesitate to talk dirty, threatening to take his shirt off in the middle of the interview and even jokes about sex slip Alexander Skarsgard, his scene partner.
"We are in this hotel with no electricity, no air conditioning … Nothing! My carpets are wet and there is no light. There is no hot water. But we are all in the same boat and these things happen … We will be talking about Puerto Rico for many years, "he says of his experience with the Storm Irene.
Thus, prior to the opening on the Island, the actor sat down with Elnuevodia yesterday to discuss "The Caller" paranormal thriller filmed for nine days in Puerto Rican soil under the direction of Matthew Parkhill and production of Luillo Ruiz.
How did you like working in Puerto Rico?
Had a great time. I worked solidly and went fast because I had another job. But I had a great time. The film is everything and more than we expected. Puerto Ricans are good people good and adorable.
The film revolves around a woman who called the past … Do not believe in vampires, but do you believe in the paranormal?
I spent most of my life not believing and, instead of saying I think I stopped not to believe. So I am open to everything. If it happens, happens … There once was well short and direct about what he knew and did not know. Now I realize that I am very small and do not know.
What changed?
I was very old (laughs).
Your character, John Guidi, lends support to a protagonist terrified and wounded by a stormy divorce.
Everything in her life is fucked … She is a hot mess and intrigue me. She leaves home and moves into a house horror … Behold the best scenario for a horror film.
There are many of these films. Why should people see this?
Yes, there are, but this is old style, awesome music, cinema incredible dramatic lighting and excellent performances. It's scary, good and make you think more time than it takes the tape … It is five times better than I thought it was going to be.
So the trio you did recently with your wife Anna Paquin and actor Alexander Skarsgard in the last episode of "True Blood"?
It is part of the job. We laugh every time Alex is in bed in our house with us (laughs). It was funny because we were thinking about the possibility of that scene for long. Alex and I were crazy about undressing and having delicious vampire sex… The truth is that Sookie got into the middle … It is inevitable and normal (laughs).
Inevitable is how you became king of vampires in the series … Do you like this power?
You'll see how everything will end with the witches. Bill was forced to be in that situation. He lost everything … It's not something I wanted. And I do not want to be president (laughs). It is a very difficult thing and I'd rather be here relaxing.